We are happy to announce that our eLama Partner Program is finally out. Our Partner Program provides freelancers and agencies an opportunity to grow their revenues using eLama Performance Tools.
What are the benefits?
Easy to start. Connect your existing clients or create new accounts within eLama.
Use eLama Performance Tools. You can use our management, optimization and statistics tools to cut down the routine tasks associated with Google Ads management.
Earn rewards. Earn rewards with our eLama Partner Program. Make up to 4% of your overall client Google Ads spend.
Support. We provide professional Google Ads support. Our partners have access to our top of the line Customer Success team.
Upgrade your skills. Check out our webinars and workshops to learn more about efficient Google Ads campaign management and optimization.
How to start
You can sign up for the program. The partner program is the best fit for advertising agencies, web-studios and freelancers who plan to manage their client accounts with eLama.
Who can sign up
There are a few rules on who can take part in our eLama Partner Program.
Agency representatives or freelancers should meet the following conditions to obtain «Partner» status:
Manage ad campaigns for a minimum of 3 clients;
Have a minimum combined client spend of $ 500.
How to become a Partner
Register as a «Partner» in eLama. Follow the instructions and complete the registration information.
Create eLama accounts for your clients. Connect client's Google Ads accounts or create new ones within eLama.
If you connect your client's Google Ads account to your eLama partner account, your client has to confirm the connection by following the link they will receive from Google.
How to get your rewards
Select the most convenient payment method to receive your rewards. You'll have two options on the «Partner» registration form:
eLama balance;

Bank card.
Monthly rewards from eLama are calculated based on your combined client ad spend. It is a percentage of their budget and will be paid out in $US. Find detailed information in the content table below.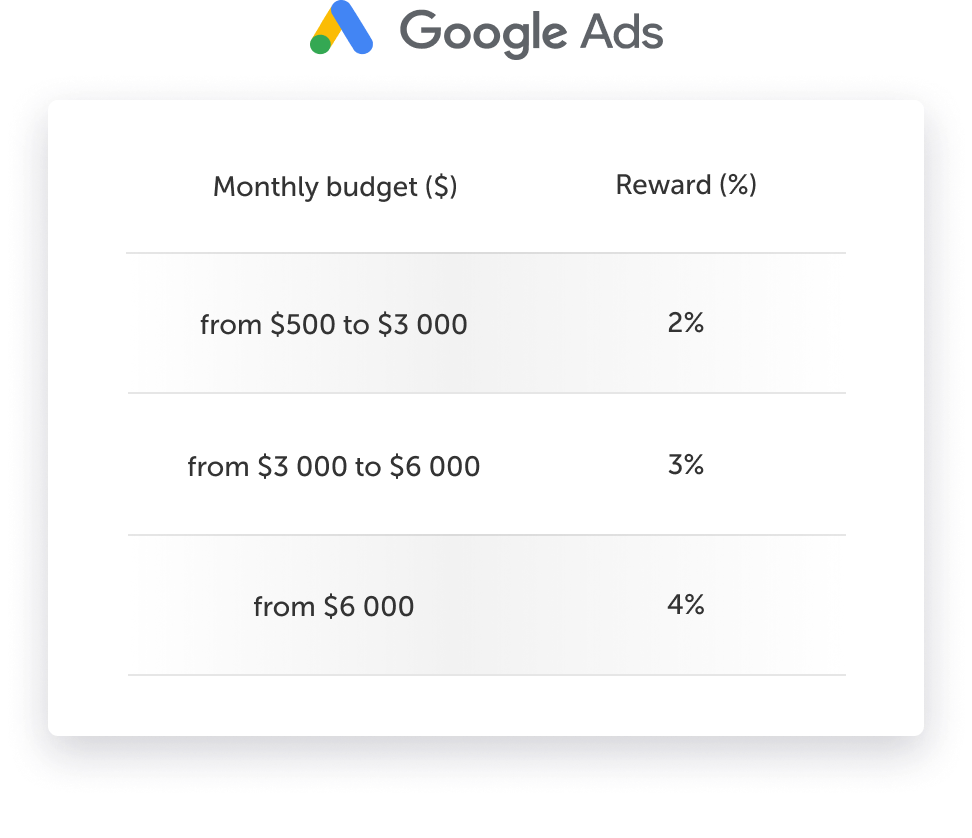 You can find more information in our Help Center and Partner Program Terms and Conditions.
Customer Support Team
We are always ready to assist you at any stage of the campaign management process. Feel free to contact our Customer Support Team and receive top of the line support.
+44−203−318−3977 UK
+1−646−586−2729 USA
+46−8-52 500 539 Sweden