Have you heard about remarketing before? Of course, you have! But in case this is the first time you have heard this term, let me tell you a couple of things about remarketing, why it is needed and how to to set up remarketing campaign in Google Ads.
By using remarketing you can catch the attention of your previous website visitors and encourage them to go back to your website. You can also remind your website visitors about your goods or services and increase brand awareness.
"Remarketing is a way to connect with people who previously interacted with your website or mobile app. It allows you to strategically position your ads in front of these audiences as they browse Google or its partner websites, thus helping you increase your brand awareness or remind those audiences to make a purchase." - Google
Ways to remarket with Google Ads:
Standard remarketing in Google Display Network: Show ads to your past visitors as they browse GDN sites and apps.

Dynamic remarketing: This way is more advanced; your ads are generated automatically using data related to the products or services that the user previously viewed on your website.

Customer list remarketing: You can upload lists of your customers' contacts and show them ads across Google Search, Google Shopping, Gmail, and YouTube when they are signed into Google.

Remarketing lists for search ads: By using this feature, you can customize your search ads campaign for your visitors, and tailor your bids and ads to them when they're browsing Google and search partner sites.

Video remarketing: Show personalized ads to viewers across YouTube and video partner sites based on their past interactions with your videos or YouTube channel.
If you haven't got plans to use tracking code for remarketing, keep in mind that you should turn on the data collection function in Google Analytics to enable remarketing. Otherwise, your remarketing audience lists will not be collected.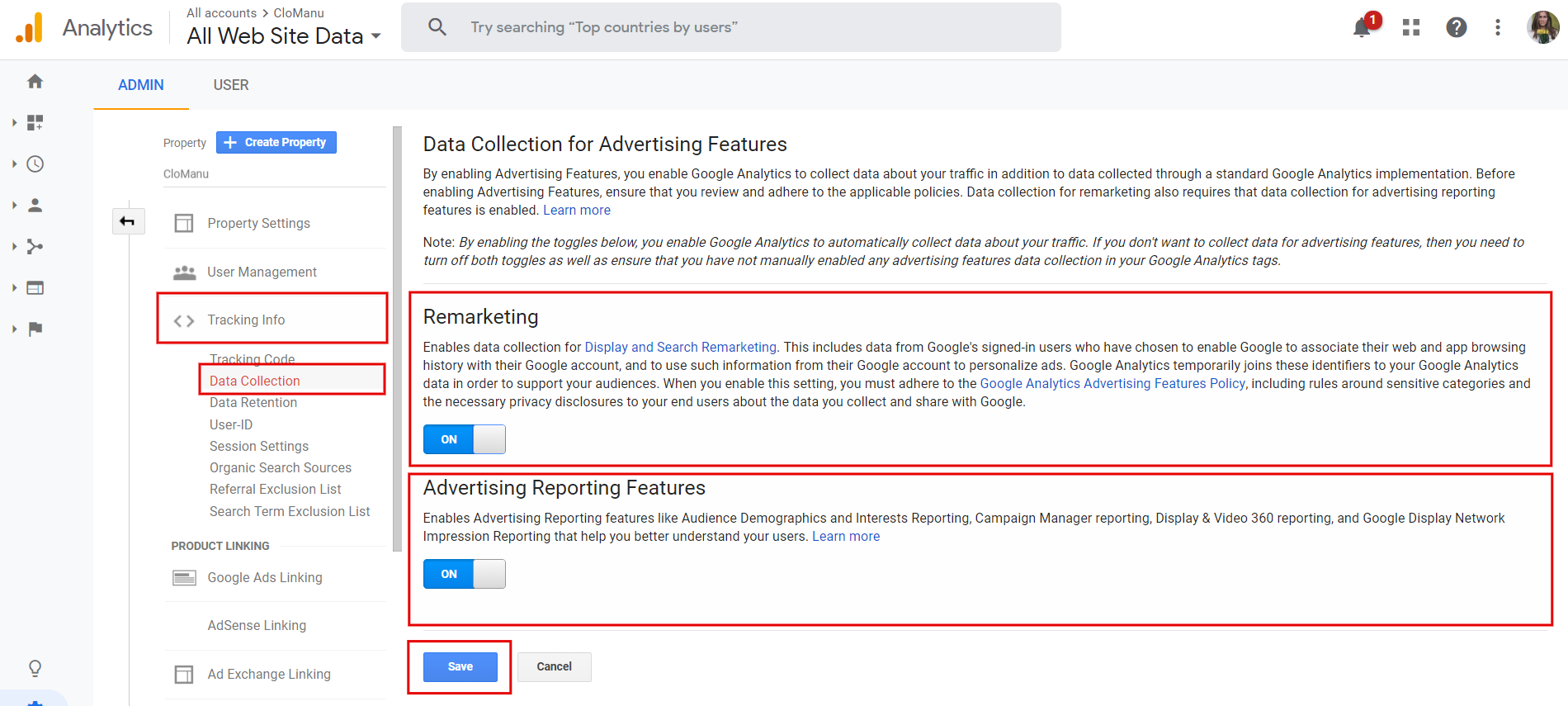 Standard Remarketing on the Google Display Network
You manually set the condition for your remarketing list creation. All conditions may differ but all of them work on the same principle — your potential customer completed a specific action on your website and was just one step away from a conversion but didn't finish it. For example, you can create a remarketing list targeted to people who added something to their shopping cart but didn't place an order or they visited the delivery page but didn't convert into a request or callback.
Tip #1 Set the frequency cap (limit the number of impressions to the same person over a given time period)
Every marketing manager wants his potential customers to be interested in the product or services that they are promoting. But it will be impossible to hold a customer's interest if your ads will be a pain in the neck. That's why frequency capping is crucial for your remarketing campaign.
If you are a novice in GDN it's better to set one impression per user per day. As soon as you gather statistics and remove placements that don't perform well (clicks without conversions), you can increase the number of impressions. But don't show the same ad more than five times per day as frequent impressions lead to poor PPC performance.

Tip #2 Remove bad placements
Turn off impressions on placements that don't perform well (expensive conversions or no conversions at all) to eliminate low-quality PPC traffic. Based on our experience, using this approach can get you five times more conversions for the same price.
To remove placements, go to your Google Ads page, select a campaign and then an ad group. Go to the Display Network tab and click the Placements tab. In this report, you can see where your ads were shown and how effective the ads were. If you see that a placement brings you a lot of visits with expensive conversions or without any conversions at all — remove it from the list.
Tip #3 Work with successful placements
After a while, you will have your own list of placements that bring you low-cost conversions on a regular basis. Then you can start creating new campaigns and advertise only on the successful placements to save your ad campaigns from high-cost conversions and untargeted traffic.
Tip #4 Try Smart Lists
A Smart List is an audience that Google Analytics generates to maximize your conversions. If you are new to remarketing, you may find these lists useful as they can help you achieve desired results.
Your Smart List will be created based on your own data if your site generates at least 500 monthly e-commerce transactions and 10,000 daily page views. Otherwise, your Smart Lists will be created on the basis of data from other businesses similar to yours that have opted to share their anonymized conversion data with Analytics.
Dynamic Remarketing
This remarketing type is for advertisers who offer a wide range of goods or services. It enables you to show your previous visitors ads of products or services they previously viewed on your website. Ads are automatically generated based on the user's activity on your website. Dynamic remarketing ads are often used to promote e-commerce, tourism, seasonal events, and real estate.
Tip #1 Place bids the right way
Place higher bids on cart abandoners because they are more likely to complete their purchase. This way you will increase the chances to reach the right potential customers with the right message at the right time. If you want to save your marketing budget, don't place extra high bids for page visitors as far as they are less likely to convert.
Tip #2 Create responsive display ads
Responsive display ads stand out for their setup simplicity — just upload your assets (images, headlines, logos, videos, and descriptions), and Google will automatically generate ads. As for their usage in remarketing, it is necessary to attach a feed to your campaigns. This way responsive ads will show personalized content from the attached feed. Learn more about feed creation here.
Customer List Remarketing (Customer Match)
Re-engage your customers through the Customer Match option using the data they have shared with you. Customer Match lets you reach your customers across Google Search, Google Shopping, Gmail and YouTube.
Many advertisers ignore this remarketing type stating the needlessness of costs for the acquisition of customers who have already provided their contacts. I will try to dispel your doubts.
Check the cases when Customer Match can be useful for your marketing campaign:
Your triggers don't convert users.
You advertise a product which requires a long decision-making period, and it's a bad idea to annoy your customer with tons of emails.
Don't forget to exclude the addresses of active customers to save your marketing budget.
To use Customer Match, your account must have:
A good history of policy compliance.

A good payment history.

At least 90 days history in Google Ads.

More than USD 50,000 total lifetime spend. For advertisers whose accounts are managed in currencies other than USD, your spend amount will be converted to USD using the average monthly conversion rate for that currency. Read more.
Remarketing Lists for Search Ads (RLSA)
Remarketing lists for search ads is a feature that enables you to customize your search ads campaigns for your website visitors (they will see your ads while searching on Google and Google's search partner sites).
When customers leave your website without making a purchase, "catch" them and convert while they are searching on Google with the use of remarketing lists. It's better to create ads, select keywords, and set bids according to the fact that a customer has already visited your website. For example, add a special offer to your remarketing ads. This way you will persuade the customer to buy what they were looking at on your website.
Tip #1 Work with semantics
Use broad match and minimize the negative words in RLSA campaigns since you only target those who have already visited your website and are interested in your product or services. Using this approach, you will expand the possible volume of search queries, ad impressions, and clicks.
Tip #2 Create a special offer
As previously stated, since the RLSA campaigns are created for customers who are already interested in your product, think about special persuasive offers for your remarketing lists. Your unique offer can be the crucial factor that will dispel all doubts and persuade the customer to make a purchase.
If you work with B2B, you can add a case study where you describe all the benefits of your product.
Video Remarketing
Videos are everywhere we go, that's why it's a good idea to grab the customer's attention using video remarketing. Your ads will be shown across YouTube and GDN partner websites.
There are two types of video remarketing:
Video remarketing based on YouTube views: Show personalized ads to your past viewers across YouTube and video partner sites, based on their past interactions with your YouTube channel.

Video remarketing based on website views: One of the best uses of remarketing is to retarget users who have visited specific product pages but didn't convert and show them video campaigns.
Smart Display Campaigns (SDC)
One more Google feature which you can use for remarketing is smart display campaigns. It's not mentioned in the traditional ways of marketing but it deserves to be discussed. Smart display campaigns combine three optimization opportunities: automated bidding, automated targeting (including remarketing), and automated ad creation. If you want to simplify the ad setup process and broaden your customer base with no effort — smart display campaigns are for you. But if you already have remarketing campaigns, their performance may decrease after the start of SDC, remember that. Learn more about SDC here.
A couple of tips to conclude
Restrict the time period during which a customer will be in your remarketing list. You should know how long it takes your customers to purchase your product or service after first discovering your website. The time to purchase report is located within the Ecommerce Conversions menu in Google Analytics. Read more here.
Offer your website visitors products related to what they were looking for. For example, if a user wants to buy a laptop, offer them headphones or a mouse.
Set the membership duration: it determines how long people will be targeted with your Google remarketing ads after visiting your website.
Finally, test different remarketing types and lists, test various ad creatives, track their performance and remove those which are not profitable or alternatively, just start working with Smart Display campaigns.
Good luck!