We are happy to announce the demo mode of the Interactive Dashboards that lets you easily try all the dashboards' features using test data.
Interactive Dashboards offer a comprehensive view of what is happening in your ad accounts. This way, you can track significant metrics for campaigns and ads. This also enables you to detect targeting options you should pay attention to.
Also, try customizing a report according to your needs, downloading it and sending it by email to your colleagues.
The tool is integrated with the following data sources: Google Ads, Google Analytics, Facebook Ads, and Instagram.
Learn more about Interactive Dashboards >>
Interactive Dashboards Demo Mode
Demo mode is absolutely free for all eLama clients. You won't need to link ad accounts and data sources to eLama; just use test data instead to test drive all of Dashboards' features and opportunities.
We know how important it is for advertisers to first test the new tool before using it.
All you need to do is go to your eLama profile, select Dashboards on the left and click "Demo Mode" to turn it on. The demo report will open up, giving you a clear view of our dashboard. Customize it as you want — add/remove metrics, set up filters, change the date range, and so on.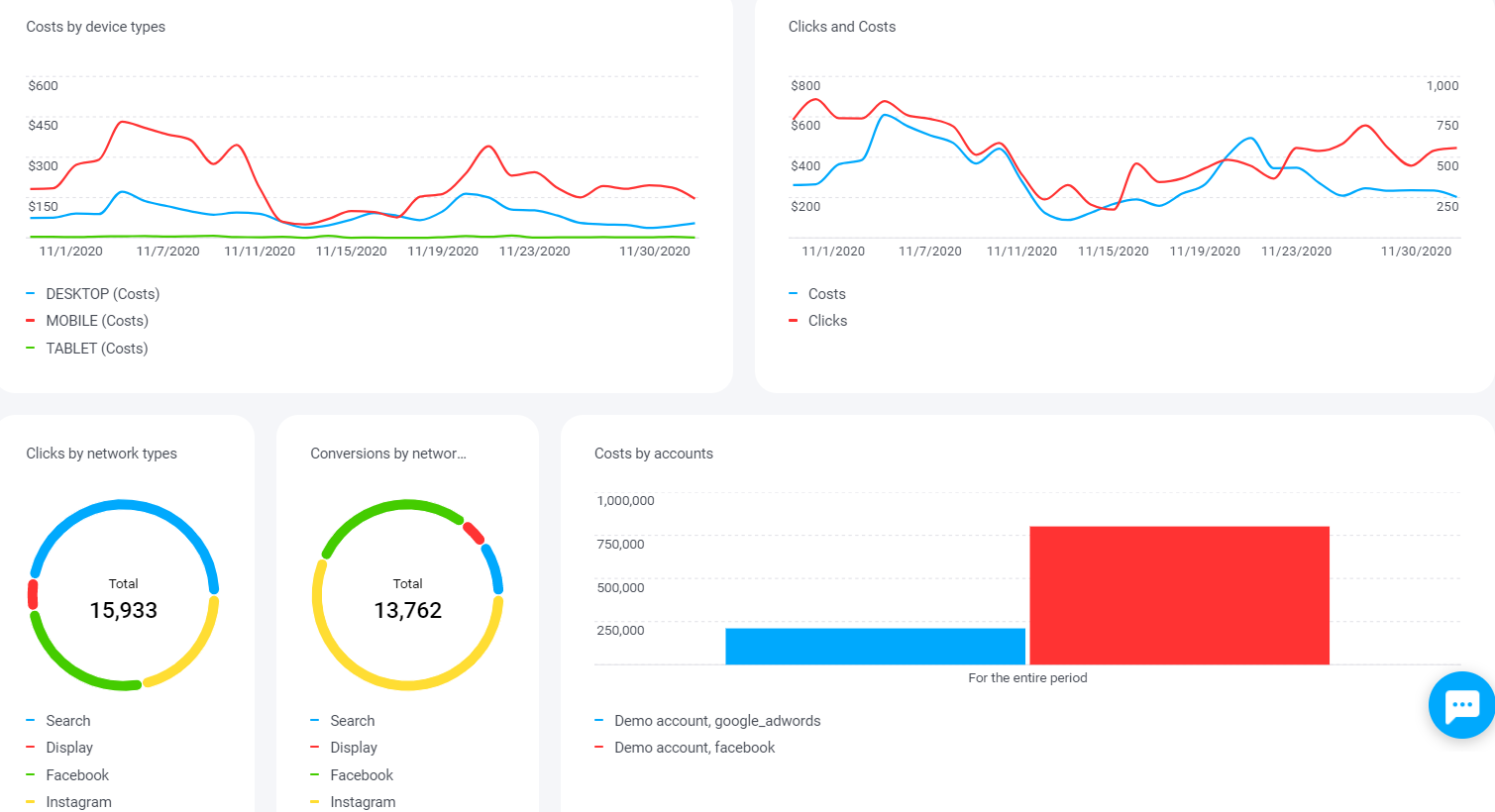 We regularly add new features and update our tools according to our clients' requests. So if you think the demo could do with some new functionality, let us know. Share your feedback with us to make Dashboards one of the best analytics tools for advertisers.

You can email us at [email protected] to send in your feedback.
Interactive Dashboards are available for Business subscribers. When registering with eLama, you can have the free 14-day trial for our powerful Business Subscription — no need to add your debit/credit card details to try.
Once the free trial is over, you can enter your payment details and subscribe to Business for $100 per month.