In order to manage your PPC marketing operations efficiently, you need to be able to base your strategic objectives on a holistic data overview. Therefore, it makes Google Ads conversion tracking extremely important.
The information you get from this allows you to manage your ad campaigns more efficiently. It also allows you to narrow your performance data down to a search query. You can also set up automated conversion strategies alongside automatic conversion optimizers, run both manually or with eLama Bid-management tool.
Introduction
It's a common picture to see advertisers set up multiple goals in Google Analytics and then having them transferred as conversion actions into Google Ads. All these conversion actions are then being perceived as automatic conversion goals and, subsequently, included in conversion price optimization.
This often leads to confusion. When asked about which particular conversion goal in a particular ad campaign should have been set as the main one, an advertiser might, for example, name «purchase» target but leave out «cart», meanwhile both actions are used in Google Ads automation strategy.
In order to help you to avoid this kind of confusion and set up conversion goals the right way, we have written this simple guide.
How to set up conversion tracking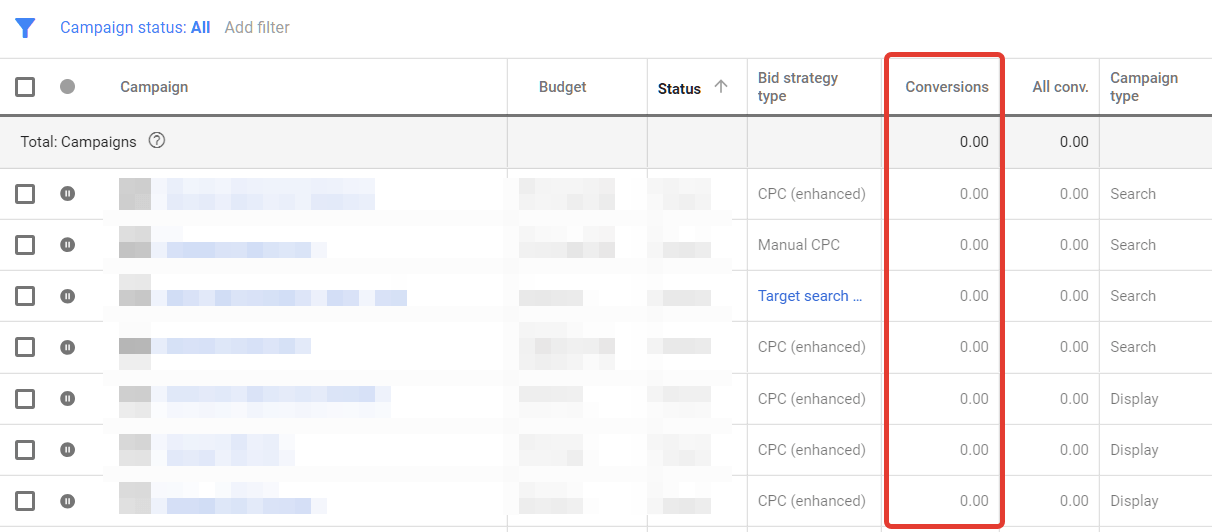 I have pulled in a «Conversions» column into the dashboard, they are lacking statistics since this is a test account but you can add your own conversions by clicking «Columns» then «Change» and then choosing the required columns.
Conversions that end up in these columns are used as base data for your conversion automation strategies and also for conversion price optimization strategies and tools.
You can find all of the other conversions further, in «All conversions» column. Therefore, we can choose which conversion actions to use in strategic targets and leave the rest separated.
So how do we set this up? First, you will need to set up conversion tracking in Google Analytics, set up target tracking and import this data into your Google Ads account.
Then click «Tools» — «Conversions» and import the goal data from Google Analytics.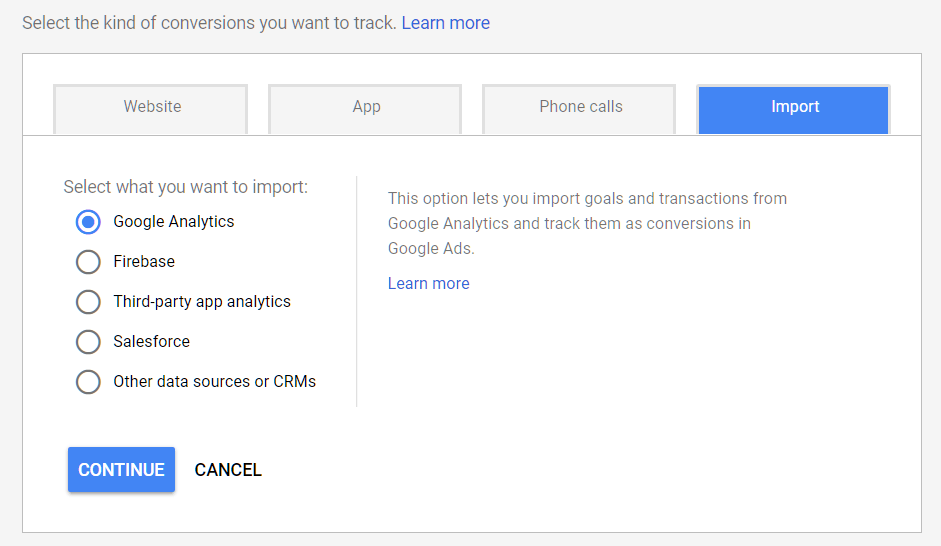 Now click «Tools» then «Conversions» and you will see the «Actions» page. In this particular case, we see «Thank you page» set as a conversion action. Click it then «Edit settings», and find the «Include in conversions» section.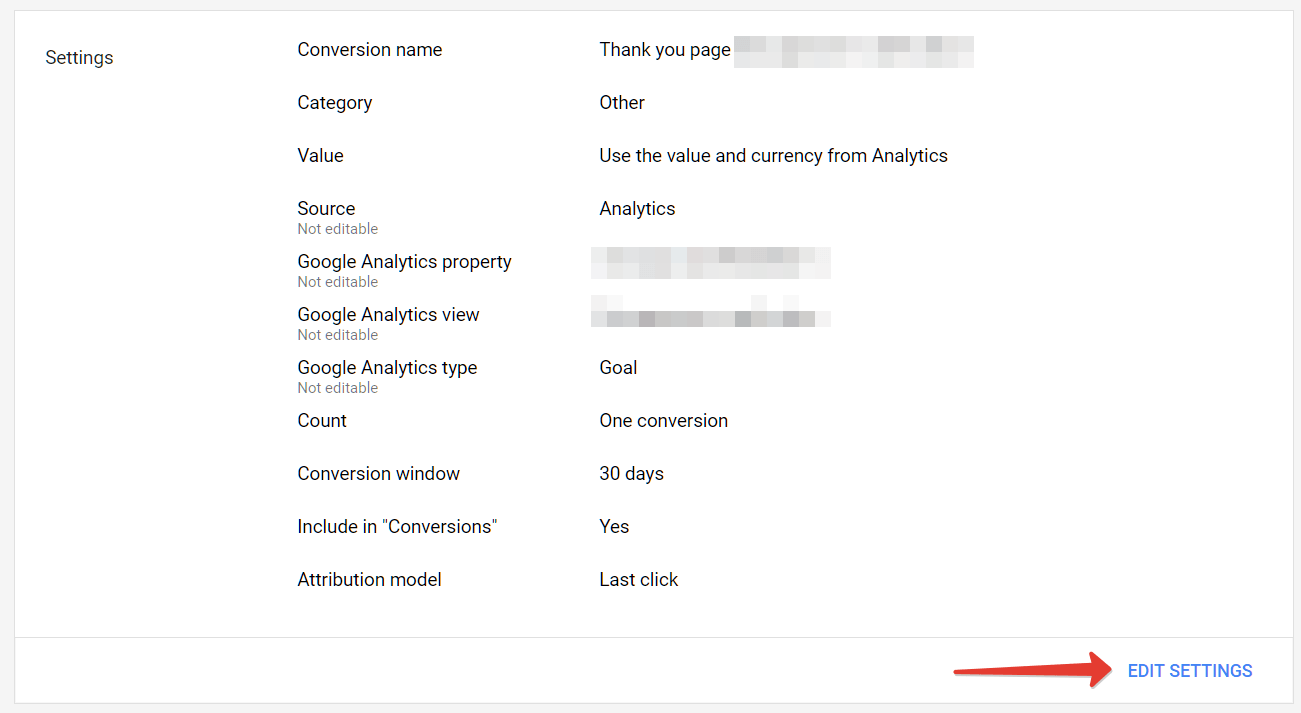 Click «Edit settings». If the checkbox is empty this means this data is not going to show up in the «Conversions» column and is not considered in bid automation management and automatic conversion price optimization.
By default, this option is active for most of the advertisers, so you should pay close attention to this during the ad campaign set up. You have to decide which conversions you are aiming for and which goals you want to track. This will help you to exclude the ones that do not show you the adequate possibility of consumer conversion.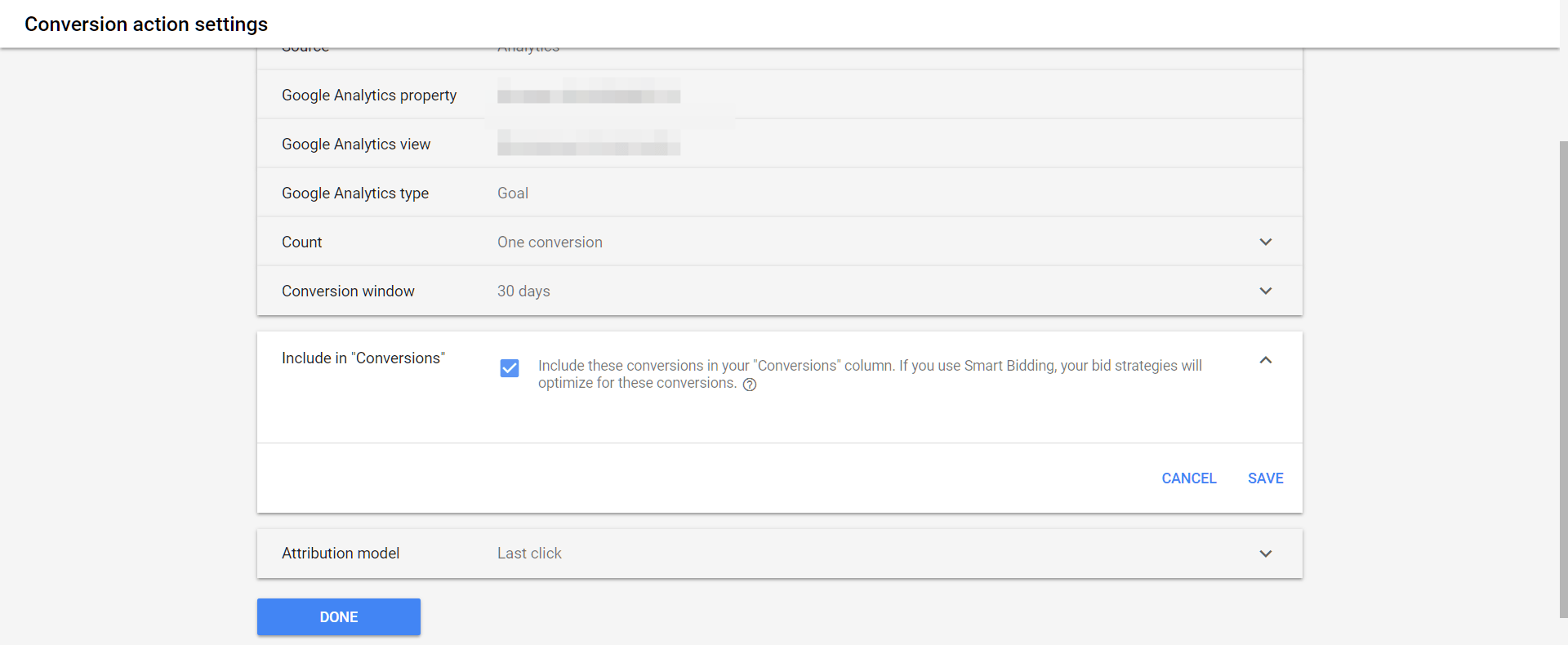 Turn that particular action on or off, click «Save» and now this goal is included or excluded from automatic strategy rules. Click «Done». Now when you will read the Google Display Network or Search Ad reports you will only see the conversions that you have selected. You will understand precisely what targets you were aiming for while working with the ad campaigns and efficiency tracking
Everything is simple, in a couple of clicks you will receive all the data you need. Don't forget about this while you are setting up the conversion actions and conversion tracking in Google Ads.