Lyrical Introduction
The world is moving rapidly towards digitalization. The modern person uses numerous complicated technical solutions on a daily basis. These solutions make life simpler and make tasks much easier to complete.
Traditional methods of marketing are constantly changing to meet the new digital paradigm. Traditional promotional channels such as print advertisements, billboards, TV, and radio advertisements have lost their audience as the internet has become increasingly popular. Digital marketing aims to replace all old-fashioned tools for the modern advertiser. We live in an age of customized and relevant advertising which is displayed at the right time in the right place for the right customer. High conversion rates and effective spending of the marketing budget is what today's marketing is all about.
The choice of digital channels is wide and diverse. Search and display ads in search platforms can drive a lot of customers daily, but there's nothing more effective than advertising on social networks. Advertising on social networking sites has become increasingly popular with many businesses and marketers. It offers a variety of specific targetings which allows the marketer to narrow the audience down and deliver an advertising message to the most relevant users. Today, we'll consider only the King of all social media, Facebook.
Facebook offers a wide range of advertising possibilities for all kinds of businesses. But Facebook Ads is a very complicated system. You need to spend weeks and weeks learning how to use Facebook Ads to get the best out of the platform. What if Facebook could give you the chance to advertise on its platform without the need to learn about marketing?
Well, guess what? It does. Those who want to join the modern marketing trend without any significant effort can use Facebook's Boost ad feature. Today, we will explore Facebook's Boost feature and answer the following questions:
How to use Boost Post?

What is the price of Facebook Boost?

Pros and cons of Boost Post.

When to use the Boost Post feature?
We've tried and tested this feature out! Find the results of our experiment at the bottom of this article.
What is a Facebook Boosted Post?
Ask Google and you'll receive dozens (or even hundreds) of different opinions. Some will say that the Boost Post feature is a waste of money and ineffective, some will proudly tell you about the cheap and fast conversions. In this article, we will try to be as impartial as possible. You'll learn all the pros and cons of the Boost Post feature and will receive relevant recommendations regarding when you should and shouldn't use it.
First things first, let's start with the mechanics. Boost Post is an engagement-oriented, fast advertising campaign with the following settings:
campaign result (post engagement or messages);

CTA-button choice;

audience;

placements;

duration;

budget.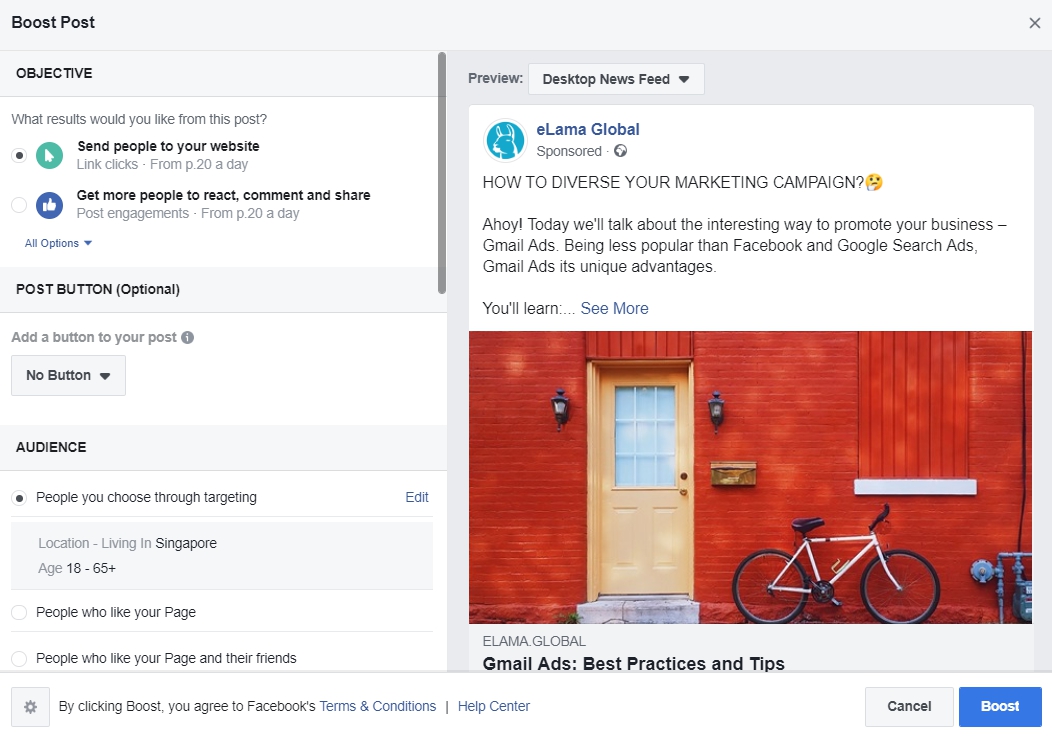 Let's delve deeper into the most important targetings in Boost Post, audience and placements.
Audience
Targeted audience. By choosing this option, you can customize the audience by the following targetings: gender, age, location and more detailed targetings including demographics, interests, and behavior. The targeted audience is specific enough to reach those who will potentially be interested in your content.
People who like your page. The audience is nothing special, just people who like your page. Does paying money to reach those who already like your page seems rational? Not much, to be honest.
People who like your page and their friends. At first sight, this audience looks good. Likers of your page are interested in your business or your niche and their friends should also be interested in these things. In reality, choosing this option will significantly broaden the targeting range. It's unlikely that all the friends of those who like your page want to know about your business. They'll skip the ad without any regrets which means money is lost.
People in your local area. This target audience is a good solution for local shops and small businesses. Choose this option and your ad will be shown for people in a specific geographical area. Even an engagement campaign can convert in this case.
Placements
Auto-placement is set up by default, but we suggest switching off this setting. There are three placements: Facebook, Instagram and Facebook Messenger. Not all of them can meet the format of your post. Moreover, some experts think that Instagram placement isn't a good place for your Facebook promoted post to be displayed.
Price of the Boost Post Ad
Before beginning, the majority of advertisers want to know how much it costs to boost a Facebook post. The price depends on the targetings you've chosen and how many people you want to show your post to. We suggest spending at least $50, then check the result and continue if the result is positive.
Pros and Cons of Facebook's Boost Post Feature
Pros
1. Ease of use. You are not supposed to be an expert in digital marketing and targeting to launch your first advertising campaign. The Sponsored Post feature suits both the amateur marketer or SMB-owner.
2. Rapid launch. It won't take more than ten minutes to launch the Boost Post campaign (even if you have never seen such a feature before). Facebook provides recommendations during the setting up process and eliminates the possibility of critical mistakes.
3. You don't have to create an ad, it is already created. If you take an already existing post and promote it, there is no additional content needed. eLama advises advertisers to write an interesting text and choose an eye-catching image for the post you plan to boost. It can seriously increase the conversion rate and save a lot of money.
4. Social proof. Engagement received during Boost Post advertising campaigns increase the status of your business. For example, if a regular user who wasn't touched by your Boost Post campaign sees the huge post engagement including dozens of likes, shares and comments, this sparks interest and a train of thought. "This post seems to be popular, people find it interesting and beneficial. It means that the author is an expert in his industry and you can trust them and their business."Done, you've acquired a new customer!
Cons
1. Ineffective advertising objective. In one of our previous articles, we told you about the advertising objectives which Facebook offers at the beginning of the advertising campaign setup. There are eleven different objectives combined into three main blocks: awareness, consideration and conversion. As we already mentioned above, by pressing the Boost Post button you create an advertising campaign with an "engagement" objective. The main aim of this objective is to increase your brand's awareness and to receive a social proof for your Facebook page. Sponsored Post on Facebook doesn't sell your product or service, it is all about brand image and recognition. That's why the Boost Post feature is hated by some marketers. The top priority goal of every business is to sell and make money. Most companies can't afford to spend their marketing budget on something which will unlikely to increase revenue.
2. Boost Post feature ignores links. That's true. Yes, Facebook allows you to choose a CTA button from the list, but the main goal of the Boost Post feature is to display your ad to as many people as possible within your advertising budget. But if your post has an important link at the bottom, users can choose to ignore it. It means that you'll receive an impression but won't receive any valuable outcome.
Important: this is a disadvantage only if you can't convert your money into leads or sales. If engagement works for you, this is not a problem, everything works as it's supposed to.
3. Boost Post is limited in targetings. Well, you can choose from four different targeting settings, but none of them are 100% effective. Choosing to show the ad to those who already like your page is ineffective and a waste of your money as the post will be displayed to your page likers anyway.
Adding friends of those who like your page to the equation doesn't make a lot of sense either. People are different and friends of your subscribers may not care about your business. They will ignore the ad you paid for and you'll lose money.
Showing the ad to people in the local area can work for local shop owners and businesses. At the same time, it works much better with precise targetings which are significantly more complicated and requires more effort.
Thus, a targeted audience is the best choice. This option allows the advertiser to narrow down the audience and specify the exact group of people who will see the ad. Nevertheless, the targeted audience doesn't cover all possible targeting possibilities and doesn't provide the advertiser with the most effective solution.
4. Facebook looks for the cheapest impressions which usually don't convert. Facebook gathers impressions from the cheapest sources. For example, impressions from the Mobile News Feed placement are cheaper than other placements. At the same time, the results are usually much worse.
When to use Boost Post
1. When you're not experienced in Facebook Ads.
Facebook Ads is a complicated advertising platform. The advertiser needs to be experienced in Facebook Ads to know how to spend the advertising budget effectively. A lack of experience and skill usually results in money loss and subsequent ignorance of the effective promotion channel. Fortunately, the Boost Post feature allows you to advertise digitally without any significant effort. Otherwise, it will be better to hire a freelancer or to delegate Facebook advertising to an advertising agency.
2. When you need to increase awareness and engagement.
Use Boost Post when your goal is to increase engagement. It is fast, convenient and effective enough.
eLama Boost Post experience
To illustrate everything written above, we've launched a Boost Post advertising campaign. For this experiment, we've chosen three different posts from the eLama Facebook page: announcement of the article about Facebook Lead Ads, the announcement of the article about Facebook advertising objectives and our weekly Facebook digital marketing news digest.
Find the results of our campaign in the table below: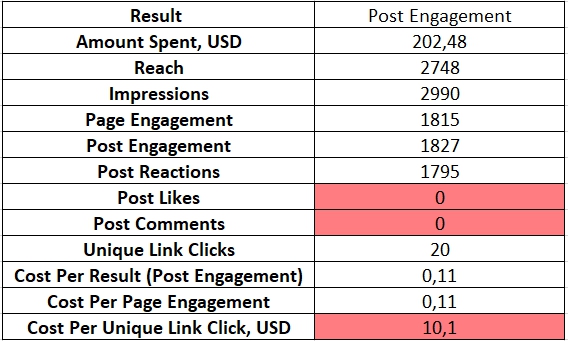 As you can see, for $200 Facebook showed our posts to 2748 users. We've received 2990 impressions and 1827 engagements. Now is the perfect time to find out what the difference is between these indicators.
What is Facebook Engagement?
Engagement is any action a user takes on your post or page. For example, a comment, like, share, or tag will be counted as engagement and recorded by Facebook.
What is Facebook Reach?
Reach is the total number of people who have seen your Facebook post. For example, you've launched a Facebook advertising campaign for the giveaway post promotion. This ad was displayed to 100 different people and the reach of the post is 100.
What is Facebook Impression?
An impression is recorded when someone sees your post. Unlike Reach, Impressions include multiple views from the same user. For example, your post was viewed by 100 people, each of them saw your ad twice. Reach will be 50, but the number of impressions will be 100.
Decoding of the results
Thus, Facebook showed our posts to 2748 users but the total number of impressions is 2990. We can't evaluate the impact of the ad campaign by just taking into consideration these indicators. The number of likes, comments, and unique link clicks gives a better understanding of the effectiveness. Let's take a closer look at them.
Zero post likes, zero post comments, twenty unique link clicks can't be labeled as a good result. According to the report, each click on the link costs more than $10. These clicks didn't convert into blog subscribers or platform users, people looked at the promoted articles and closed the window. This is a very poor result, to be honest. We ineffectively spent $200 and received almost nothing in return.
At the same, Facebook did its job in a proper way. We set "Post Engagement" as a key result of the campaign and received 1827 engagements, each of them costing $0,11. We asked Facebook to show our post to as many people as possible and Facebook achieved this. So, we can't blame Boost Post and call the feature ineffective. Ultimately, the goal was achieved.
This is the fundamental issue of the Boost Post feature. We want any dollar spent on marketing to bring in two more. But Boost Post won't multiply marketing investments and increase sales… right now.
To use or not to use? That is the question
Boost Post is a working solution, but don't be deceived about the final result. You will most likely receive a bunch of likes and comments, which will unlikely convert into leads or sales. More people will know about your business and it will become their very first touch with the product or service you offer. Organize a couple of more touches and they'll become customers.
At the same time, social proof expressed in post engagements can become a good construction material for the expertise in a certain niche. The regular Facebook user will not find out how you received all the shares and comments. They will admit your expertise and consider your or your business as an opinion leader.
Boost Post feature is a "fast-food" solution which suits both companies with huge advertising budgets and SMB-owners who don't have any experience in digital advertising. To be honest, Facebook Ads Manager offers much more advertising opportunities. Thus, if you have never tried it, spend some time and practice. eLama blog will help you. We publish different materials regarding digital marketing optimization and productivity increase.
For those who have already tried Facebook Ads, eLama offers a useful self-developed tool called Advisor. The Advisor will scan your advertising campaigns before launch, find mistakes (if they exist) and make your ads more effective. Sign up, start your trial period and use Facebook Advisor and other eLama tools absolutely for free!