What is social media advertising
Social media advertising (SMA) is a part of digital marketing that implies paid advertising campaigns on social media platforms for the specified target audience. In other words, social media advertising is the reason why you see relevant ads when viewing Instagram Stories, scrolling Facebook feed, watching videos on YouTube or twitting on Twitter.
Social media ads can be as effective as search ads are (sometimes even more effective!). That's why social media advertising should be considered as an important part of the brand's marketing mix and – of course – as a promising revenue-generating channel. Today we will talk about social media advertising basics and strategy and identify how effective can marketing in social networks be.
Types of social media advertising
Facebook Ads
Facebook is the king of all existing social media. Facebook's daily audience accounts to 1.52 billion users, with 2.3 billion active monthly users. What does it mean? It means that almost any business can find people interested in their goods or services.
Why Facebook is good for ads:
You will definitely find your targeting audience there. It's impossible to imagine that there are no people willing to buy from you among 1.5 billion people that use Facebook every day. Facebook is a good fit for any kind of business, and it will 100% help any brand to find its customers.
Facebook works for any type of business. It can solve different marketing objectives – awareness, consideration or conversion. What does it mean? It means that Facebook offers solutions for every single part of your marketing funnel, from brand awareness to the purchase at the end. Obviously you need to understand what Facebook marketing objective to choose. We've created a special article about these marketing objectives so you'll not get lost among them.
Ad automation. Facebook understands the needs of modern marketers and offers a wide range of optimization tools: A/B testing, utilization of Facebook ad formats as a landing page and much more – find all the optimization tools and capabilities here!
Facebook is a complex and sometimes complicated advertising instrument and you need to have skills and experience to successfully run ad campaigns on it. The poorly designed campaign will result in a significant budget loss and a completely negative experience. Download our free checklist If you want to learn how to start a successful social media advertising campaign on Facebook!
Instagram Ads
First of all, Instagram is a part of the Facebook family (Facebook bought Instagram in 2012). These two social media have a single ads manager, so all the targeting capabilities are pretty much the same.
What else is good about Instagram:
Visual content. Visual content is almost everything Instagram offers to its users. Such content is much easier to consume, so Instagram ads have all the chances to be effective.
Huge audience. According to Statista, in 2019 Instagram had more than 500 million DAUs (daily active users). And this number is constantly growing!
Direct value for businesses. Instagram pays attention to monetization in order to let people gain money out of their Instagram presence. For example, Shopping Tags allow users to buy things directly on Instagram which is extremely good for eCommerce.
Twitter Ads
Twitter Ads could be a great way to gather a loyal audience and drive traffic to your website. It covers such business objectives as awareness, post engagement, website clicks, followers and app installs – in other words, all of the stages of your marketing funnel can be covered.
Also, Twitter offers an interesting way of promoting your profile which is called Promote Mode. The first 10 tweets that passed the moderation will be added to a Promoted Tweets campaign that targets your selected audience. This costs $99 per month and can possibly enlarge your audience, help you to grow it and to engage with new customers.
Snapchat Ads
Snapchat is a social network based on visual content. It is somehow similar to Instagram (Instagram even adopted one of their most popular ad formats from Snapchat – Stories) but is oriented on a younger audience.
Despite the fact that Snapchat is way smaller than Facebook or Instagram, it has more than 218 daily active users. Moreover, these users are super loyal and spend a lot of time browsing snaps every day.
Pinterest Ads
Pinterest is a social network that allows users to upload pictures and create collections. Pinterest is the place where people look for ideas. No matter what kind of ideas, it can be literally everything!
Some facts about Pinterest:
Pinterest has more than 335 million monthly active users
88 million Pinterest users are from the United States
Around 71% of users are female
In 2019, Pinterest generated more than $1 billion in advertising.
LinkedIn Ads
LinkedIn is a business-oriented social network with a range of interesting advertising capabilities inside. LinkedIn Ads are mainly about B2B and can be a good replacement for Facebook in this particular case. At the same time, the average size of the LinkedIn deal is significantly bigger than Facebook or even Google campaigns can hit.
More, LinkedIn offers a variety of interesting ad formats such as Sponsored InMail. Such formats increase the chance for your ad to be noticed and generate high-level leads for the business.
LinkedIn is a good fit for:
B2B lead generation
High-level recruiting
Higher education recruiting.
Most common social media ad formats
Single photo or video ads
Single photo or video ads are one of the most popular advertising formats and you can find them in all social media. This format is a good fit for almost all types of ads due to its simplicity and universalism. Single photo or video ad usually goes with a CTA (Call to Action) button that encourages users to perform the desired activity (subscribe, learn more, visit website and others). Advertisers pick CTA with respect to their business needs and the desired outcome.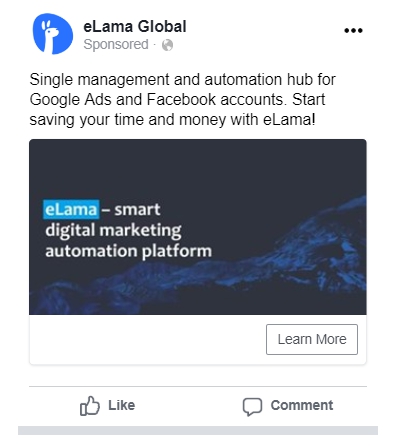 An important thing you can't ignore: all social media evaluate and moderate ads differently, so you must learn all the guidelines before the launch. Facebook won't let you run a single image ad with more than 20% of the text on it cause it will consider it to be irrelevant.
Stories ads
Stories is a rather fresh format that gained huge popularity and can be labeled as one of the most effective and revenue-generating ad capabilities. Stories have a bunch of advantages e.g.:
Nativeness. Such ads appear when a user looks through the stories of people who he is subscribed to. It guarantees the nativeness and positive user experience.
Concentration. Stories occupy the whole screen so a user doesn't get distracted.
Simple interaction. Stories ads are very easy to interact with. For example, the "Swipe Up" gesture takes less than a second and only one finger to perform the target action.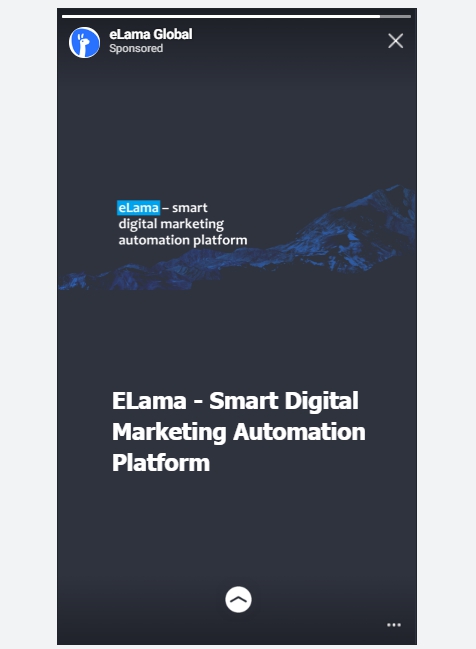 Stories are extremely popular on Snapchat, Instagram and Facebook.
Carousel ads
This format allows an advertiser to show users two or more pictures with links and descriptions. Carousel is a perfect fit for eCommerce cause an advertiser can show two or more products inside a single ad.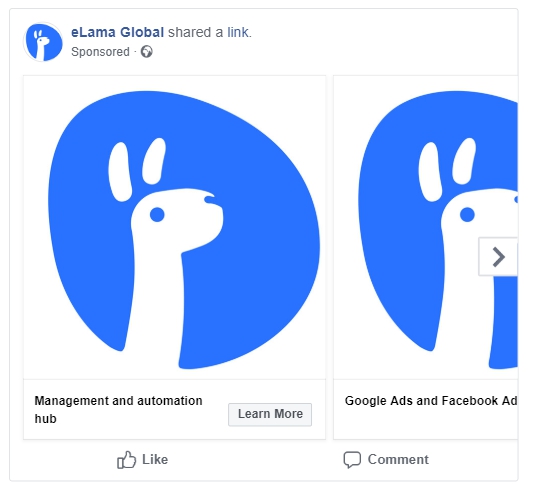 Moreover, the Carousel can be used as a way to list all the advantages of the advertised product or service. For each advantage, you will have a card.
Collection ads
Collection ad is an advertisement experience developed by Facebook that is extremely useful. In a nutshell, collections consist of the main video or image with four smaller images below. If a user taps on such an ad he "will be seamlessly taken to a fast-loading visual post-click experience powered by Instant Experience" without leaving Facebook or Instagram.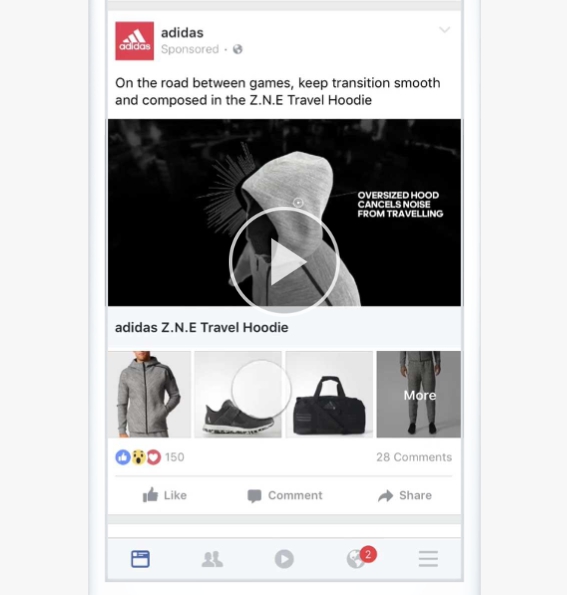 Social media ad targetings
Targeting is a marketing mechanism that allows to specify a target audience according to the target criteria (age, gender, interests) and to advertise a certain product to selected people. This method is more likely to achieve the best advertising effect and generate more revenue.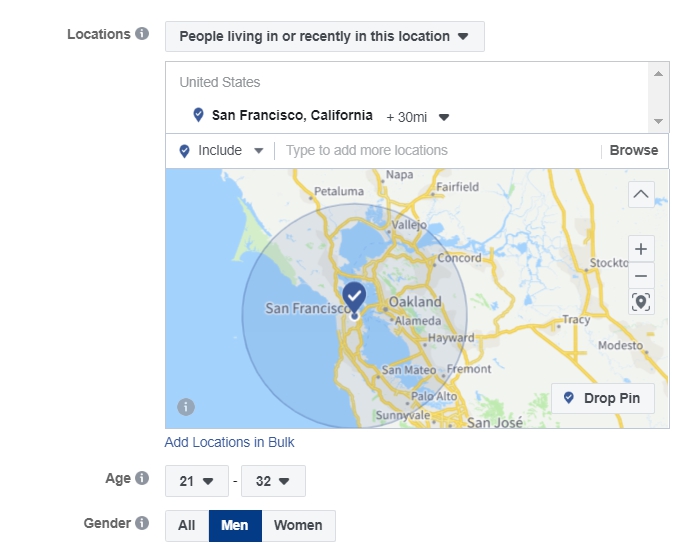 Targeting gives an opportunity to allocate advertising budget wisely and gain the maximum benefit out of it.
There are targetings which are similar in all social media:
demographic targeting – age, gender, education, marital status
geographical targeting – place of living, radius on a map
interest targeting – interests, hobbies
lookalike audiences – users that are somehow similar to an initial group of people (for example, people who watched your video or visited your website)
remarketing – show your ads to those users who have recently visited your website or social media profile.
Social media sometimes have their own unique targeting capabilities. For example, Facebook allows advertisers to target users who travel to work from the suburbs or currently are far away from their families.
Advantages of social media advertising
You know who will see your ad
The effectiveness of social media advertising is high due to the mechanism we mentioned above – targeting. People who see ads on social media fit the adjusted characteristics set by the advertisers. It guarantees a high level of relevance and a huge outcome at the end.
Ad customization
The audience can be split into specific groups because of targetings. This allows to create the most relevant offer for each cluster and increase the effectiveness of the whole advertising campaign.
Opportunity to get leads without a website
Facebook Lead Ads can be a good example here. It allows to gather leads without landing page or website; targeted users will only have to fill in the inbuilt form without and don't need to leave Facebook. It's a good solution in case if you don't have a website or realize that your website isn't good enough to turn users into potential customers.
We've prepared a special guide about Facebook Lead Ads. This guide covers the whole process of Lead Ads campaign creation and helps to avoid common mistakes!
Disadvantages of social media advertising
Moderation of ads
All social media have guidelines and restrictions that mostly fight the same things – abuse, violence, intolerance, drugs and so on. Moreover, each social media has its own restrictions; for example, Facebook considers an ad with 20% or more text on it as irrelevant and won't let you launch a campaign with it. We strongly recommend you to learn all the guidelines and regulations before the launch; otherwise, your ads will be declined and you'll have to to the same job once more.
Required skills
Like in every other niche, social media advertising requires special skills. You must know:
peculiarities of working with different ad managers
how to choose proper targetings
how to allocate your advertising budget
how to launch A/B testings
how to evaluate the result of your advertising campaigns and much more.
Lack of knowledge and experience will cost you hundreds (or even thousands) of dollars, loss of time and fear of using one of the most effective advertising solutions.
Social media advertising cost
Social media advertising is available for advertisers with any size of budget. The only thing is that some social media have their own bottom limits. In other words, they underline the minimum spend that the advertiser should be ready to face in order to launch an ad campaign.
For example, the price of Facebook's advertising campaigns starts from $0,5 – this is the lowest price that can be accepted by the social network for the ad campaign launch. It's important to emphasize that the minimum price for different events varies: for Impressions it's $1 per day, for clicks – $5 per day, for app installs – at least $40 per day.
Social media advertising offers you a range of payment methods, here's the list of the most popular of them:
CPC (Cost per click)
CPM (Cost per mille) – it's a cost of 1,000 impressions
Cost per conversion.
Almost all social media ads are based on the auction system. Usually, the user sets the maximum amount of money he is ready to pay for the desired event to happen (impression, click – whatever); a daily maximum budget is the other way to specify it. Then the platform decides which ad to show based on the bid, quality score of the ad, estimated action rates and so on.
Now you know the ABCs of social media advertising
This article didn't aim to cover all the peculiarities of social media advertising, we wanted to give you an understanding of basic principles and to help you to figure everything out. What conclusions can be made?
Social media advertising is a powerful marketing tool that generates revenue.
Social media contain all the possible target audience you can imagine, so every business will find customers there.
Social media advertising isn't easy and requires skills and experience to succeed.
Hope it was helpful!
---
You may also like reading: