We have great news for everyone who runs Google Ads and Facebook Ads through eLama.
eLama will take care of your Facebook Ads and Google Ads campaigns, stopping your ads or notifying you via email when the specified conditions are met. This way you can focus on other important things.
About
The system will increase/decrease your bids (for Google Ads only), stop ad impressions or alert you if the conditions you set are met.
For example, a rule can stop ads if this week the ad was clicked no more than 2 times or send a notification to your email if more than $200 has been spent on the campaign this month.
You can set the automated rules for Google Ads, Facebook Ads and Instagram.
Using this tool, you will always be aware of how your ads perform. In addition, you will avoid overspending if you set the condition to stop ads when spending is more than a certain amount.
Metrics for Google Ads:
Clicks
Impressions
Cost-per-click (CPC)
Cost per 1000 impressions (CPM),
CTR
Spend
Conversions
Conversion rate
Metrics for Facebook Ads:
Clicks
Results,
Cost-per-click (CPC)
Cost per 1000 impressions (CPM),
Cost per result
CTR
Spend
Reach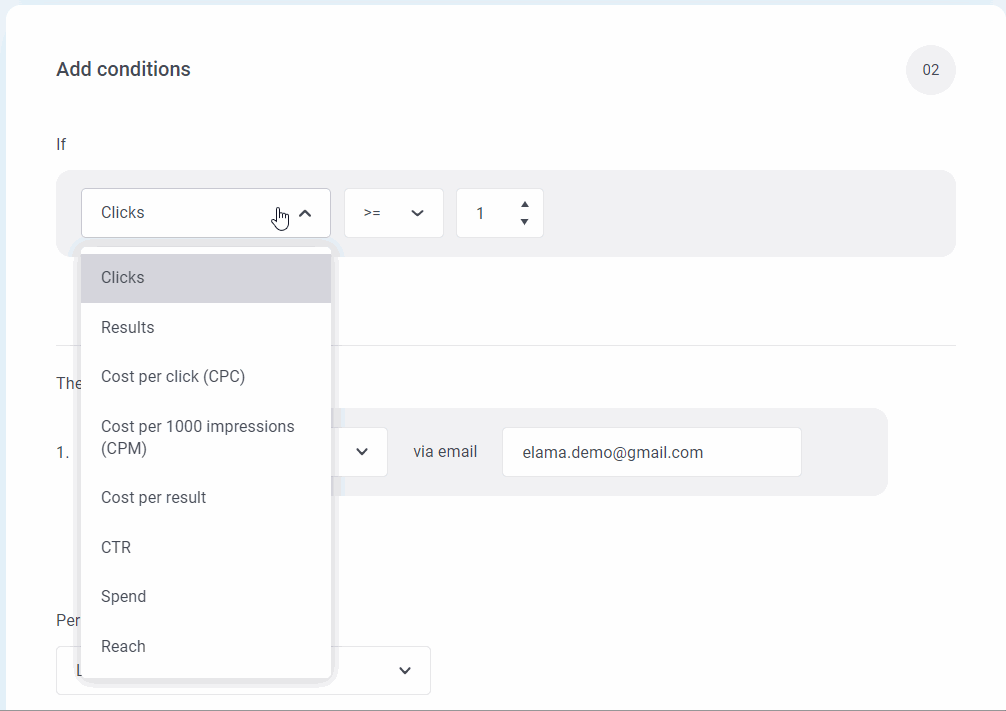 Why do you need automation?
You don't need to track statistics every day and make changes manually. eLama will do this according to the specified conditions.
The tool will stop ads/decrease bids if more than the specified in the conditions amount has been spent.
You'll be instantly informed of all changes in your ad campaigns.