How would you like to get paid to try one of the most powerful platforms for Facebook & Google ad optimization and automation?
We will pay $100 to the first ten users who try the eLama tools and give us their feedback. That's all you need to do – just let us know how you like it and what we can do to improve the experience for you. After that, you can take $100 off our hands.
Just fill in the form, and we will contact you within 24 hours to discuss all the details.
All advice, criticisms and opinions are welcome. Once we've received your feedback, you will get $100 on your eLama account balance. Spend this on your Google Ads account connected/created in eLama or you can purchase the Business Plan.

Connect or create an ad account to eLama to start working
eLama is an intuitive platform that has helped countless businesses manage their paid advertising campaigns for over 10 years.
The platform provides tools that cover each stage in online advertising, starting with Ad Creation, through Optimization and finishing with Data analytics that offer high-impact Reports and Dashboards.
To start working with eLama, simply connect your Facebook Ads, Google Ads, and Google Analytics accounts or create new Google Ads and TikTok Ads accounts within the platform.
Create Google Ads campaign quickly and effortlessly
You can create a Google Ads search campaign directly in your eLama account – it's a simple process and you get tips and recommendations from our experts as you proceed.
With eLama, you can easily select keywords that best describe your product or service. You can change the keyword matching option, but in most cases, it is recommended to use the broad match modifier. This option is set by default.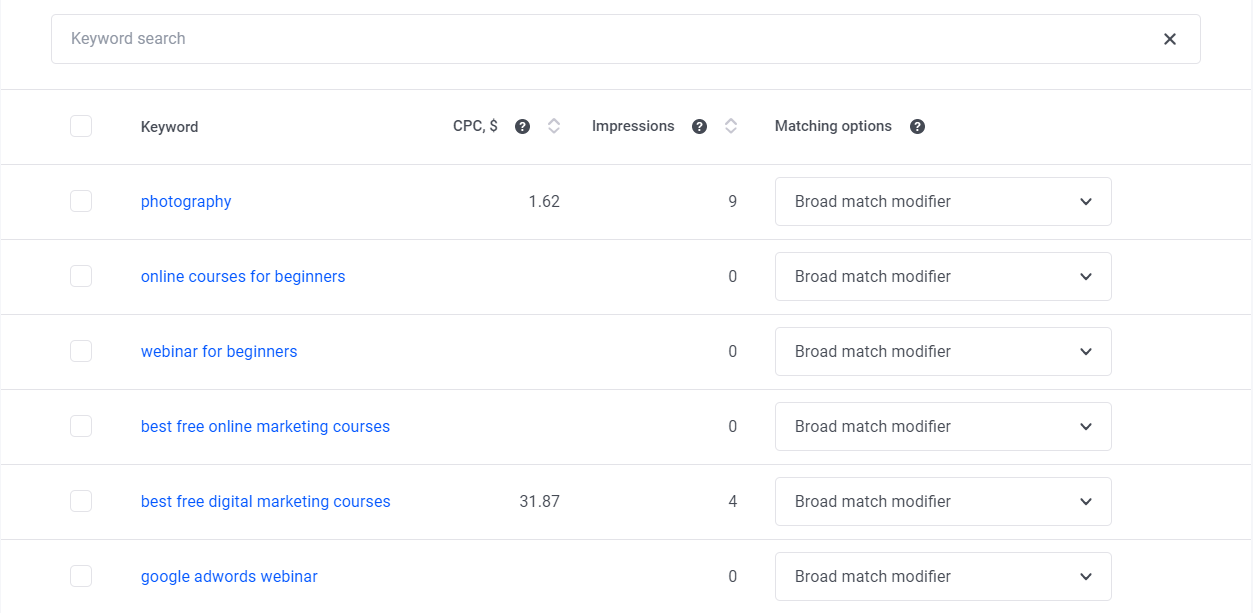 Additionally, don't forget to add negative keywords that can prevent your ad from being triggered by a particular word or phrase. Your ads will not be shown to anyone who is searching for that phrase.
This tool allows advertisers to combine keywords into groups using auto-grouping. Select the number of similar keywords per phrase and click "Group". This will help you create the most relevant ads in your groups and specify the necessary landing pages.
Bulk filling of ad fields from a template will help save significant time. We recommend adding as many headlines, descriptions, and extensions as possible.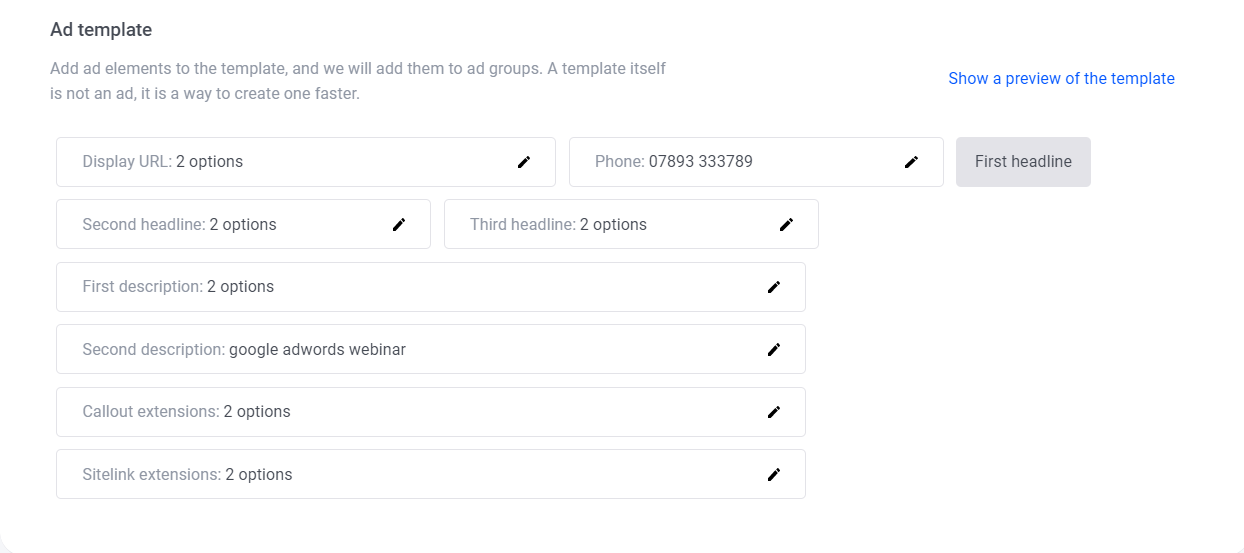 Turn on the UTM-tagging tool to track the advertising efficiency in your eLama account.
Create Facebook Ads campaign in a few clicks
Creating an ad campaign in the Facebook Ads Manager interface can be quite complicated for the uninitiated.
However, eLama takes away the technical hitches by providing an easy, step-by-step way to create an effective Facebook Ads campaign with recommendations from our PPC experts at each step of campaign creation.
You can quickly and easily generate many images with text overlay for different placements using the creative builder. All you need to do is select the placements where you want to display your ads, upload pictures, add text options for your banners and click Create. Select 10 ad banners after the creation.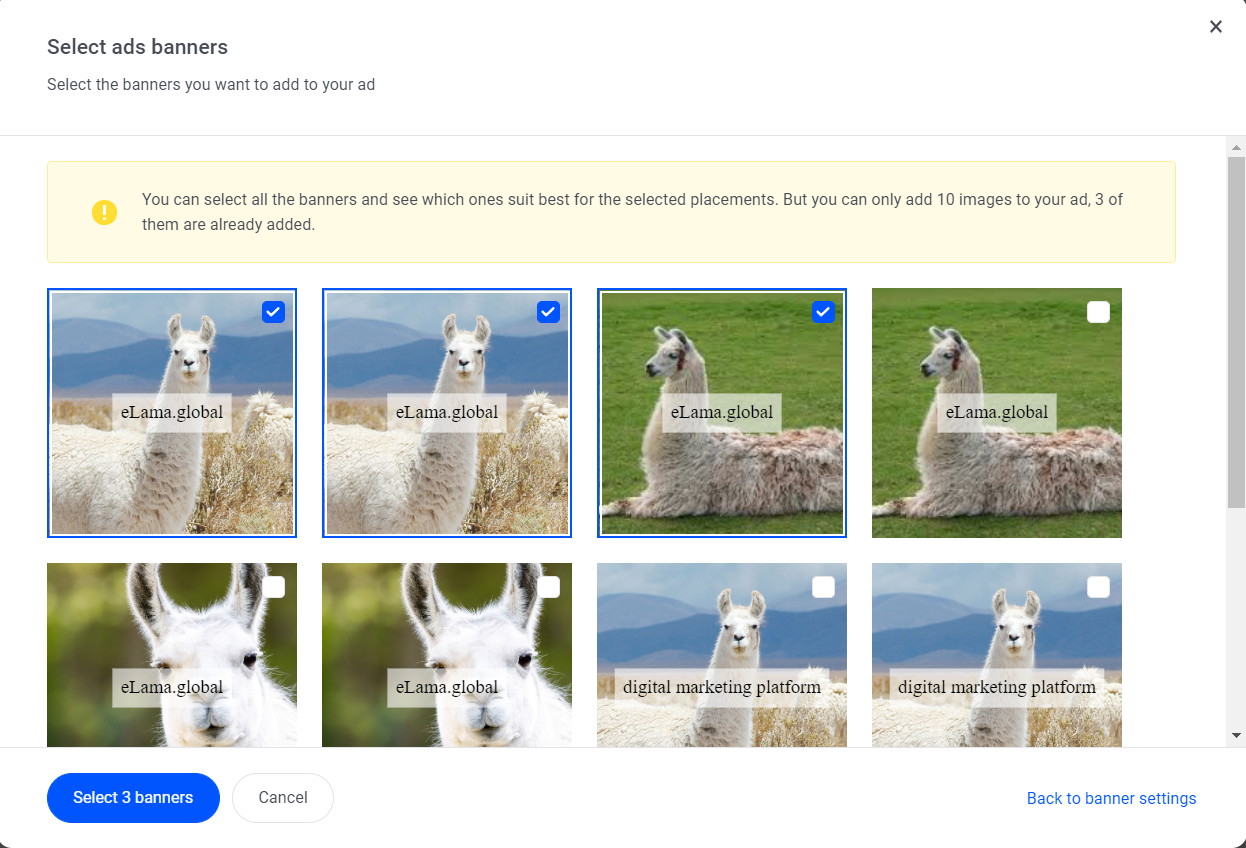 Create dynamic ads to optimize your campaign – just add multiple headline options, texts, descriptions and calls to action. The Facebook Ads algorithm will combine these elements in unique ways to create ads that maximize the effectiveness of the campaign per the objective you set.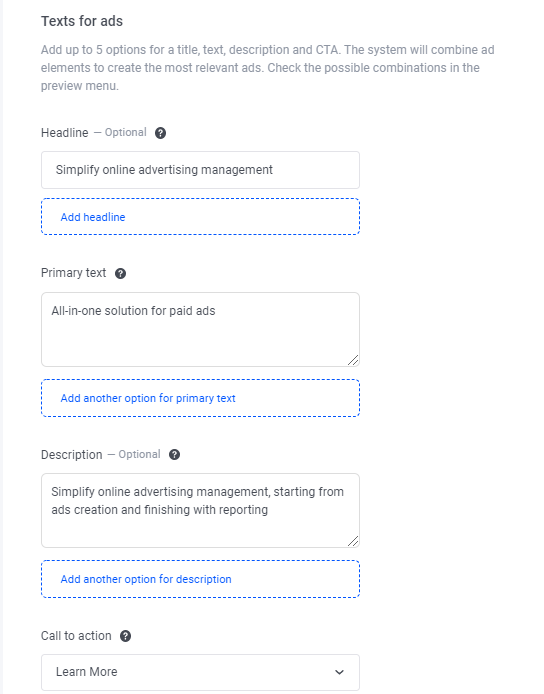 Dashboards
Interactive Dashboard allows you to track your campaign performance and determine the most effective marketing channels in one place.
Here you can find graphs, diagrams, and charts with data for 19 separate metrics. This tool will also help you quickly assess important metrics, draw attention to problem areas and compare the performance by channel.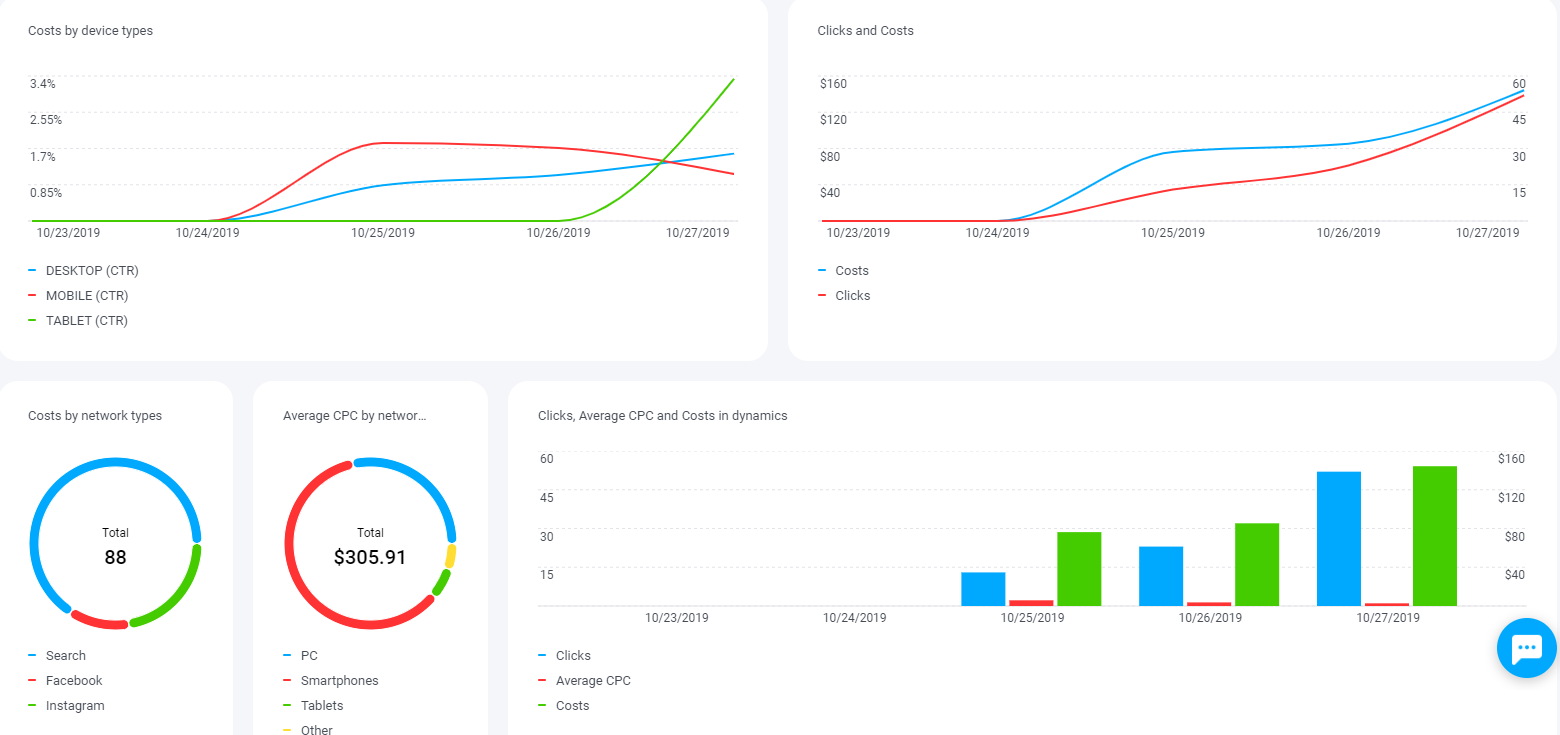 The dashboard is customized – you can select the period and currency, include or exclude VAT, and display only necessary slices and metrics.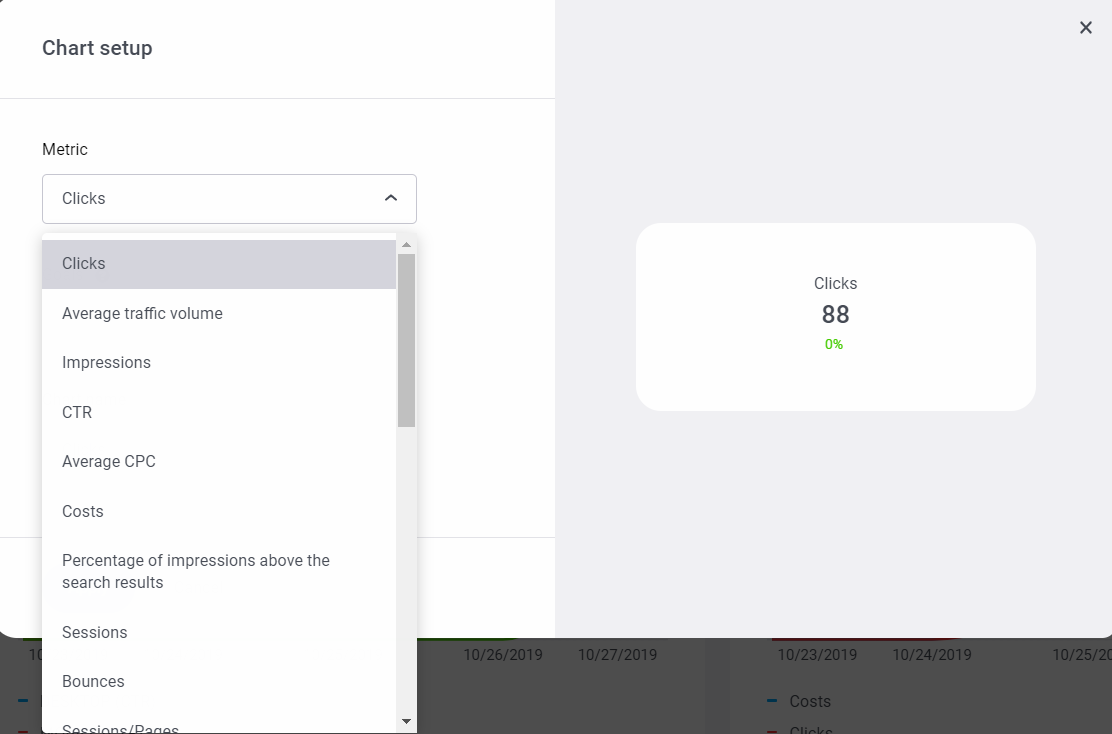 In addition, data filtering is available for the entire report and for each chart.
The report contains a table with data on keywords.

The dashboard also can be exported in PDF and used as a report. To do this, click on the download arrow.
Statistics
This tool allows you to conduct an in-depth data analysis of advertising accounts using a clear and user-friendly eLama statistics interface.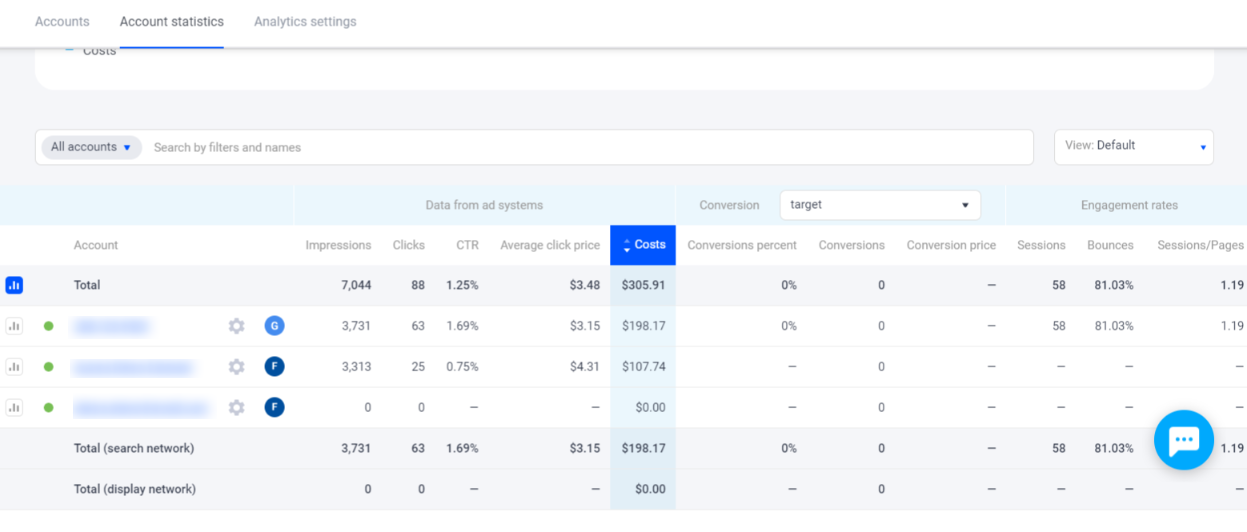 In account statistics, you can compare the performance of different advertising accounts. You may decide to reallocate your budget to better performing channels based on your conversion data and other metrics.
Your Statistics are displayed in graphs and tables that can be customized to suit your needs. To customize statistics reports, specify the required time period, and set filters. In the chart, you can select different metrics and display data by day, week and month.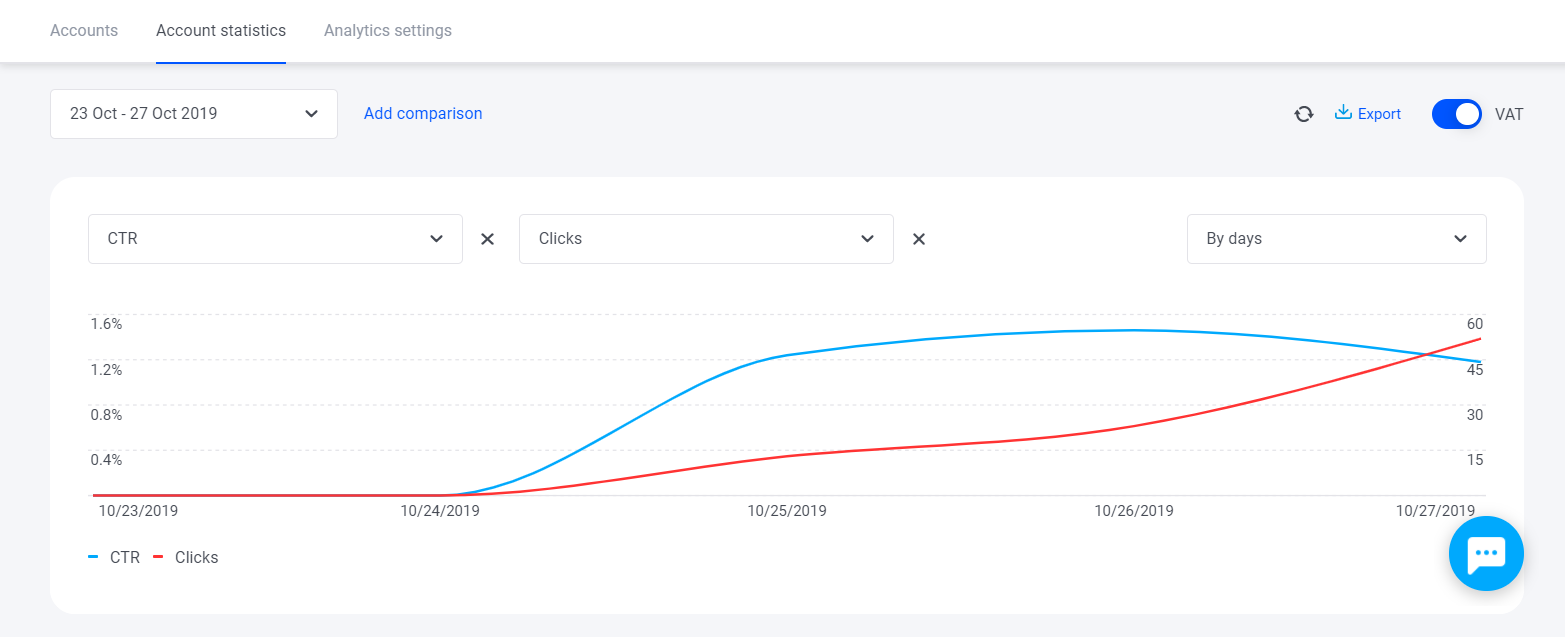 Real-time data updates are available for the Business plan subscribers. All statistics reports can be downloaded in CSV and XLS formats.
Automated rules
Automated rules keep track of your ad campaigns even when you are busy elsewhere. You get to save time on optimization and prevent wasting budget on ineffective campaigns.
We can be flexible when setting Rules
You can create a rule for Google Ads to automatically stop ad impressions and send a notification if a campaign spends a certain amount, for example, €100, without achieving conversions.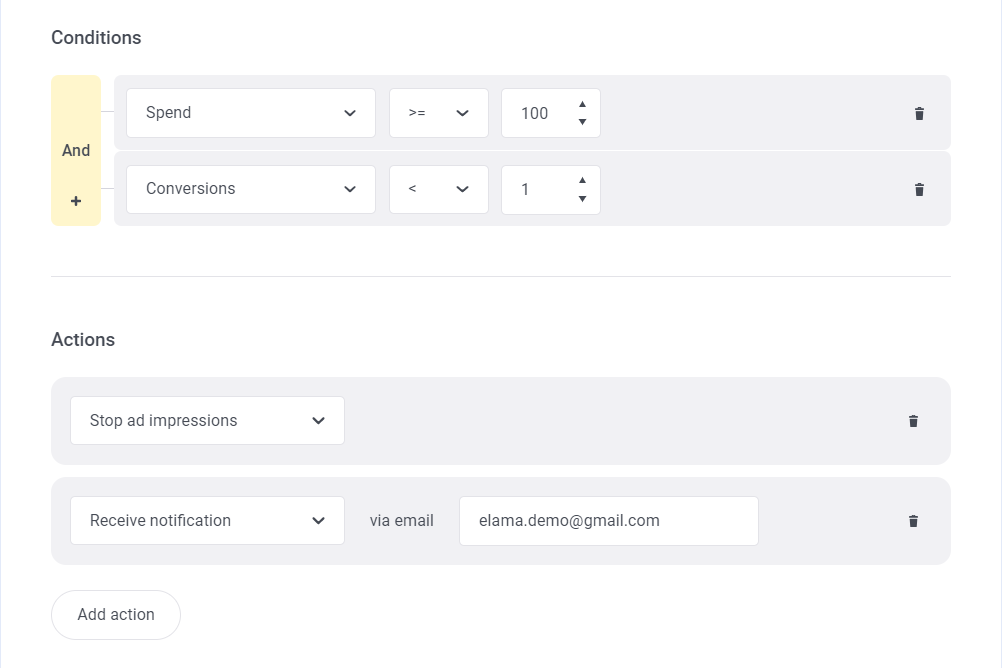 You can also set the rule to raise bids for high performing Google Ads campaigns, groups, or ads. The rule may look like this: If there were conversions yesterday but less than €100 was spent then increase the bid by 20 percent.
Do not forget to indicate the period for collecting statistics for the rule and name it as clearly as possible.
A rule can consist of several conditions. Just click "Add condition". Select "and" / "or" operator by clicking on three dots.
Once the rule is created, it appears on the list where you can stop, change, or remove it as you see fit.
Advisor
There is no need to doubt whether you have set up your campaign correctly, we have a tool to help.
The Advisor tool will check your ad campaigns' settings for errors even before it is launched. The tool scans and analyzes your Google Ads and Facebook Ads campaigns and provides you with a list of suggestions on how to optimize your activity better.

Select the tool from the menu on the left of the page. You will then see the overall performance rate of your ad campaigns. It shows what percentage of your budget is allocated to campaigns that don't need any improvements.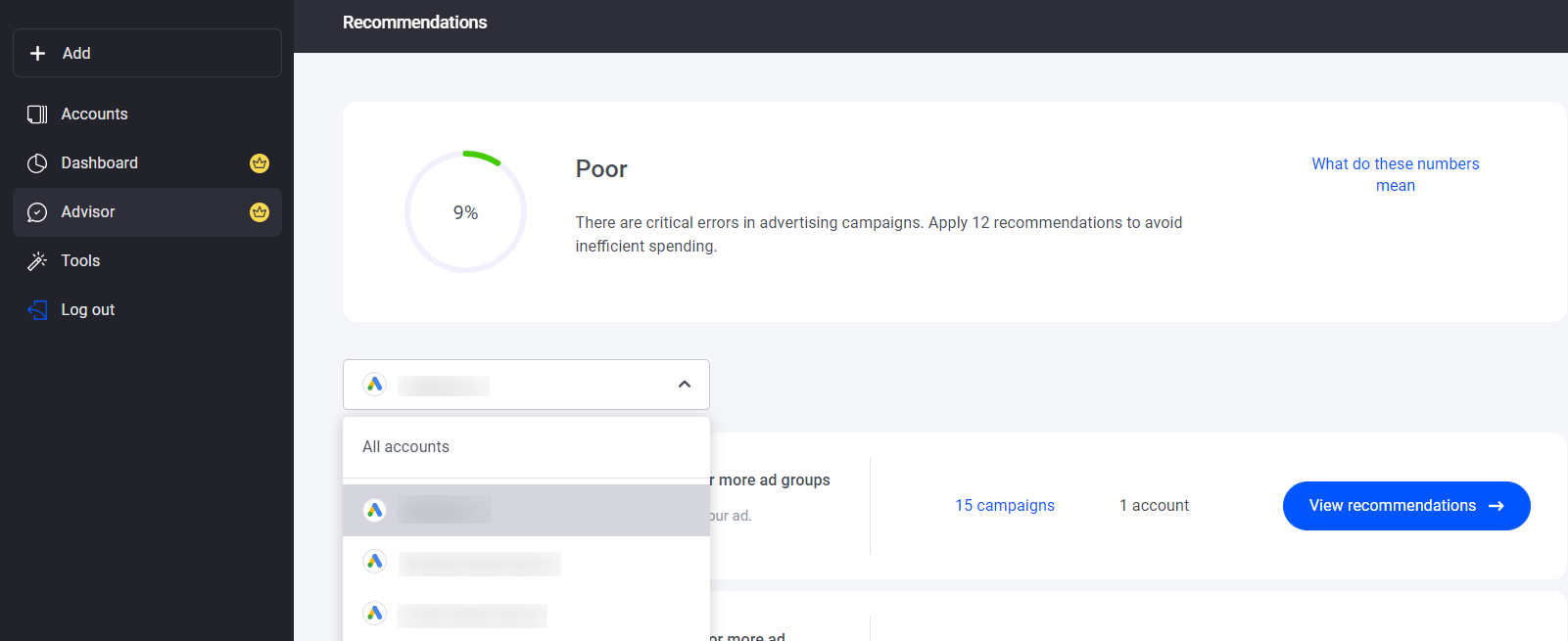 You can filter recommendations by account. To view the recommendation, click the 'View recommendations' button. One of the recommendations is: "There are no negative keywords in the campaign". Negative keywords prevent your ads from appearing to irrelevant search queries.
Click Improve to move to the ad campaign and fix the issue.

We recommend reviewing all the recommendations to find out how you can improve your ads before they are launched.
Easy, right?

Beсome our early adopter! Fill in the form, and we will contact you within 24 hours to discuss all the details. Once we've received your feedback, you will get $100 on your eLama account balance. Spend this on your Google Ads account connected/created in eLama or you can purchase the Business Plan.