Business intelligence has become some kind of indispensable approach that helps us analyze and convert data into detailed reports for our clients, corporate executives and business managers. In this article, we are going to explain the basic rules for working with BI reports.
Power BI is a Business Intelligence and Data Visualization tool which helps you to convert data from various data sources into interactive dashboards.
There are a lot of software connectors that will help you correctly connect data sources to Power BI, but they will not build a data model for you. We have a solution – BI reports!
BI Reports collect the data from advertising and analytical platforms to quickly create visual reports within Microsoft Power BI. The tool automatically collects statistics from advertising and analytical systems, loads it into the Power BI, and creates data-driven visual reports. Data is immediately converted into graphs and charts.
In this tutorial, you will learn how to start working with BI reports.
Install and run Power BI Desktop

Sign in and download Power BI Desktop for free. When registering, you need to specify corporate mail, personal mail will not work.
After registering, you can start working directly with the report in Power BI. To select data sources and create a report, follow the instruction. After that, open the Power BI report template and log in to your account. The Login button is located in the upper right corner. Enter the email and password that you specified during the registration.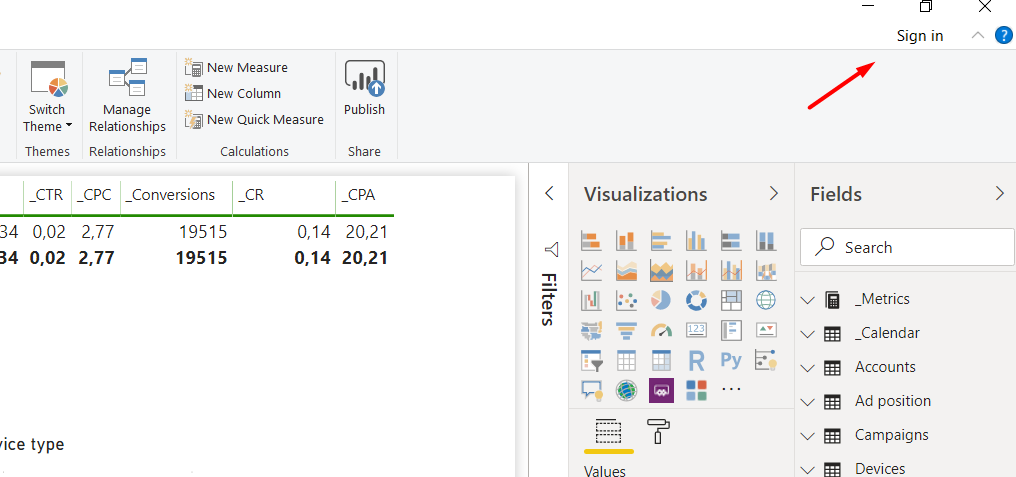 You can install and run Power BI in 3-4 minutes. The report in Power BI is ready to go.

The "Edit queries" and "Refresh" buttons
The "Edit queries" button allows you to go to the Power Query Editor and change the data source (for example, login with another user if you are building a report for several clients).
Using the "Refresh" button, you can update the data in the report.
How to add a filter to a report
Click any visual to make it active. You can see that all the fields being used by the visual are in the Fields pane and also listed in the Filters pane, under the Visual level filters heading.
From the Fields pane, click the field you want to add – the visualization itself is now filtered with the new field. The new field is also shown in the Visual level filters area.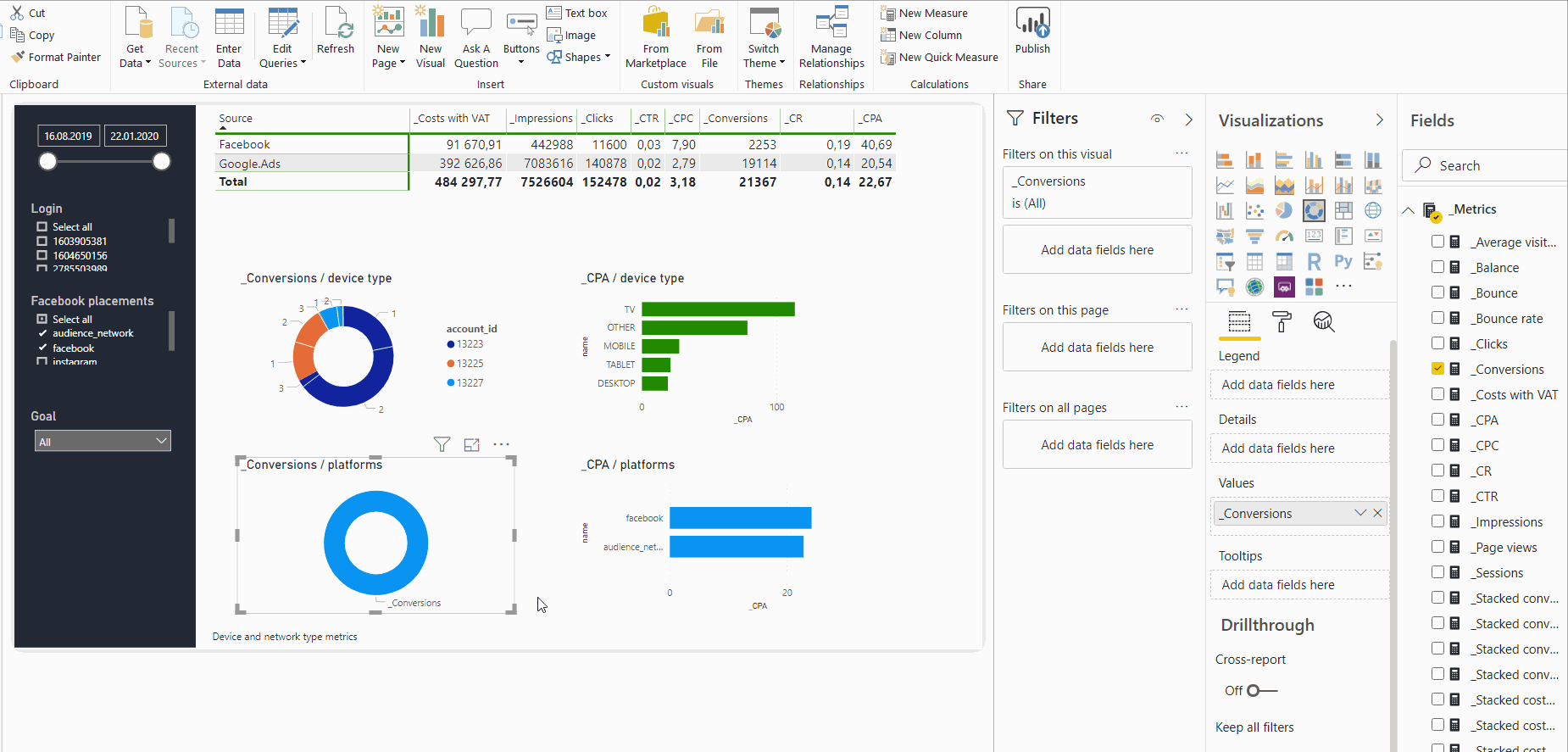 Visualizations
BI reports dashboard consists of many visualizations on a single page. You can customize the dashboard by adding various visualizations through the Visualization pane.
Visualization pane is a set of different graphic elements that you can add to your dashboard and customize as you like. For example, if you want to create an area chart, select it in the Visualization pane and add metrics from the Fields pane.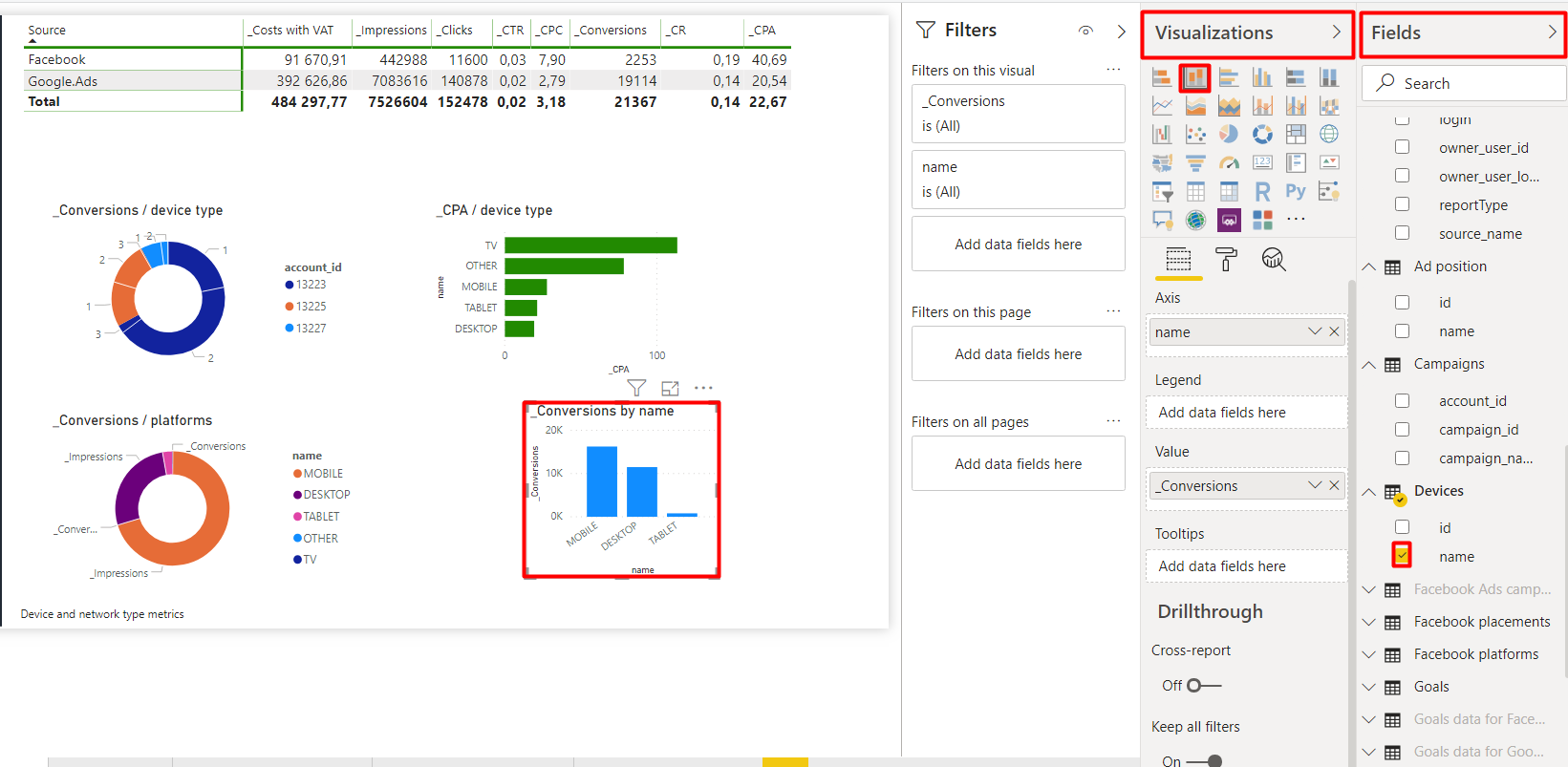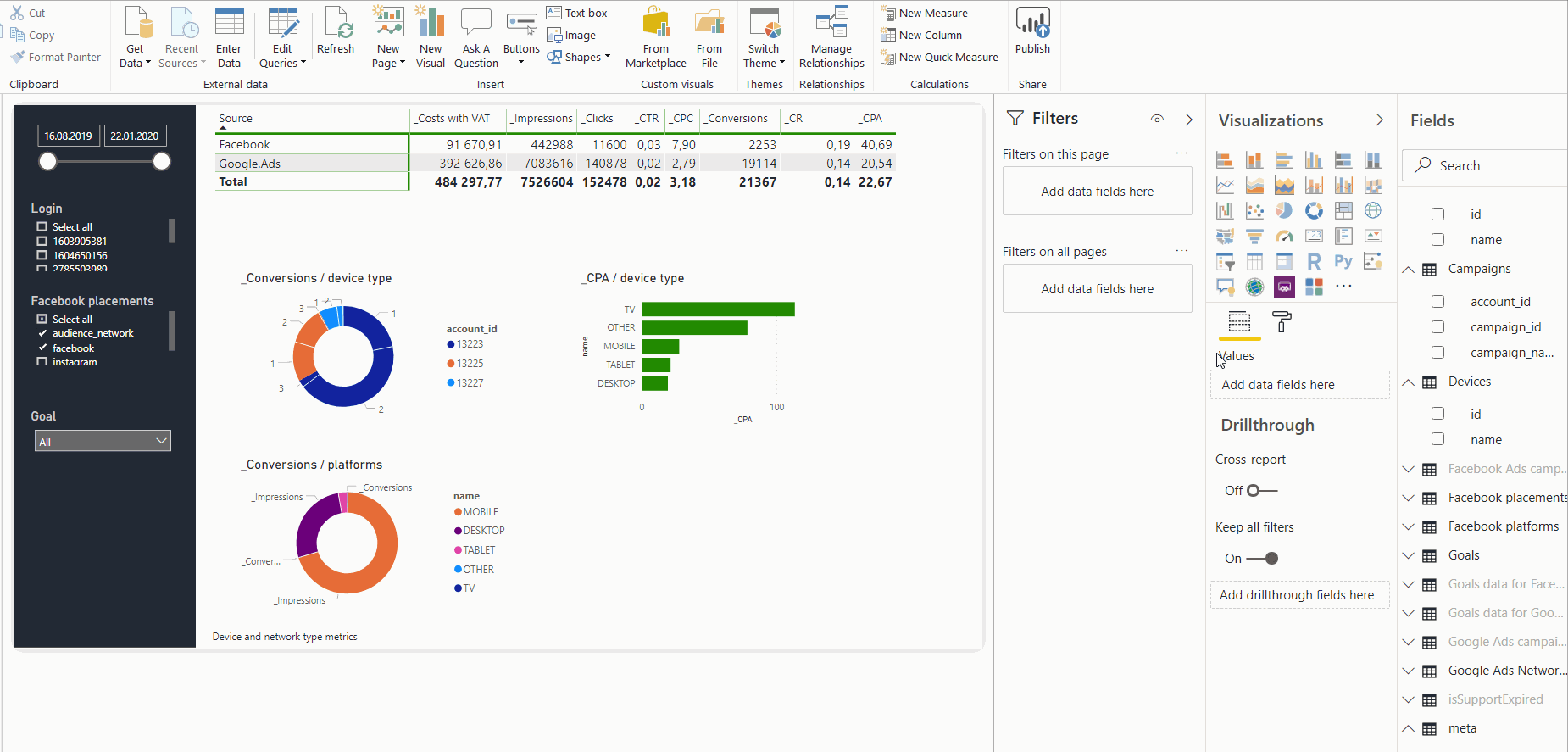 Thus, you can make any graphs and charts by adding data on clicks/costs/impressions/CTR/CPA/CPC by devices, accounts, campaigns, etc.
There are a lot of options for customizing visualizations. You can change the colors, fonts, background and other options. The set of options that can be changed depends on the visual element you want to edit. Learn more about visualization types that you can customize here.
To edit a visual, select it and click on the paint roller icon. A menu will appear containing available options: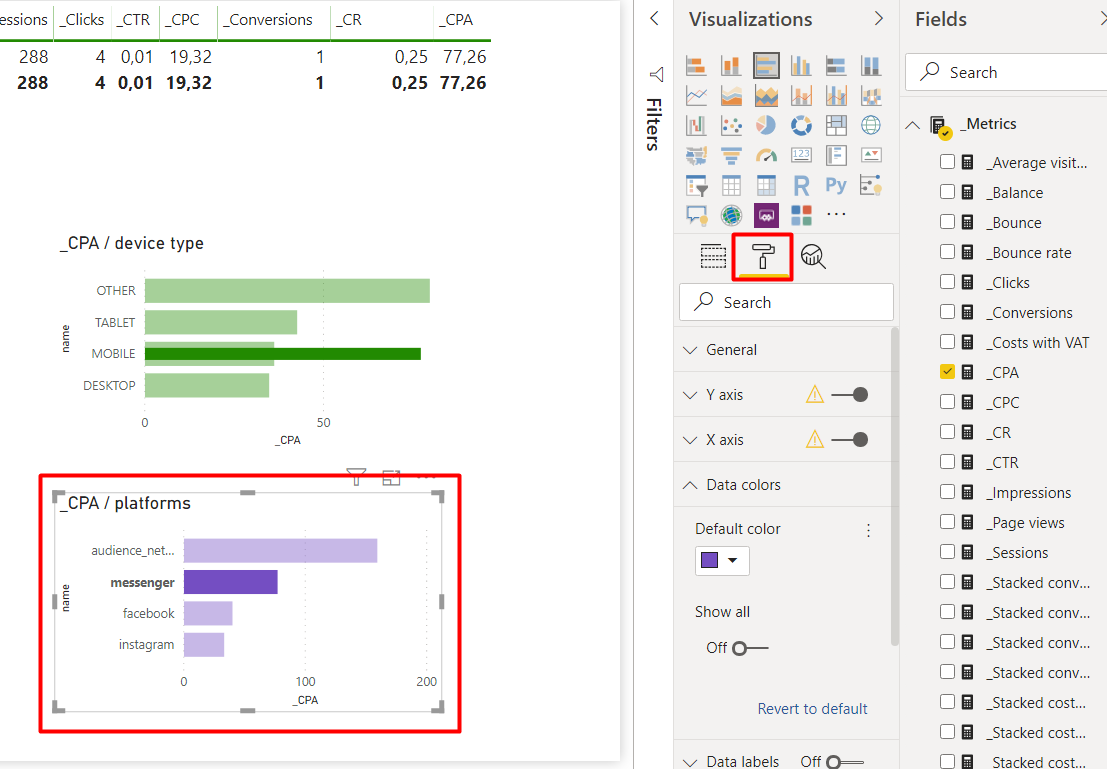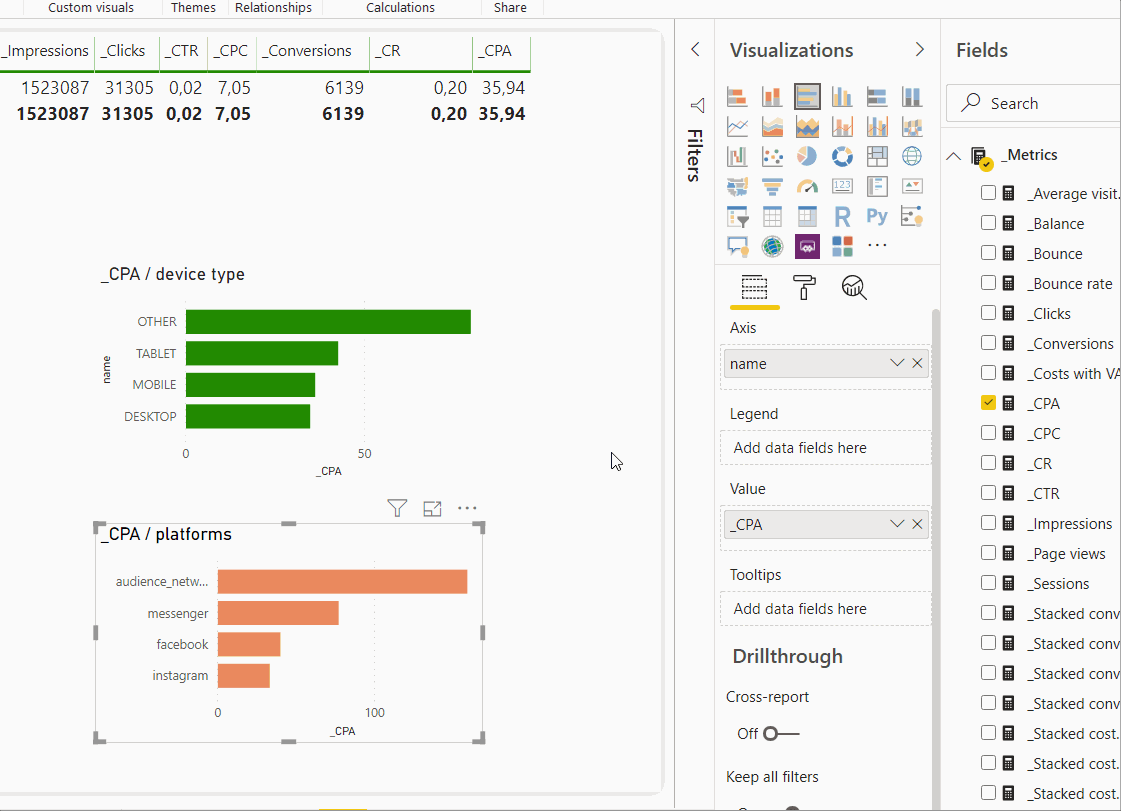 Thanks to visualizations, we can create a report that will be pleasant to work with.
Query Editor
Using the Query Editor, you can make changes to your report. For example, you can learn how to split the necessary field into new fields and get more precise statistics.
Click "Edit Queries" and find the necessary field. After that, right-click on the column with the name of the column and duplicate it.
We duplicate the column so that the original one remains, and the copy of the column can be split according to characteristics. After the column has been copied, right-click on the copy and select "Split Column" >> "By Delimiter". Power BI will ask you to specify the delimiter. Specify the one you use in campaigns. This is usually an underscore (_) or a vertical delimiter (|).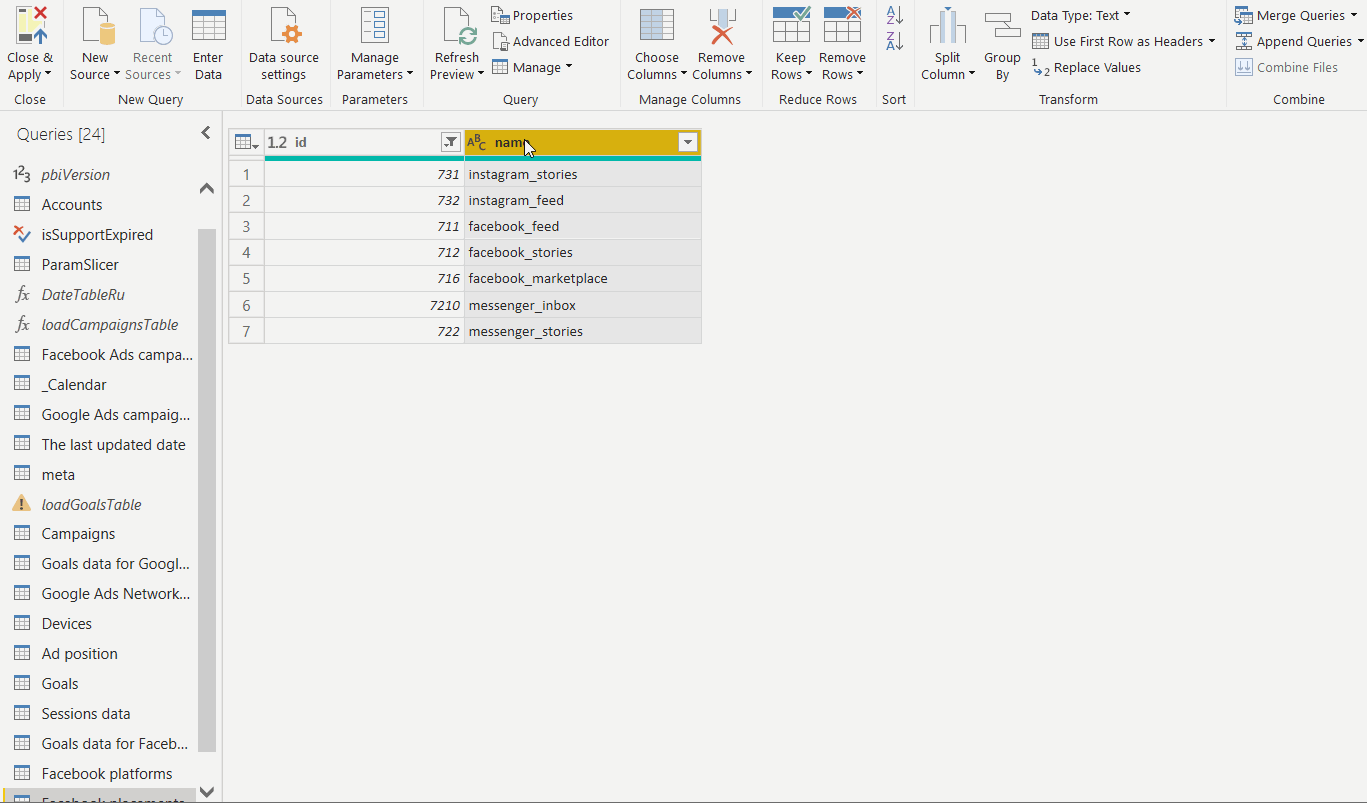 Each column can be renamed by double-clicking on its name. To save all changes in the query editor, click "File" >> "Close and Apply".
Let's return to the report. Now you can see new fields that you have just created in the "Fields" section. Like other fields, they can be used to filter data in visualizations or to create new visualizations.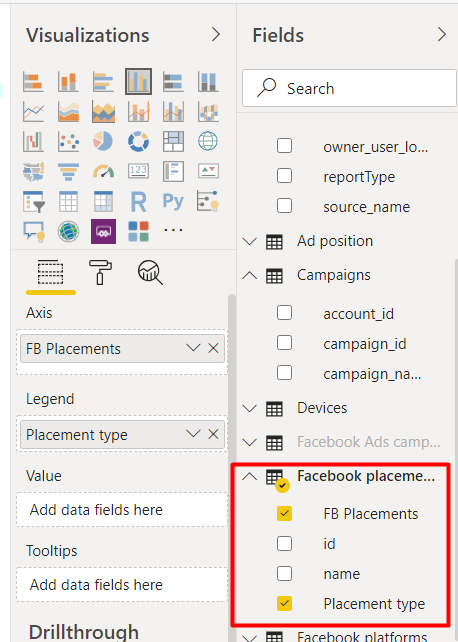 All elements in the report are interactive – they can be easily moved, enlarged, deleted, etc.
Additional
There is another useful option – text box. Using a text box you can add comments to the reports. The text box also can be customized according to your needs with the use of a paint roller.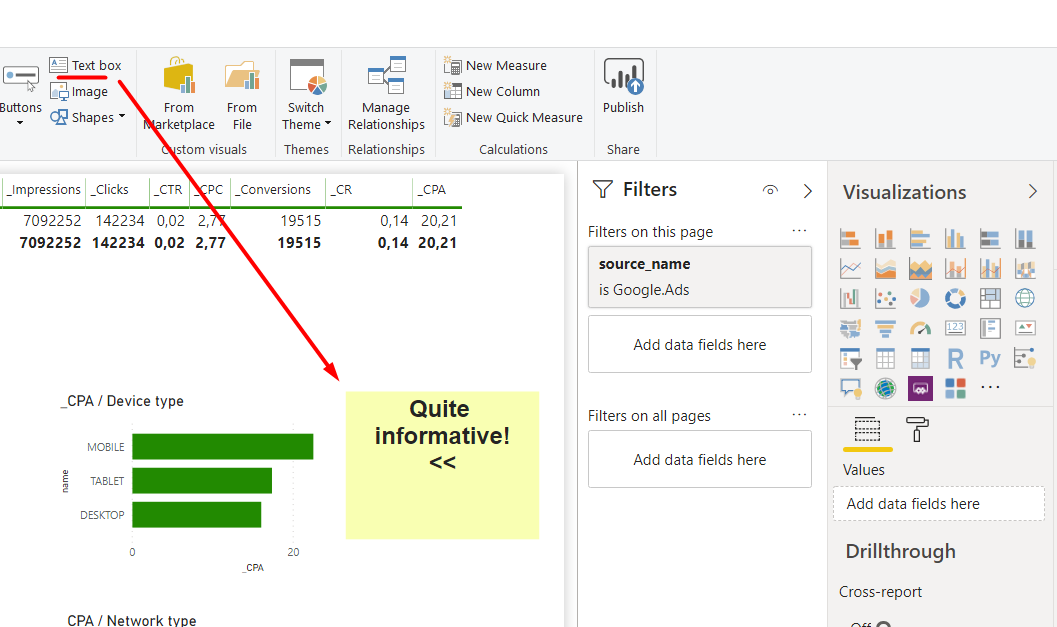 ---
Don't know how to start working with BI reports?
Schedule a demo with one of our experts to learn how to quickly create visual reports according to your business needs. See the performance of BI dashboards in action and ask questions!