Black Friday is one of the most significant shopping events of the year; huge discounts, special offers, and promotions are a great way to attract new customers and increase profits. It's an event that you simply cannot miss! But how do you prepare for Black Friday? What promotions should you offer your customers and how do you set up advertising campaigns? Read on and find out!
General strategy
Let's start with a special offer
It is important to first decide which products and what discount you can offer your customers. Select the goods that will fall under the discount. You can use Google Trends for that purpose. Using Google Trends you can track the popularity of certain search terms across different regions during the holiday season. When choosing which products to include in your special offer also consider the goods that you have in abundance.
After you have selected the goods that will be included in your Black Friday event, you need to decide the discount percentage, because you want to maximize profit from this event. If you have a related product that does not sell well but is still very useful, think about incorporating the product in a special offer. For example, you can offer such a product as a gift that increases the value of the main product.
If you sell heavy items such as household appliances, you could offer free delivery to entice potential customers.
Do remember that you do not need to offer big discounts in advance, it is better to save your best deals for Black Friday weekend when customers are more likely to make a purchase.
Prepare your website for a traffic surge
Do check that your website can withstand the surge of traffic. On Black Friday, too many requests and a lot of traffic can break your site, so check the functionality of your website and take steps to protect your website in advance.
You can test the server load capacity of your store with LoadImpact.com.
Decide what promotional channels and campaigns you are going to use
After you have selected a special offer and checked your website, it is time to decide which marketing channel you are going to advertise your offer through: search, display, social ads, email, messengers, etc.
The choice of channel should be based on your needs. Each platform has its own target audience, which differs from the audience of another platform.
As well as this, each platform is designed for different purposes. For example, by using email marketing you can warm up the interest of your customers who have made previous purchases, thereby motivating them toward another purchase. By using Facebook retargeting ads or Google remarketing ads, you can "catch up" with users who have previously been on your website or abandoned the cart without having made a purchase. Messengers are also a good channel for informing customers about short-term promotions.
Prepare content and visual support
After selecting your promotional channels, start preparing the visual and textual content for the chosen marketing channels, whether it be email newsletters, Google Ads campaigns, Facebook Ads campaigns, Twitter, messengers or other formats.
Recommendations for Google Ads:
#1 Promotion Extensions
The Promotion extension is ideal for attracting potential customers during the holidays using discounts and special offers. With this extension, you can specify the conditions and important promotional information, such as promotional codes, the sales period or the minimum order amount.
The Promotion extension is shown below the ad and is clearly visible to potential customers. The event name is shown as a bold label next to the ad text. The extension also includes one or two lines with details about the promotion.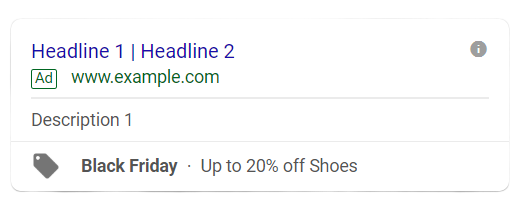 The promotion extension is eye-catching as it stands out from the ad text. By clicking on the extension, potential customers will be sent to a page on your website which has a description of the promotion. Promotions are shown on both desktop and mobile devices at the top and bottom of the Google search results page. Learn more about Google Ads extensions here.
#2 Set up remarketing campaigns
Make sure to set up a remarketing campaign. By targeting website visitors, and specifically cart abandoners, you can achieve maximum reach. The more often potential customers see your ads, the greater the likelihood that they will make a purchase. Read more about remarketing here.
#3 Use countdowns
Highlight your Black Friday ad campaign with countdowns.
Recommendations for Facebook Ads:
#1 Set up retargeting campaigns
As with Google Ads, Facebook retargeting campaigns will provide the best results when they target people who are already familiar with your goods. Those who are already familiar with your products and services are more likely to make a purchase.
#2 Create a Lookalike Audience
Creating a lookalike audience for a Black Friday ad campaign is a great opportunity to attract new customers who are similar to your high-value customers. This audience is more likely to buy your product or service, especially during promotional events. Learn how to create a lookalike audience here.
#3 Think about Instagram Stories as a placement for your ad
If you have an Instagram account, try Instagram Stories as a placement using Ads Manager. The Instagram stories placement supports all video and image formats including the carousel format with very high engagement rates.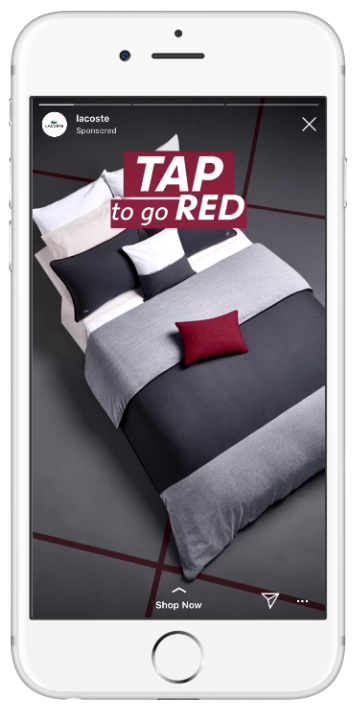 Conclusion
Preparing an advertising campaign for Black Friday may seem difficult, but, in fact, it's relatively easy when you break it down into simple steps. Just determine the conditions of your special offer, select the products for promotion and choose which promotional channels you are going to use.