In this article, you will learn what are URLs, what is a UTM parameter, how to generate them on your own and what URL builders you can use to streamline the process.
Introduction
Being a marketing professional requires lots of precise measurements.
You need to understand how well each marketing activity performs. Setting goals and binding your website to Google Analytics is a must. But simply having Google Analytics or Google Ads (AdWords) conversion tracking in place isn't enough. These tools by themselves will provide you with a very limited understanding of what's going on with your marketing activities.
There is, however, a tool that can open up a whole new dimension of in-depth analytics for you and your team. It's simple to use, free and very accessible. It's called UTM parameters.
What is UTM tracking in Google Analytics?
URLs and UTM Parameters
First, let's talk about URLs. URL (Uniform Resource Locator) is a link that leads users to your website. These links can look different depending on the different parameters they are using.
https://elama.global/?utm_medium=ppc
UTM parameters are extra pieces of data that are being transferred through the link. First UTM parameter in the link always starts with a question mark.
They have names, like medium in this example. If a URL uses multiple UTM parameters they are always divided with & sign.
https://elama.global/?utm_medium=ppc&utm_source=google
UTM parameters are always followed by =parameter name.
You may also encounter URLs with a hash sign. It identifies an anchor link that leads to a certain part of your website. Anchor link parameter always finds itself at the end of a URL.
https://elama.global/?utm_medium=ppc&utm_source=google#anchor
UTM Tags (or parameters)
UTM (Urchin Tracking Module) is a small piece of code that you add to your final target page URL. It identifies where your traffic is coming from. UTM parameters of a URL link send this data to your analytics tool. A unique set of links for each ad will provide you with granular statistics data. Granular statistical data includes information about your advertising activities and their results.
There are also a variety of tools to help you create tags, which we will cover in this article.
«Why bother?», you might ask. The answer is simple. Modern day marketing relies on accurate data, which is used to analyze the efficiency of each marketing activity. You have to understand what part of the campaign resulted in conversion and which part is just a waste of your marketing budget.
UTM tags can be used to track the performance of what you have posted to your social networks or to see how efficient was your last newsletter.
Accurate results are less open to interpretation. The results provide a clear analysis that enables you to know exactly when and where to invest more budget and time.
So to answer your question, UTM saves your budget by avoiding money drains. UTM is also used to prove channel efficiency which you can report to your clients or boss.
Where to track UTM codes in Google Analytics?
The data that's pulled from your tagged URLs is available in the Google Analytics dashboard.
You need to connect your website to Google Analytics.
You can find your data in the Analytics overview page. Then go to Acquisition — All Traffic and Source/Medium.
How to create UTM parameters in Google Analytics
Google Ads do not necessarily need custom UTM tags if you have connected your account to Google Analytics tracking. Google Ads has an auto-tagging tool that exchanges data with Google Analytics using Click ID. Software pieces will be in sync with each other, so the data is transferred directly from one source to another.
Auto-tagging is set as a default option as you start working with the Google Ads platform. You may choose to turn it off in your account settings.
If you want to track the performance of your other marketing campaigns, you will require custom URLs to retrieve all the data.
There are a variety of tagging tools to choose from. One of the best options for manual UTM creation is Google's URL Builder. Here, you can generate links that will track the efficiency of your social, guest blog or PR activities.
Campaign URL Builder will create custom trackable links to measure your advertising performance in Google Analytics.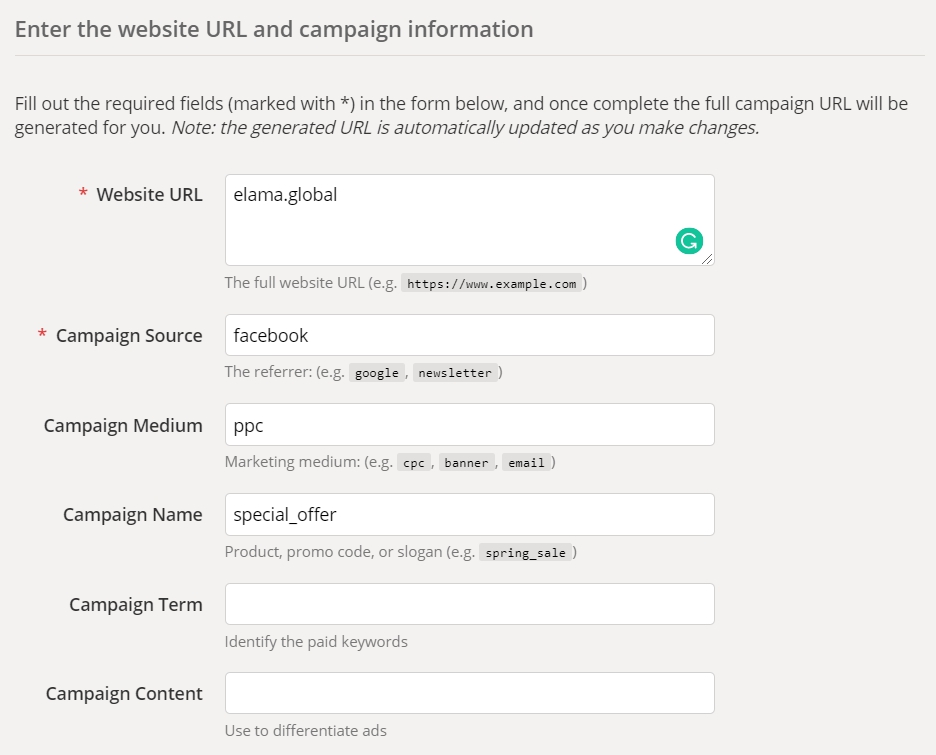 The tool is plain and simple. First, add your target link, create simple and understandable parameters (such as medium, source, etc.), and add them to the corresponding blank fields in the tool interface. And voila, you have a tagged URL without having to add code by yourself.

The main downside of this tool is that it doesn't allow users to create custom URLs in bulk.
Some marketing tools provide auto-tagging options to their users in order to track the performance of the marketing channels they provide solutions for.
What part of UTM code means what?
Google Analytics UTM parameters (or tags) are organized by granularity, which are sorted by most wide-net tag (to identify the whole marketing medium) all the way to a targeted, single keyword (especially useful for PPC marketing tracking).
Source
The source is the platform that you use your URL on. It identifies which system or platform brought you traffic.
?utm_source=google
Medium
Campaign medium is the advertising type that you are using with a particular URL. This is a more global tag which is then broken down by other tags in your URL.
&utm_medium=ppc
Name
Here, you will need to identify the name of your campaign.
&utm_campaign=campaign name
Content
This tag is used to test out ads that have different texts but lead to the same URL. You can also use this part to include additional information about placements, devices, and so on.
&utm_content=content
Term
Particularly useful in paid search advertising (for example in Google Ads or Bing Ads). This tag identifies the keyword that is being used in the ad. In Facebook Ads, you can use this tag to identify a targeting description.
&utm_term=keyword
UTM parameters in eLama
eLama provides its customers with a unified statistics dashboard. You get single-window access to multi-platform performance data, including Facebook and Google Ads. In order to transfer correct data, eLama statistics require UTM-tagging.
Our clients can use an automatic UTM-tagging tool to generate Google Ads paid search URLs which can be used in PPC marketing campaigns.
This tool speeds up and simplifies the overall campaign set up process since all optimization actions are available within a single management infrastructure. You will receive a range of data directly to the eLama interface without having to insert the code manually.
eLama UTM builder will also be visible in Google Analytics. Data from our tags will be accurately imported to your account since or tagging is fully compatible with Google Analytics requirements.
You can have both eLama and Google Ads auto-tagging turned on simultaneously. They are completely compatible.
These tags will be automatically used in your campaigns if you toggle eLama auto-tagging on.
eLama also allows you to auto-tag multiple campaigns at the same time to avoid switching between campaigns. If you add parameters to campaigns with different values, the system will warn you about it.
Conclusion
UTM parameters provide you with the means to create sophisticated and highly detailed statistics based on your campaign performance.
Even though UTMs are not a necessity in Google Ads per se, they are still a very valuable source of statistical data for other advertising mediums, and even content A/B testing.
Google provides you with a URL Builder if you decide to manually create tagged URLs.
eLama has an auto-tagging tool to save you time and also pull data for internal statistics.