Modern advertising market significantly differs from what it looked like 10 years ago. It's not a secret that digital marketing is the most effective marketing channel nowadays. There's a bunch of reasons for that, such as:
Increased usage of the Internet
Increased time spent online
Almost unlimited advertisement customization capabilities.
Facebook in its turn is considered to be the best-performing digital marketing channel. We've already discussed its advantages and reasons why this platform is a must-have solution for business growth in one of our previous articles.
Today we're going to discuss how to create a Facebook ad campaign that will be as effective as possible. "Effective" means that the campaign managed to achieve the intended goals – sales, reach, brand awareness, etc. This article isn't a step by step guide, but you'll definitely discover how to make a good Facebook ad!
Before the start
As you may know, the devil's always in the details. We have a very important recommendation; without it, the efficiency of your Facebook advertising can be much lower than expected. We're talking about the Facebook Pixel.
The value of the Pixel is hard to overestimate. Facebook Pixel is a very effective analytical solution that allows advertisers to evaluate the effectiveness of launched campaigns.
The Pixel has a lot of advantages:
It tracks conversions of your website and displays them in the Facebook Ads Manager
Pixel enables remarketing
Pixel allows to create Lookalike audiences and more.
Check our special guide to learn how to set up and use the Facebook Pixel. Now let's move on to further step of the effective Facebook ad creation!
Pick the right marketing objective
The first step towards the answer to "How to post successful ads on Facebook?" is to pick a corresponding marketing objective. Each marketing objective solves a particular business objective and aims to achieve the desired result. Overall, there're eleven marketing objectives divided into three categories:
Awareness. This category unites all objectives that aim to drive the initial interest in the product.
Consideration. Being the biggest category, Consideration contains objectives that aim to increase consumers' interest in the product and to drive further interaction between consumers and the product.
Conversion. This category unites objectives that aim to encourage users who are already interested in your product to purchase it.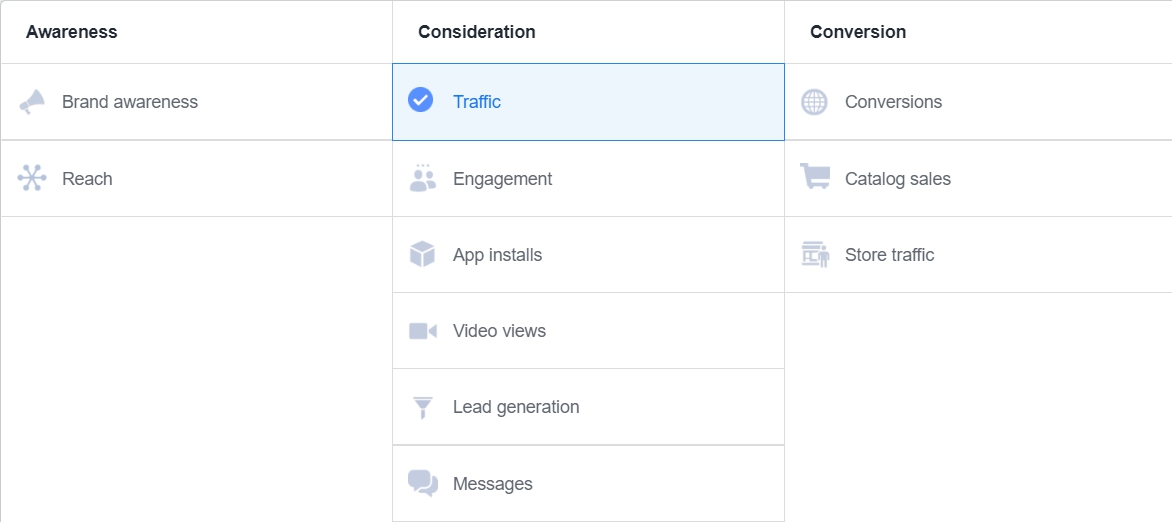 The choice of the marketing objective is one of the most important steps of a successful Facebook ad creation, that's why we suggest you dive deeper into this topic. In this article will find more information about each objective and identify the one that is the best fit!
Come up with a really compelling CTA
CTA – Call-to-Action – is an important part of any ad. To find the right CTA, you need to recall the initial goal of your marketing campaign.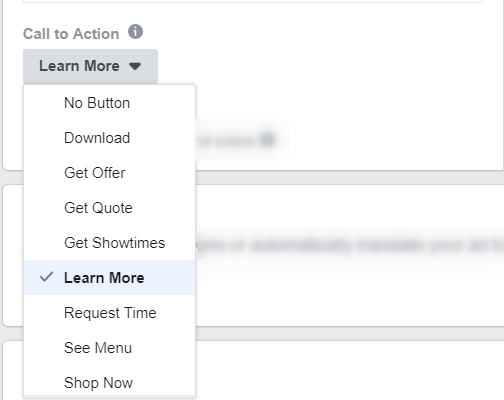 There's no single answer to "What CTA is the best one?". Thus, it will be an awesome idea to run several separate campaigns with different CTAs and analyze which perform better and why. Get rid of CTAs that don't convert and concentrate on those that bring results. This will significantly optimize your advertising performance and save your budget from the horrible waste.
Offer value
The current advertising market is oversaturated; you need to be an expert to encourage people to become your customers. Build your expertise sharing valuable content with future consumers – it can be a free ebook, valuable "how-to" guide or any other type of useful and insightful content. This can be a part of the Awareness-building strategy that will pay off in the future.
At the same time, you can make your customers an offer they can't refuse. Discounts, sales, promotions, specials offers – all these things can essentially improve conversions and result in significant ROMI increase.
Create an ideal Custom Audience
Custom Audiences allow advertisers to show their ads only to the "warmed up" audience. Such audiences consist of people who already interacted with your brand one way or another. Custom Audiences will enable the most powerful Facebook Ads feature which is called Remarketing.
There are several ways to create Custom Audiences:
An audience of your website visitors
Using the customer information you have (for example, an email list)
People who completed (or at least opened) your Lead Ads campaign form
People who interacted with your Facebook or Instagram profile and more.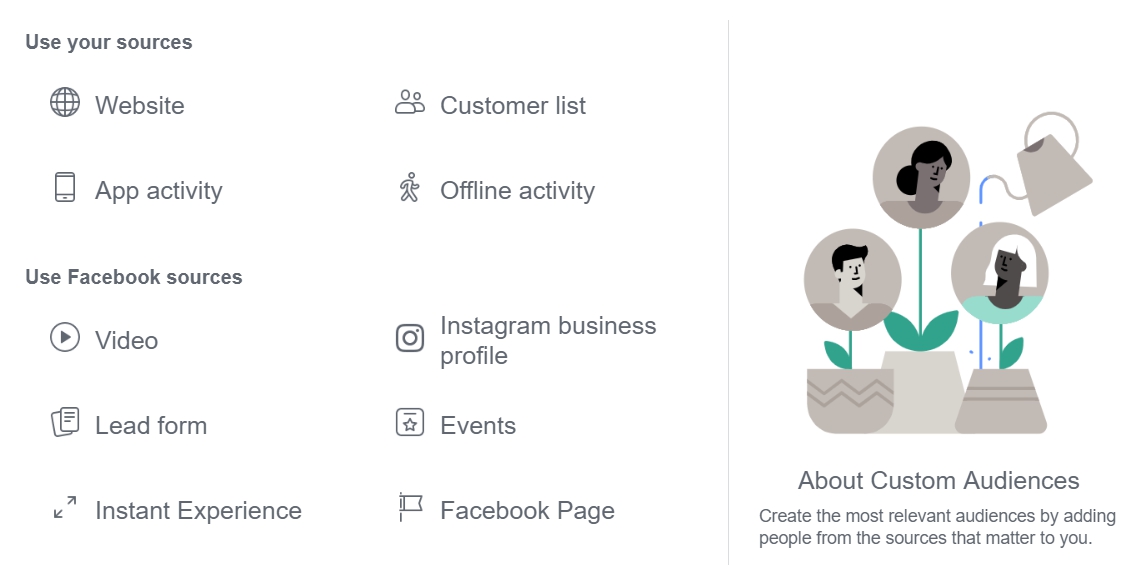 Custom Audiences' main value is that people who you target with your ads are already familiar with you, your brand or your product. Thus, the eventual conversion rate will be much higher than simple targetings can generate.
Choose the right placements
Facebook Ads aren't limited by Facebook only. Facebook Advertising Family includes Facebook, Instagram, Messenger and Audience Network. In its turn, each of the mentioned platforms has its own placements.
Generally, there're two ways of choosing placements in Facebook Ads:
Automatic choice. In this case, Facebook's algorithms choose placements where your ad will be shown. Facebook claims that this approach allows to spend ad budget with maximum efficiency and to show your ads to the maximum amount of people. This way of doing things isn't always the best one.
Manual choice. In this case, you choose placements for your ad across all the Facebook Advertising Family capabilities on your own.
Placements are different – Feeds, Stories, Search, Messages and so on. It's important to understand where people from your target audience spend most of their time and pick corresponding placements for your ads. For example, if you want to promote workout services, Instagram Stories will be a great fit.
Consider using different advertising formats
Facebook offers a bunch of different advertising formats, that can make your campaign not only look better but result in higher conversions. Similar to placements, each format has own pros and cons; think what formats can possibly be more interesting for your target audience before the launch.
For each Marketing Objective, only a limited set of formats is available. For example, that's what you'll see if picking "Traffic" marketing objective from Consideration group: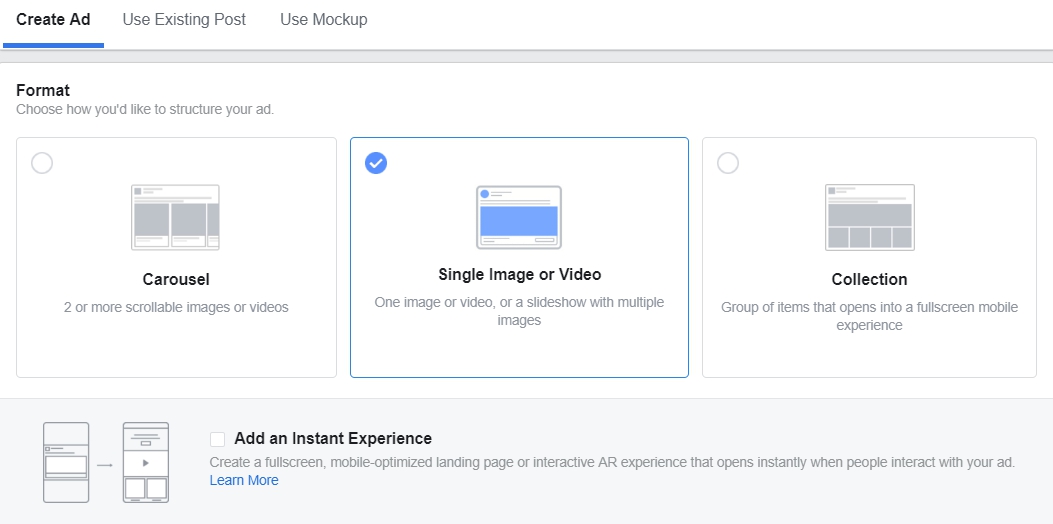 The variety of existing formats can play a dirty trick with the advertiser. Each format implies a certain number of sizes and specs which should be learned by heart. If you don't have time for such a useless exercise, you can find all the required information in our special guide. This guide won't let you get lost in this manifold of ratios, formats and resolutions.
Identify which bidding strategy is the best fit
Facebook offers five different bidding strategies:
Lowest cost will get you the most results for your budget.
Cost cap will control your costs as well as try to generate a big volume of results.
Minimum ROAS will control your ROAS (Return On Advertising Spend) and bring the biggest purchase value for your budget.
Bid cap is designed to control your bids in each auction.
Target cost will guarantee a consistent cost per result.
Before choosing the bidding strategy, think about what you want to get as a result and how big is your advertising budget. Depending on that, pick the bidding strategy that suits the most.
To sum up
Effective Facebook marketing requires relevant knowledge in order not to wast advertising budget instead of getting a constant flow of leads. Otherwise, the only thing you receive from Facebook Ads will be a negative experience that will result in future fear of digital ads.
Unfortunately, the ideal Facebook ad recipe doesn't exist: often advertisers have to learn by investing a lot of time and making costly mistakes. The last advice we can give is to identify proper marketing metrics: they will help to understand if everything goes wrong.