Have you ever thought about checking the performance of your advertising campaigns? What mistakes you have made when setting them up? Are they as effective as they should be? After a while, every advertiser health checks their ad campaigns. Checking even the most well-kept ad campaign is necessary because it directly affects the whole business.
Whatever the reasons, the ad campaign health check is a good idea. Checking the campaigns will open your eyes to all the shortcomings of your ad and can help you understand how to improve your metrics.
Don't know how to check your ad campaigns? The Advisor for Google Ads and Facebook Ads is here to help you! This Google Ads and Facebook Ads checker tool will scan and analyze your campaign and provide you with a list of suggestions on how to optimize and upgrade your ads' performance.
Benefits:
You can audit both new and previously created ad campaigns whenever you want.
Handy tips with practical problem solutions
This tool will provide you with solutions on how to resolve all the issues it has found and predict how it will affect your campaign.
The ad campaign check only takes approximately one minute.

When to use:
You have just created your ad campaign and want to check it for mistakes.

You have changed the PPC marketing manager and want to check the quality of performed work.

You need to free up time for ad optimization.
How it works: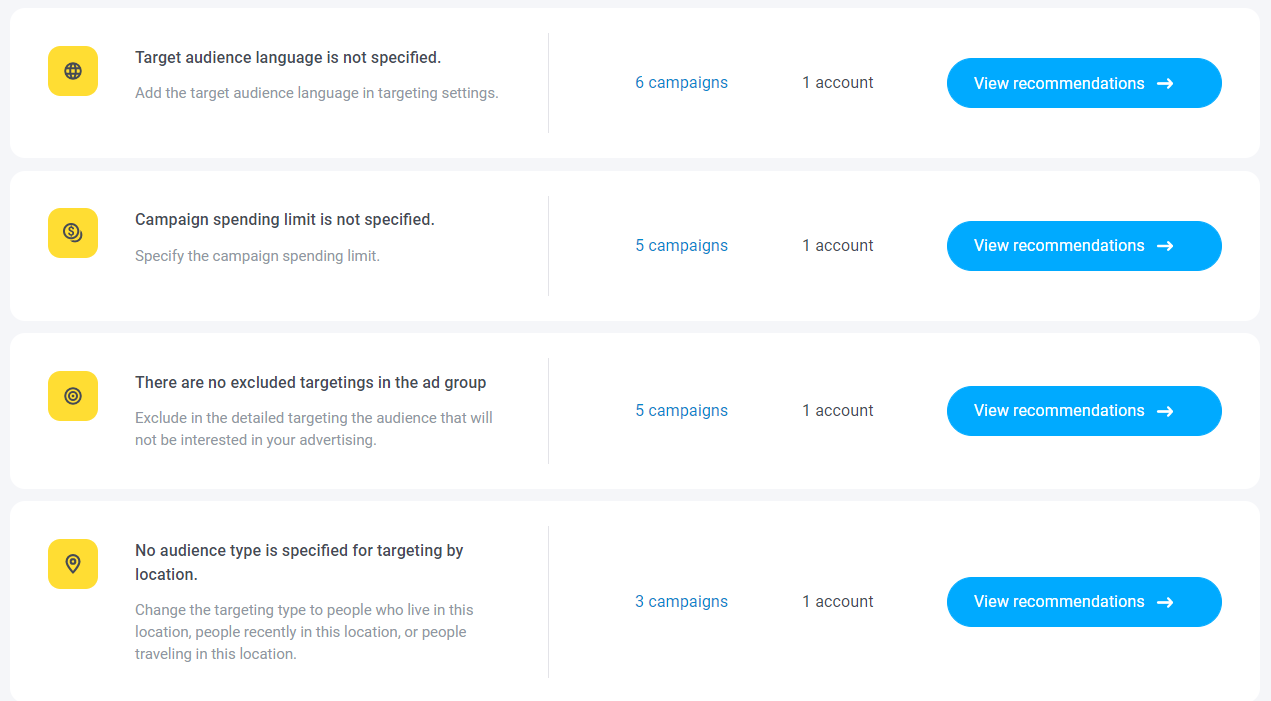 Let's look at a couple of recommendations to get a grasp of the tool:
Recommendation: There are no promotion extensions in one or more ad groups.
Add the promotion extension to inform potential customers about your special offers and great deals to generate new sales for your business.
Show extension to potential customers who are looking for discounts.
Set up impressions by events (for example, on holidays) or for a specific time to generate new sales for your business.
Expected effect:
The offer becomes more attractive to potential customers. As a result, you will get more clicks at no additional cost.
Recommendation: There are few keywords in the campaign.
Add more keywords to show your ads to the right audience.
Choose keywords carefully to only show ads to your target audience.
Expected effect: More target visits
So what do we get as a result? How will the Advisor be useful to me?
The Advisor is a unique tool that can be used by both beginners and advertisers with experience. Even experienced professionals can miss something. That's why a campaign health check will never be redundant. In addition to this, the Advisor allows you to optimize your advertising costs and increase user reach without any extra costs.