Google Smart ads are fundamentally different from Google search ads.
Google uses machine learning and automated processes to decide the best options for your campaign, taking care of all the variables for you.
If you're a fan of the set-it-and-forget-it type of advertisement, smart ads are for you. However, there is one potential issue with these ads – you are no longer the leading decision-maker as the system determines how your ad is set up. You can't create any of the elements yourself.
Who are these ads aimed at?
These ads are great for amateurs, small to medium-sized businesses, and service providers like plumbers, locksmiths, etc.
Developing ads from scratch has a big learning curve, making it challenging for people to master the systems. They'll undoubtedly make many mistakes during the process.
Entrepreneurs and managers are often left wondering if it's worth putting in the time to learn ad creation, or are they better off working on other ways to maximize their profits? Many of them would instead get busy with more pressing issues that need to be addressed elsewhere.
Usually, I would recommend that service area business owners take the time to master these advertising systems so they can see which options work for them. But the problem is that they are too busy to do it. These entrepreneurs work over 60+ hours in the week, and sometimes that can take precedence.
And in such cases, Google smart ads are probably the best option for them.
Requirements for setting up a smart search campaign
The more conversion data you have, the easier it will be for Google Smart campaigns to ensure good results.
This means that you must have at least 100 conversions through search engines over the past 30 days before you ever consider launching a smart search campaign.
After the start, the smart campaign begins to learn. The learning lasts about two weeks or until 50 conversions have accumulated.
How are Google Smart Campaigns different from Standard Search Ads?
Smart ads have a broad reach as they are shown on other Google products such as Google Search, Google Maps, YouTube, Gmail, and Google partner websites.
But this might mean that your ads could be reaching the customer via the wrong media. If I'm looking for a plumber, I'll search directly for one. I'm not going to just ring a plumber as I've seen an ad from Gmail.
Here are the key differences between search and smart campaigns: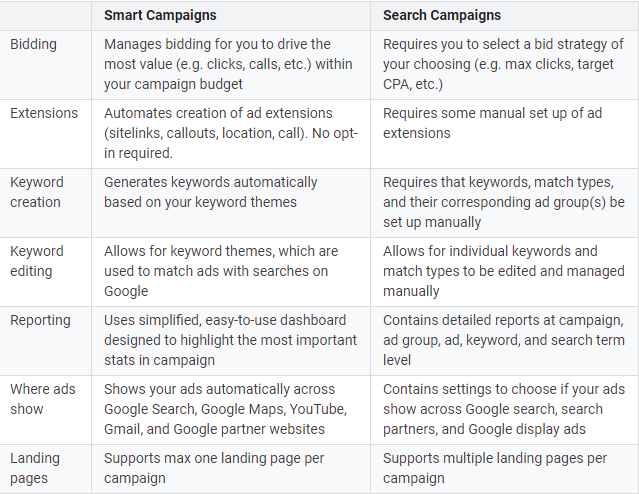 Challenges advertisers face using Smart Search Campaigns
You can't add negative keywords
There is no opportunity to create a custom audience
It's impossible to set up a remarketing
You can't manage keyword matching options
You don't know what bid strategy will be used during ad rank; you can only set a maximum budget.
How to create a smart search campaign
Sign in to your Google Ads account.
Go to the Campaigns tab and click the + New Campaign button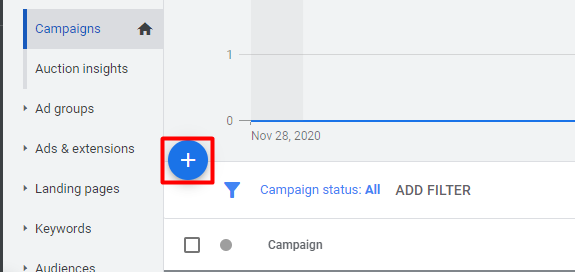 You can select one of three goals — sales, leads, or create a campaign without a goal's guidance (smart search campaigns are available only for these goals)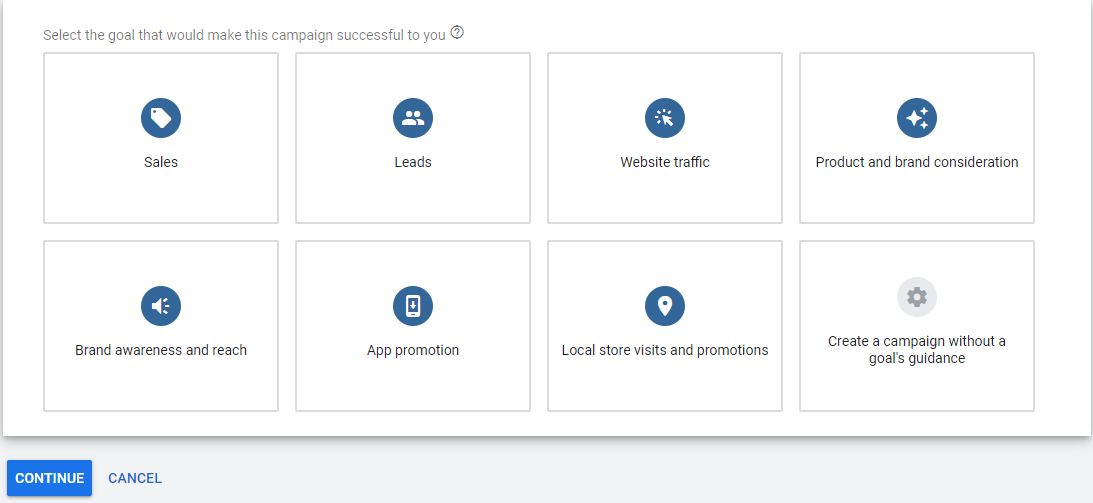 Select "Smart" as a campaign type

Select a business to advertise

To launch an ad for a new business, you need to specify its name and website. If you don't have a website, you can add your business data to Google Maps.
Let's select locations where we want to advertise. Two options are available:
Advertise near an address —shows ads within a certain radius from the specified address. Suitable for businesses like cafes, beauty salons, ateliers, printing services, and others interested in local audiences.
Advertise in specific locations — to show ads to users from a particular city/region. Suitable for big companies, online stores, etc.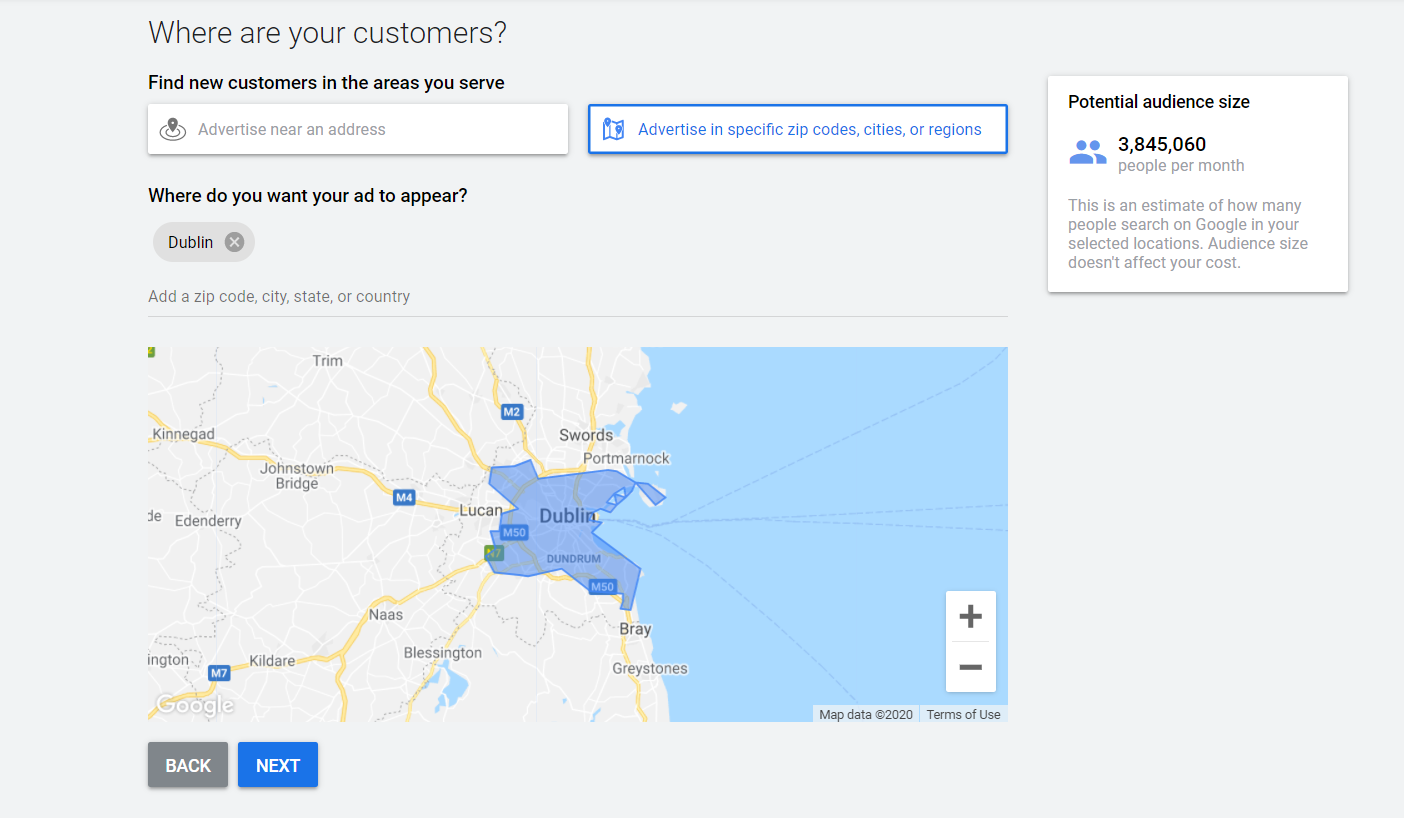 It's time to set up keyword themes. The system suggests keyword themes based on the content of your website. If necessary, you can add your own keywords from the suggestions as shown below.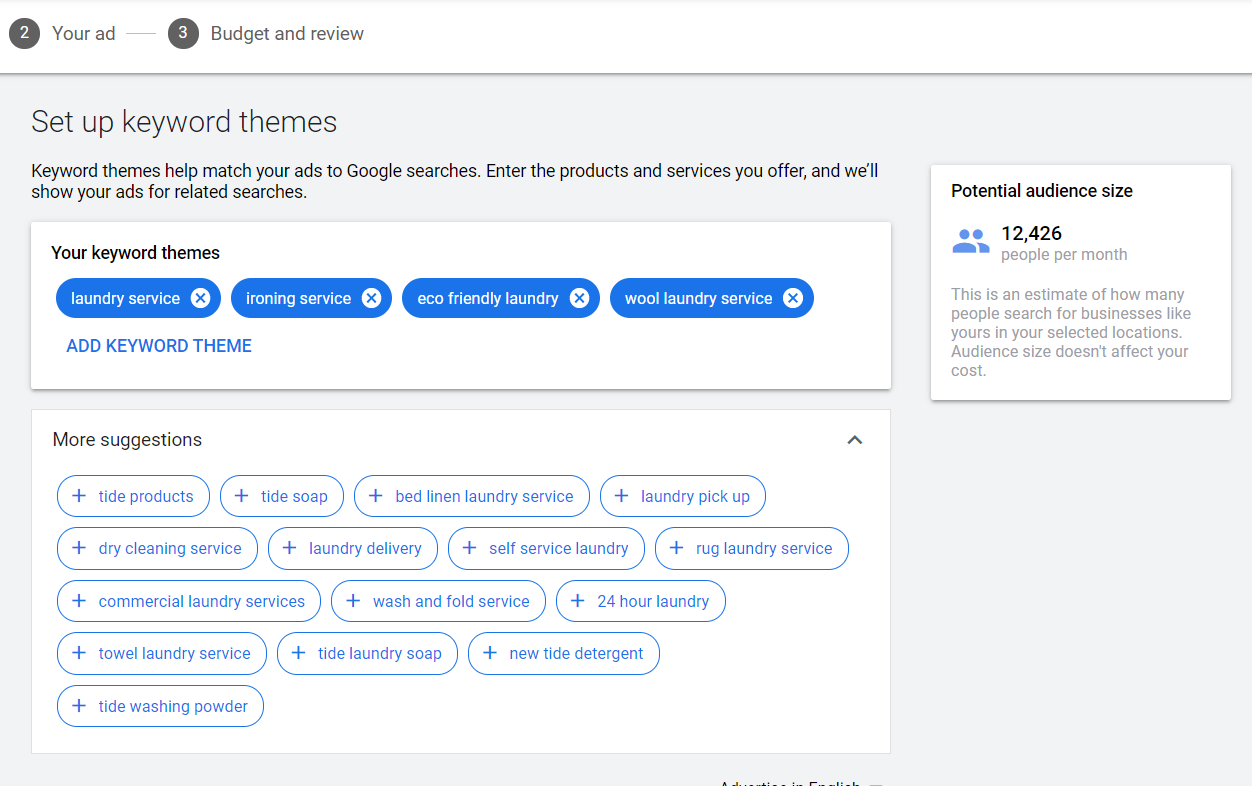 Let's proceed to the ad creation step:
Add 3 titles of up to 30 characters each, 2 descriptions 90 characters each, and the URL of the page that users will go to when they click on the ad.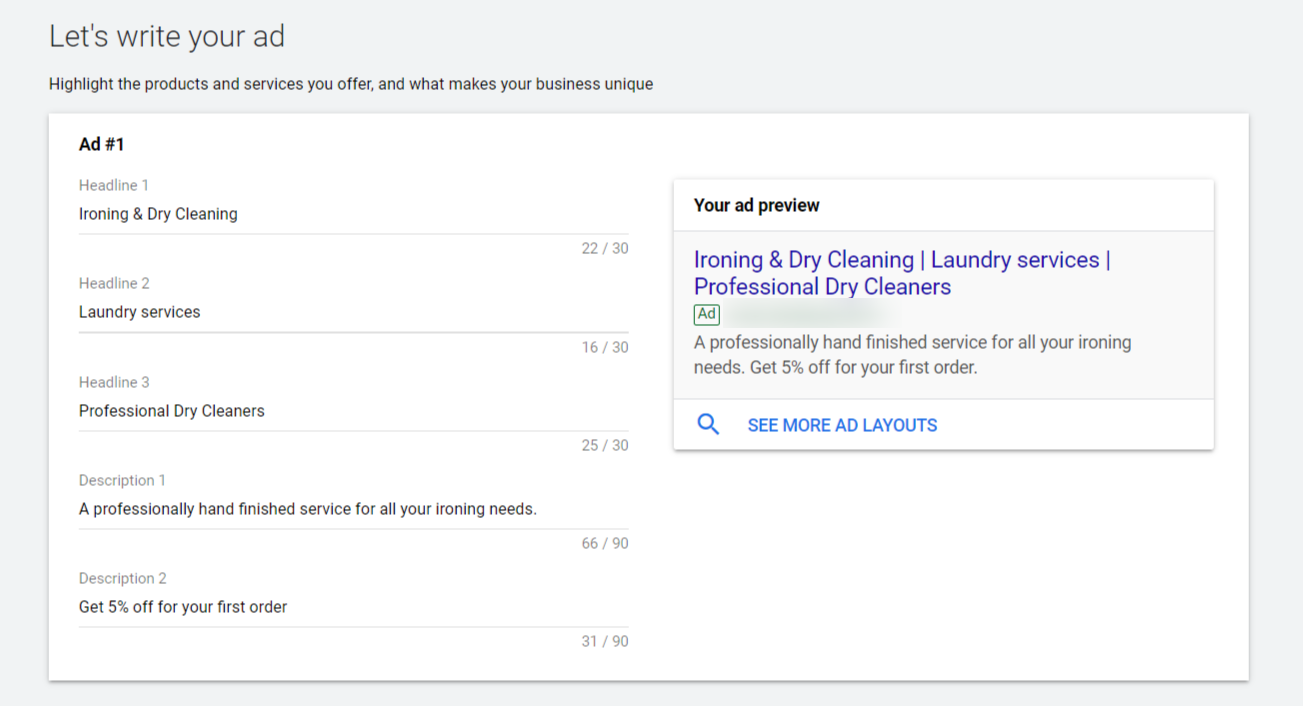 Select one of three options or set your own budget.
The daily ad budget is calculated based on the average number of clicks for your business and location. You pay for clicks and phone calls.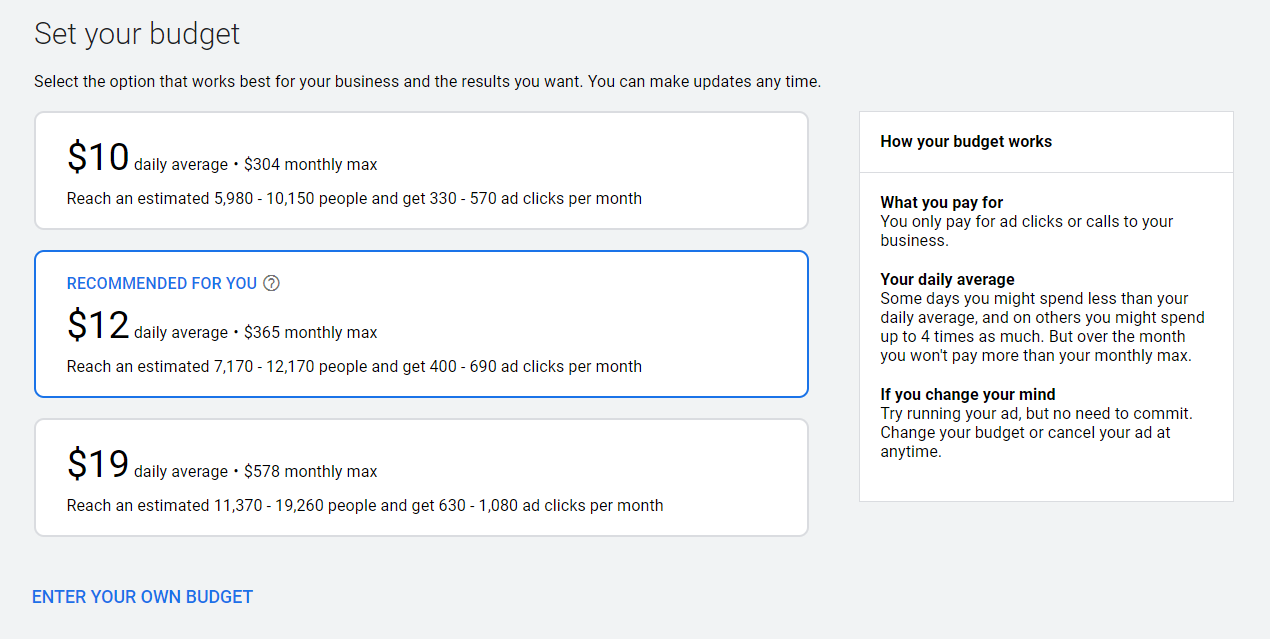 Suppose you decided to select your own budget. In that case, you will find your estimated monthly ad performance, views, and clicks you will receive per month as shown below. However, choosing the recommended budget allows you to launch an effective campaign and avoid cost overruns.
Check the campaign settings before launching it.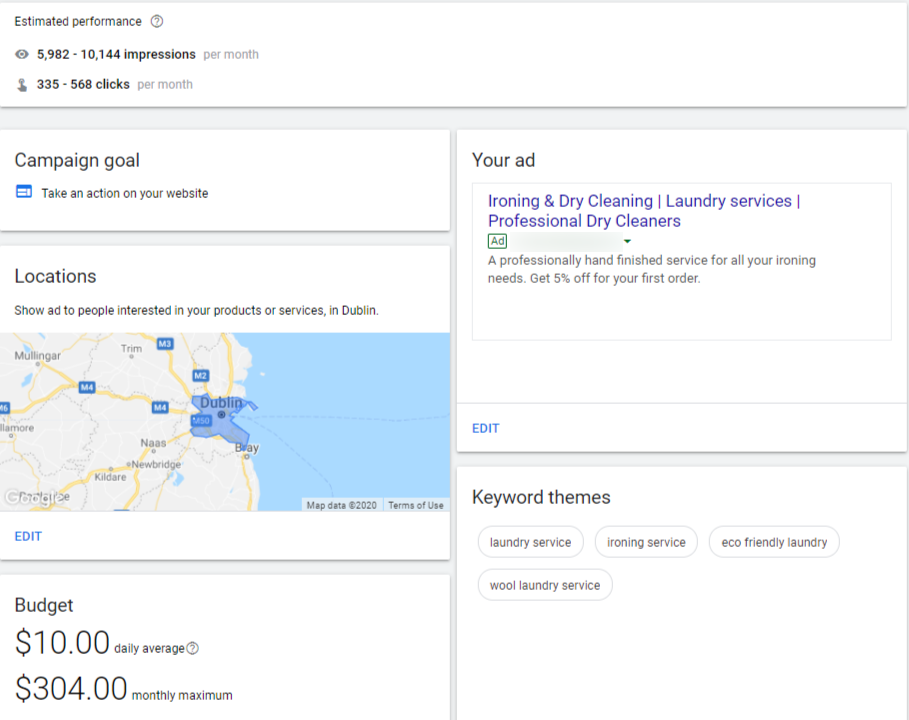 That's all. The system will start collecting data for analysis. If there are enough conversions, then the campaign will be fully set up in two weeks.
Conclusion
Do smart search campaigns perform better than standard search campaigns, and can they work for my business?
The answer depends on your business, and no one solution fits all types of companies.
It would be a good idea to analyze your digital marketing efforts using the mindset of a data scientist. Develop a hypothesis, test it in numerous ways and then figure out which brings in the most lead cost-effectively.
Success at online advertising and online marketing means you have tested many variables and can reliably make predictions on campaigns' performance. It's not an easy, instant answer, but nothing is in digital marketing.