In this article, we'll take a look at Google responsive search ads, what they can do for your business and how you can set them up the right way.
Google responsive search ads may improve your ad campaign's performance by helping you create ads that are relevant to your customers. In fact, you can also ensure that your Google ads adapt to different device sizes to share apt messages with potential clients.
You need to enter multiple headlines and description options, and Google Ads will start testing different ad combinations to find the best-performing ones. This way, you get to save time as Google takes it upon itself to tailor the ad to your customer's location or area of interest.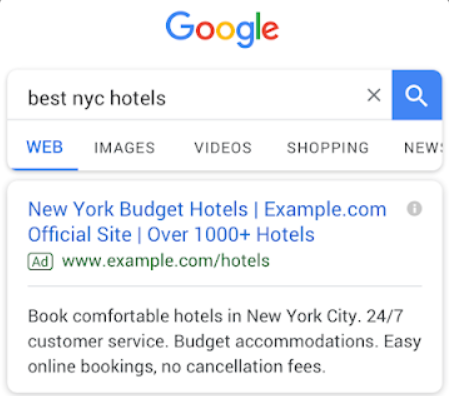 How it works
First, add headlines and descriptions (up to 15 headlines and 4 descriptions). Make sure that they match each other as the system may combine them in any order. The more variants you enter, the more likely Google will create ads that will closely match potential clients' search queries.
Google combines the entered headlines and descriptions to create the most relevant ads. It will test the best combinations to learn which ones are the most appropriate for different search queries.
Benefits
Responsive search ads save your time: add headlines and descriptions, Google Ads will do everything for you.
Responsive search ads allow you to compete in more auctions and reach more potential clients.
Responsive search ads may improve your ad group performance – they often perform much better than text ads to improve the ad group's results.
Best practices
Enter at least five unique headlines to increase the likelihood of an ad impression. They should not contain the same or similar phrases.
Make sure that all the headlines and titles make sense individually and in combinations since the system can combine them in any order.
Include at least two or three headlines that are closely related to your keywords.
Google recommends having at least 2 expanded text ads and 1 responsive search ad per ad group. There's a limit of 3 enabled responsive search ads per ad group.
Note that the system needs some time to test, learn, and optimize (should take about two weeks).
What to include in your headlines
Talk about discounts and special offers
Highlight the benefits of your product or services
Include shipping and returns information
Use various calls-to-action (Remember that headlines and descriptions may appear in any order)
How to set up responsive search ads
From the page menu on the left, click Ads & extensions
Click the plus button and select Responsive search ad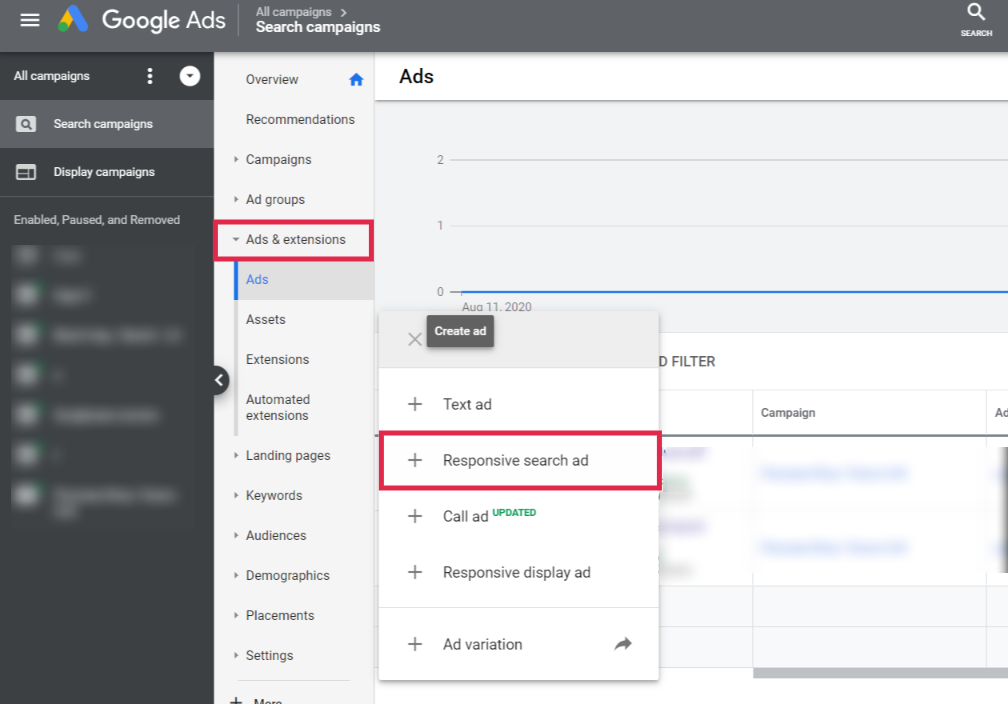 Select an ad group
Fill in all the fields – you'll need to enter a minimum of 3 and up to 15 headlines. Enter a minimum of 2 descriptions, but you can enter up to 4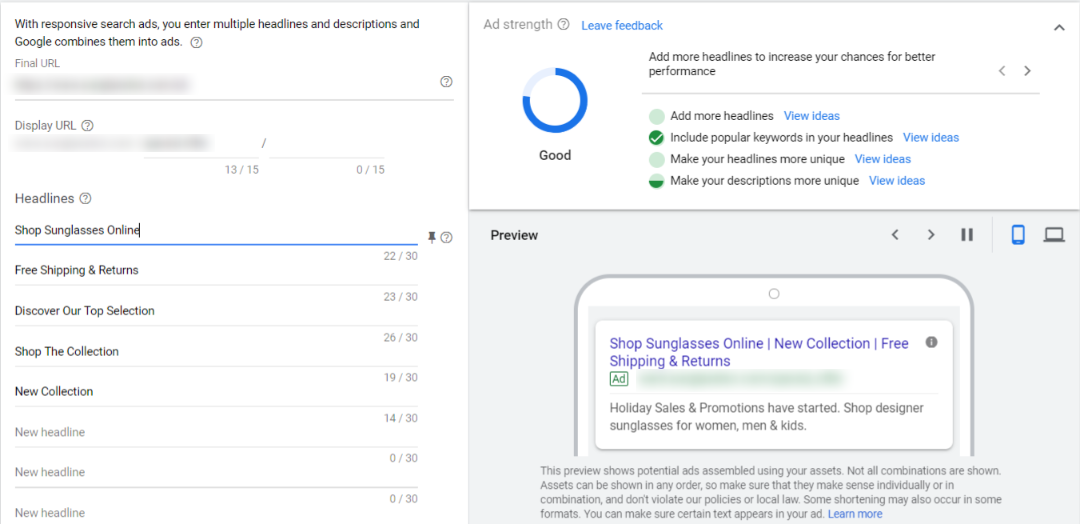 Click Save
Seems too complicated?

Create Google responsive search ads campaign right in your eLama account effortlessly and quickly. Our PPC experts will help you at each step of ad campaign creation to ensure that you get the results you are looking for.