When someone says Google Ads, most of us imagine ads in the search results. However, there are two types of Google Ad networks – search and display.
In the Search Network, advertisers use keywords and match types for targeting prospects who use relevant search queries. However, in Display Network, things work differently.
Do I need to know about Google Display Network (GDN) targeting?
No, you don't.
Here are two reasons why you won't need to use the specialized targeting capabilities of GDN:
Set up a search campaign and switch on the 'Include Google Display Network' option. In this case, Google will automatically target relevant customers (based on your audience in Search). Remember that Google expands reach to Display Network only if you can't spend all the budget in Search.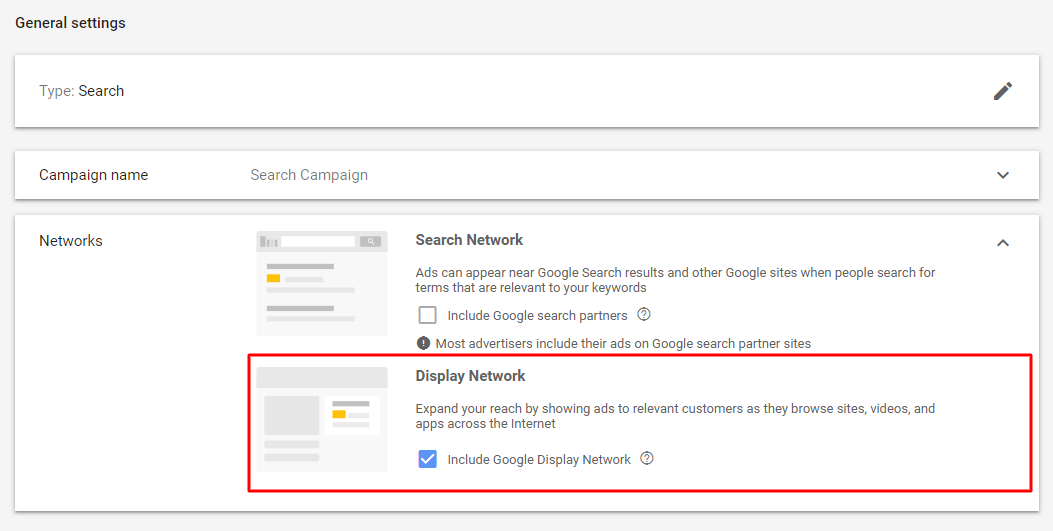 Set up a Smart Display campaign. In this case, Google will automatically target the audience based on the likelihood of conversion. At first, it will target customers that have visited your website at least once before. After that, targeting will be expanded gradually to include a new audience.

Besides these cases, you need to target your ads accurately to ensure that they reach the right people.
Here are two prominent ways of targeting your ad:
Demographic targeting, i.e. audience targeting, defines people who will see your ads.
Contextual targeting defines content and placement of your ads, i.e., where they will appear.
Let's dive in and take a closer look!
Demographic targeting
Using the demographic targeting options you can prevent people outside of your chosen demographics from seeing your ads.
Demographic targeting options:
Gender: "Female," "Male," and "Unknown".
Age: From "18-24" to "65 or more" or "Unknown".
Parental status: "Parent," "Not a parent," or "Unknown".
Household income: From "Top 10%" of the population with the highest income to "Lower 50%" or "Unknown". It's only available in some countries.
Tip #1
Don't use targeting from that group by itself. It is okay to have it overlap with other audiences.
Tip #2
Don't exclude "Unknown" targets without a solid reason because it doesn't necessarily mean bad. Doing this will only shrink your reach, so include them in your list.
Audience targeting
Remarketing audiences
Website visitors. The first thing that comes to mind when we say "remarketing." You should create at least three audiences: All visitors, Converters, Non-Converters. If thousands of users per day visit your website, you can also segment them based on the products they've viewed.
YouTube users. First of all, you need to link your YouTube channel to your Google Ads account. After that, create audiences that include viewers of your videos -all your videos or specific ones, as you see fit.
App users. Audiences can be grouped by users who have installed your apps on their devices. Learn more about mobile app conversion tracking.
Customer lists. To create audiences based on CRM data, you need to ask your account manager for access to the Customer Match feature. If your account meets the requirements you'll get it. After that, you can create audiences based on clients' email addresses, phone numbers, and other contact information.
Similar audiences. People who have similar characteristics to people on your existing remarketing audience lists. For starters, try to use the "Converters" audience as a source.
Combined lists. You can combine various attributes to create a specific audience. For example, you can group them on characteristics of your "personas" that represent segments of your target audiences. Or you could also unite the audience of your website and the audience based on clients' contacts.
Short term interests
In-market audiences. People who are looking to buy a product from one of pre-created by Google categories.
Custom intent audiences. Your own "in-market"-like audiences. Use keywords that describe your product, URLs that potential customers could have visited, and YouTube videos that they could have watched (around 15 in total). Don't mix the different intents in one audience.
Life events. This targeting is available only on placements owned by Google (such as YouTube or Gmail). There are some pre-created audiences in a few categories, for example, Business Creation, Marriage, Moving, Retirement.
Long term interests and habits
Affinity audiences. Group people by interests or habits from one of pre-created by Google categories. This one has a broad reach, but don't use this type of targeting by itself. Instead, overlap it with others.
Custom affinity audiences. Your own "affinity"-like audiences could be found by using keywords that describe an interest, URLs of content about that interest, or apps (as examples of what type of apps your audience installs). Don't mix the different interests in one audience, use one interest at a time, and target only that group.
Detailed demographics
Parental Status. From infants (0-1 years) to teens (13-17 years).
Marital Status. Single, In a Relationship, or Married.
Education. Current College Students, High School Graduate, Bachelor's Degree, or Advanced Degree.
Homeownership Status. Homeowners or Renters.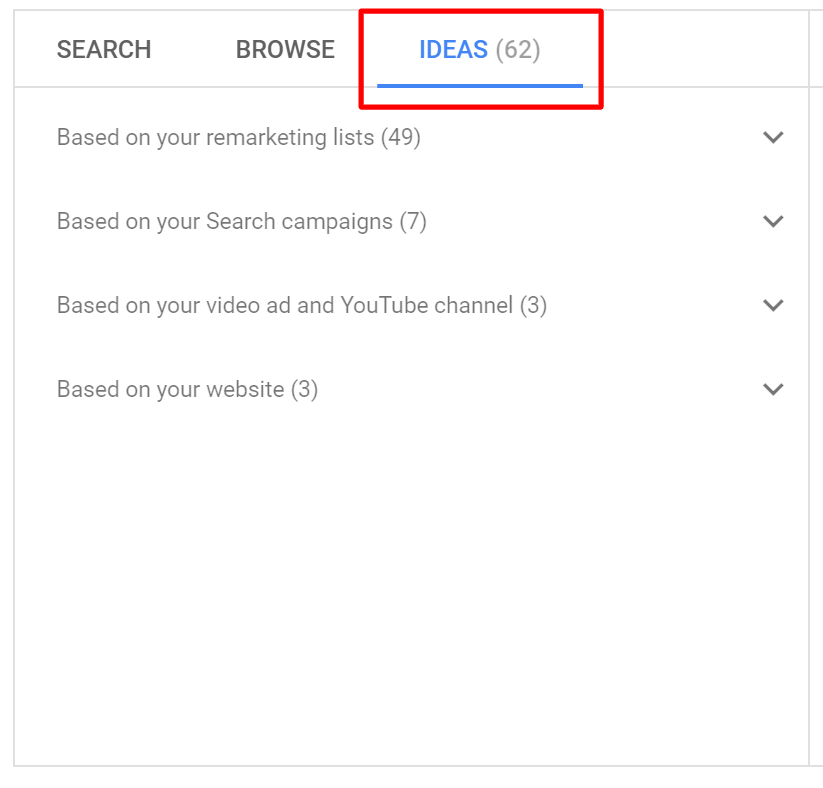 Tip #1
If you don't know which audience to choose, start from variants shown on the Ideas tab.
Tip #2
To better understand how the audience targetings function, look at how Google sees your account.
Contextual targeting
Keywords. This outdated form of targeting has been replaced by Custom intent audiences targeting.
Topics (or Themes). This one has a broad reach; however, don't use it by itself -overlap it with others.
Placements. This one offers more precise targeting than Topics. It is beneficial for targeting your ads to specific YouTube channels. If you get decent results from ads, reach out to the owner of that channel for product placement or collaboration.
Targeting expansion
This option can automatically increase the reach of an ad group. But don't rush to switch on this option and use it only after you've achieved decent results with that ad group.

Narrow targeting and observation mode
You can overlap different types of targeting to narrow down your audience.
Or you can add the targeting in observation mode, but this won't narrow down the audience. It just gives you more data and the option to adjust bids based on this information.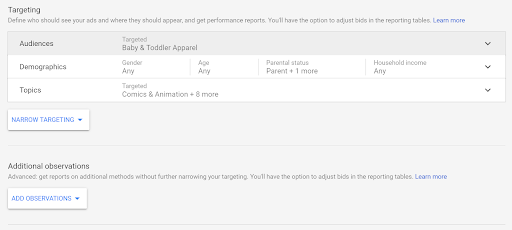 In the end
Your method of audience targeting should suit your goals.
Use our guide to ensure that you understand both and then set up an ad that will yield results.
When you launch the campaign, you can control the performance of the various ad groups in Google Ads reports, but there is a better way - our statistics dashboard in eLama.