Google Ads can be a minefield for small businesses wanting to promote their business online, but many identify the need to participate and develop a PPC strategy. So if you are thinking of investing in Google Ads, the key is to be mindful of the Do's and Don'ts to avoid common pitfalls. Practicing these avenues will help you form a solid foundation and deliver a stronger and more effective PPC campaign that has a higher rate of converting sales.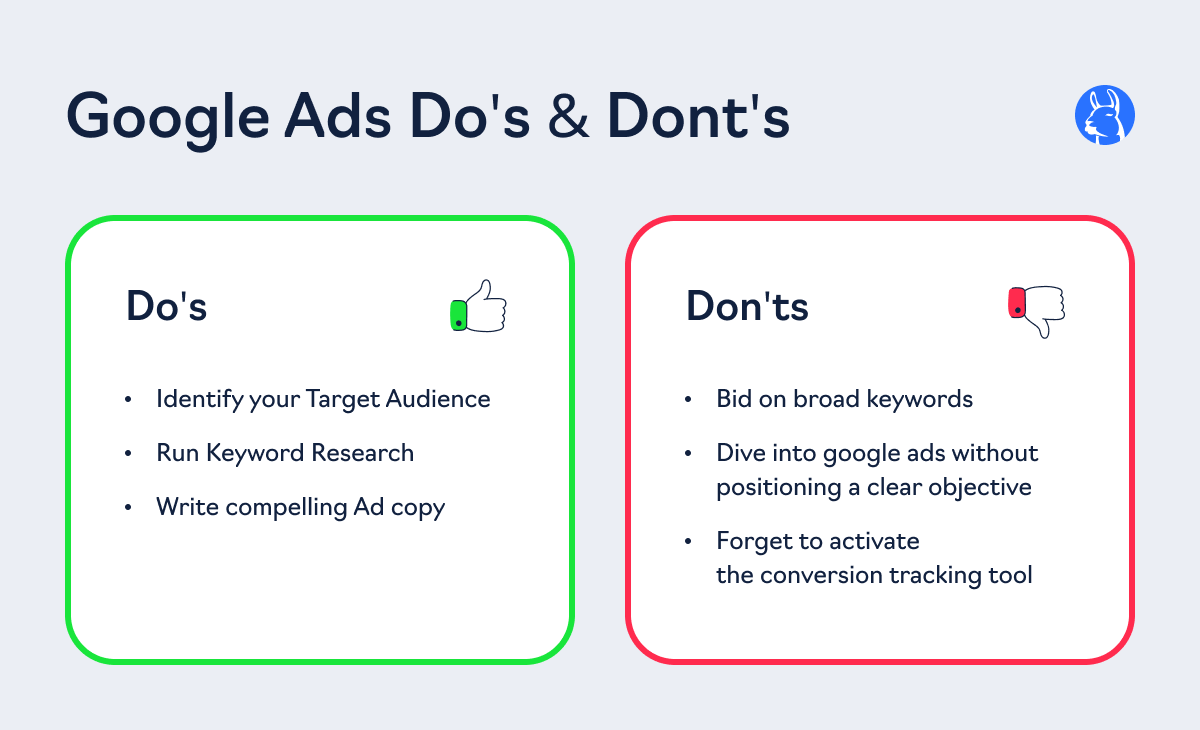 Do's
Identify your TA
It's the foremost practice to filter your audience and identify which set of audience will be most interested in your product/services. Phase-out your audience on the basis of who they are, what they want, which platforms are the most active on and what are they searching. These parameters will not only help you deliver a precise message but also increase the competency of your Google Ads campaign.
Run Keyword Research
Keyword tools can help you discover cost competition and volume for search terms. Finding the relevant keywords is not a cakewalk. In order to be precise, one can explore the synonyms, alternative meanings and long tail terms keywords that represent your business. Without doing a thorough research, you can end up paying for the most irrelevant keywords that would fail your campaign.
Write compelling Ad copy
To write a copy that converts focus on maximizing CTR by incorporating every text with relevant headlines, a CTA along with the keyword you're bidding on.
Don'ts
Bid on broad keywords
There is no point in being all over the place. It is delightful to include keywords that have tons of searches a day. However, these popular terms make up less than 30% of the searches performed on the web. The remaining 70% float in 'long tail' of search. The long tail contains millions of unique searches that might be conducted a few times in any given day. However, when taken together, compromise the majority of the world's search volume. The long-tail keywords often convert better.
Dive into Google Ads without positioning a clear objective
It's imperative to set out clear goals and objectives before you initiate. Otherwise, measuring your results will go haywire. The way you structure your Google Ads account and the attributes you choose will impact the responses you receive. The key is to use the SMART approach (specific, measurable, achievable, realistic and timed) which enables you to more effectively measure the success of your Google ads.
Forget to activate the conversion tracking
Testing, reviewing and evaluating performance is an important avenue of PPC. The Google ads conversion tracking lets you identify how your ad campaign is generating leads, sales, downloads, signups and other key actions for your business. You can optimize your bids, ad text and keywords on the basis of data recorded by conversion tracking. You can try eLama analytics solutions to track all the metrics in one place.