Google Ads already has a huge variety of tools, but it also adds new ones to its toolbox every few months. Even if you choose the wrong tool, you can get your job done. But with the right tools, you can do it more efficiently.
In this article, we will list every single campaign subtype in Google Ads and show you how to choose the right one for your task.
If you don't have time to read it all, you can navigate the article by using this simple guide:
If you're dealing with existing demand, go with Search Campaigns (except Gallery Ads).
Use Display Network campaigns to reach people who aren't looking for your product right now (but might have shown interest before).
Choose Shopping campaigns if you deal with a large number of goods.
Use the power of video to build awareness about your product and offer.
If you need to drive app installs or in-app conversions, you have App campaigns.
Search Network Campaigns
These campaign types are combined by the placement – they are all shown in Google search placement. But even though all of them show ads among search queries, they are designed for different advertisers and different tasks.
Search Ads
A classic Google advertising tool, this is the most convenient way to reach your potential customers. Just use keywords that your potential buyers use in search queries when they have a clear intention to buy.
But this kind of advertisement is relevant only for products and services that already have existing demand.
If you operate in a small niche and can't find a lot of potential customers in Google Search, it might be a better idea to switch to the 'Include Google Display Network' option. In this case, Google will automatically reach relevant customers in GDN (based on your audience in Search Network). Remember that Google expands reach to Display Network only if you can't spend the entire budget on Search Network.
Local Search Ads
If you want your business to pop up when users type 'near me' search queries you need to create an account in Google My Business and link it to your search ads.
This is a very powerful tool for brick-and-mortar stores and local businesses. If you want to know more about these campaigns, watch out our webinar with Krisztina Gyorffy from Google.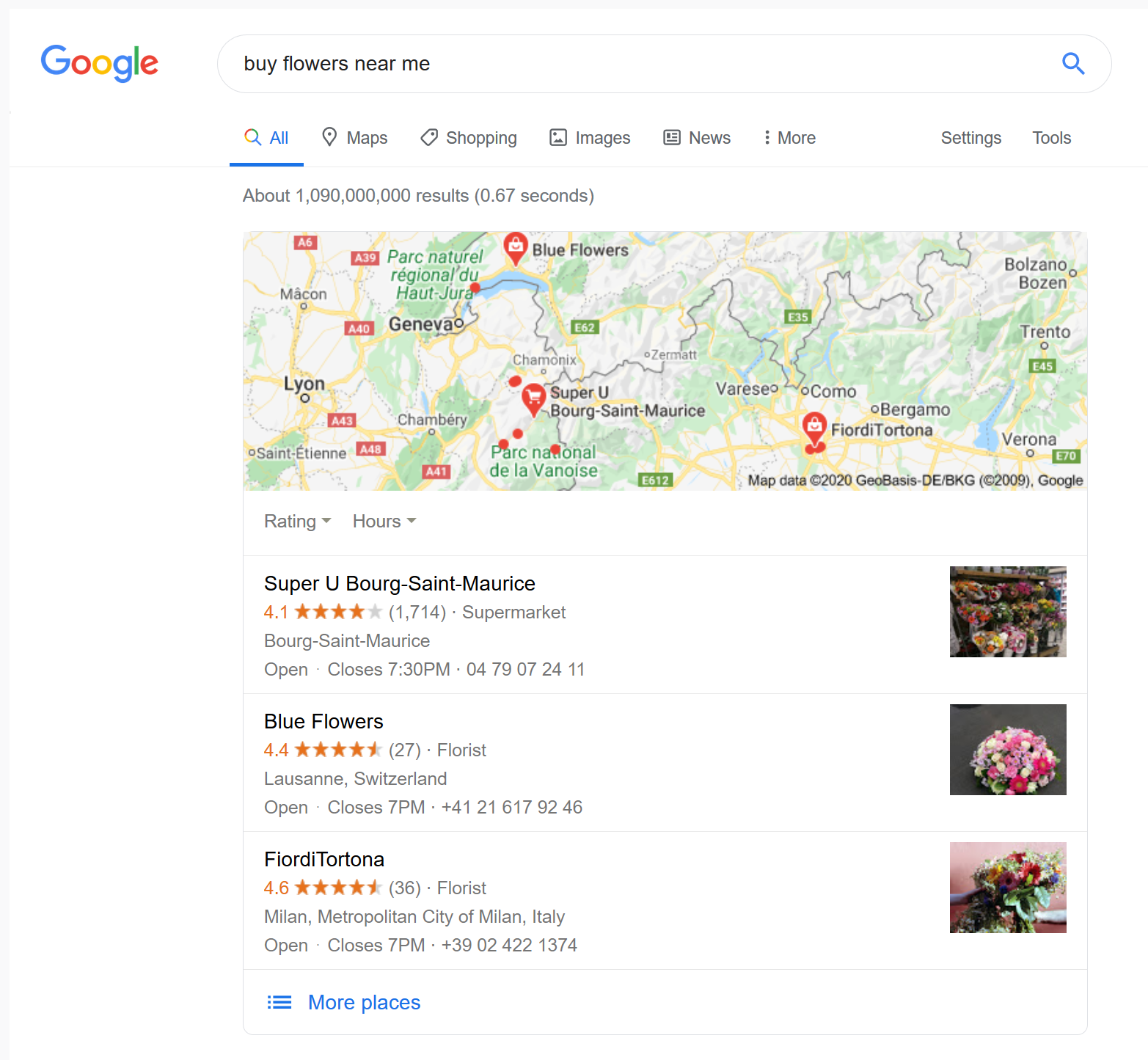 Dynamic Search Ads
If you have many products to promote, manually creating each search ad can be really exhausting. In this case, you can automate the whole process by using DSA.
Just let Google Ads access the product and category pages on your website. This way it can show users the most relevant ads based on their interests and behavior. But don't forget that your website should be optimized for Google's search engine (SEO) if you want to be sure that automation will correctly recognize information about products and categories from pages. All in all, this is a very useful tool for e-commerce businesses.
Gallery Ads
Gallery Ads is a new tool that allows adding a gallery of images to search ads at the mobile SERP. Underneath a standard text headline and a display URL, Gallery ads feature swipeable image carousels — much like in Facebook and Instagram feeds.
Be ready to pay not only for users who clicked on ads but for users who saw three or more images in your ads. For example, it can be used by brands for promoting new products (in this case, use generic keywords for getting a broad reach).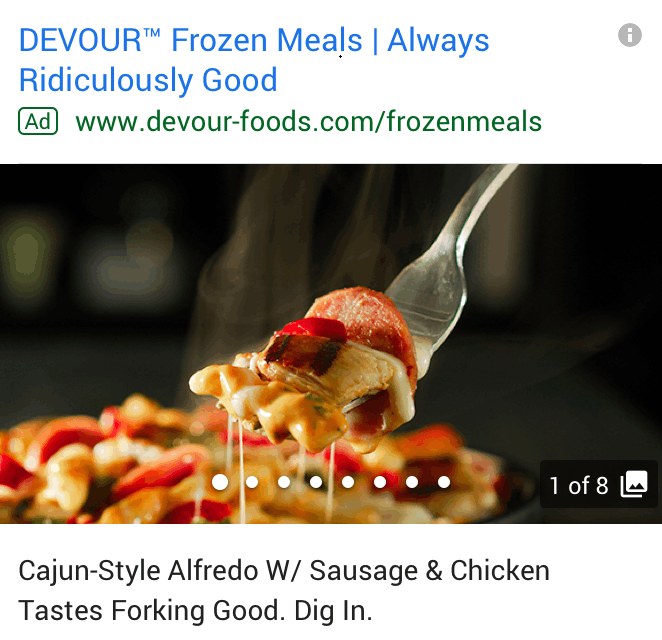 Display Network campaigns
By using search ads we can target people who are looking for our products/services right now. But if we want to reach even more potential clients we can use Google Display Network campaigns.
Display Network is an extensive set-up of websites and mobile apps that offer the possibility to show ads to people who aren't in search right now but could be interested in your offer.
Display Network campaigns have a lot of targeting types. We have already discussed them in one of our previous articles — check it out if you want to know about all of GDN targeting types.
So today, we'll talk about other aspects of Display Network campaigns: ad formats and creating automation.
Image Ads and Responsive Display Ads
This classic Display Network campaign lets you get more conversions for a small budget.
Image ads allow you to control the creative, so you have complete command over how it looks, and what exactly it says.
But RDA makes it even better by allowing you to automate the process of optimization: what combination of image, headline, and texts works better. So for better performance, you should always add RDA to your Display Network campaign.
HTML5 Ads and Lightbox Ads
These types of ads work great for branding campaigns when it's more important to get attention than conversions, making them suitable for introducing new products to audiences.
Animated and interactive formats captivate the attention of the audience better than static images.
HTML5 ads (example) can be used in Display Network in the same way that static banners are used. But you need to gain access to that feature. Before asking for access from your manager, be sure that your Google Ads account meets requirements for using HTML5 ads.
Lightbox ads are a premium brand format for GDN (example), and these can do even more. Lightbox is an expanding creative. When expanded, it takes over most of the available screen space to feature brand content like videos, maps, games, and more.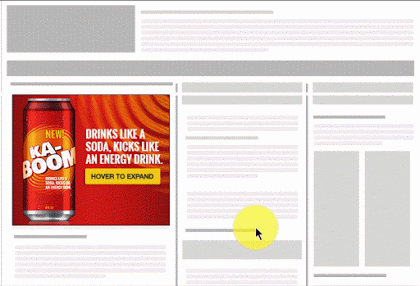 Gmail Ads
This is a special type of ad for Gmail. It looks like mails in 'Social' or 'Promotions' tabs but with the 'Ad' label prominently displayed with it.

What's more important, after the click, it also looks like an email.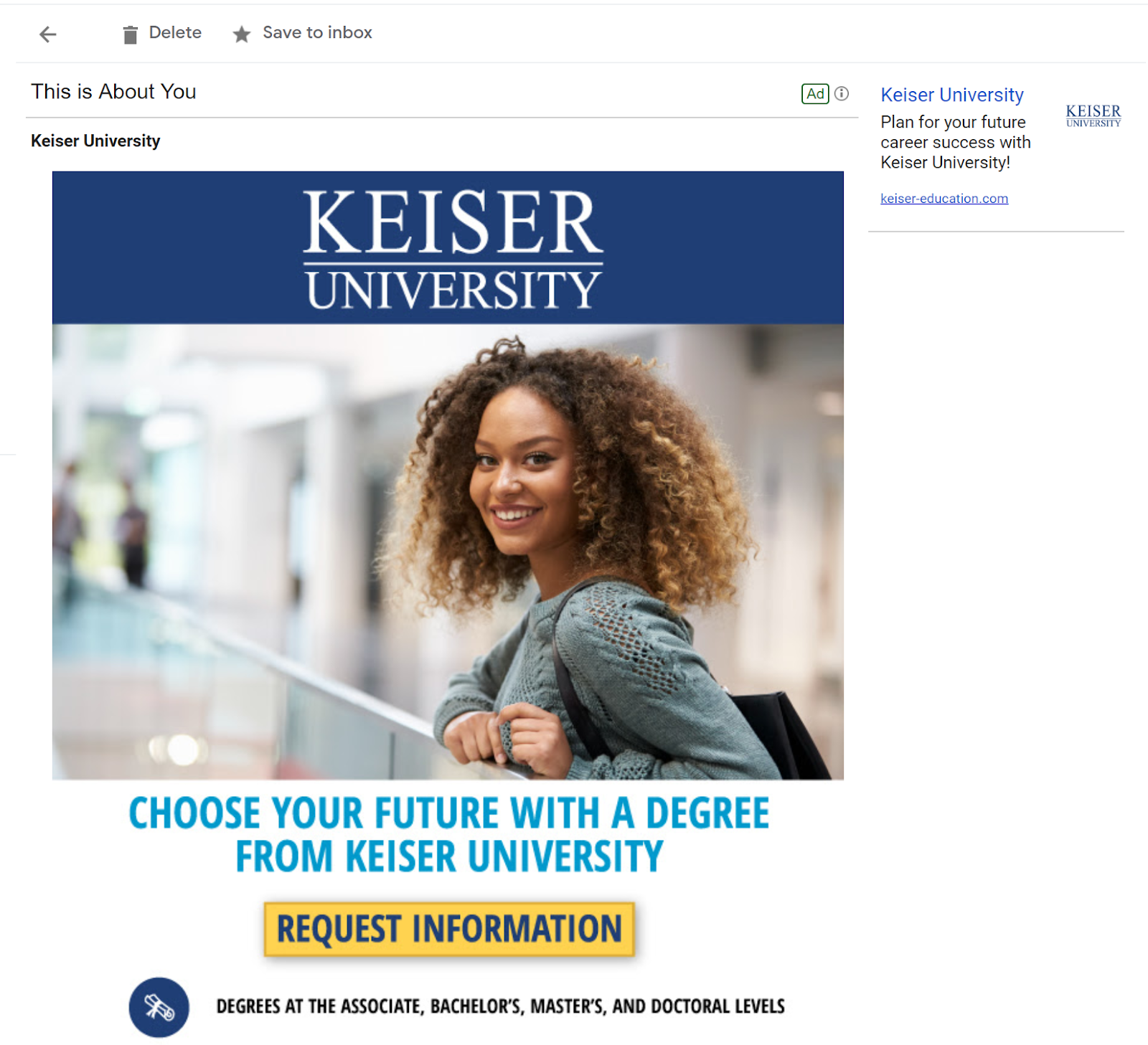 Because of that, it has to be created differently from other ads and exists as a separate subtype of Display Network campaigns.
Gmail ads are perfect for promoting special offers and sales. Make sure that your headlines are fascinating for the target audience. They should drive attention to your ad in the user's inbox.
Smart Display Campaigns
If you already have in your Google Ads account 50 conversions from GDN or 100 conversions from Search Network, you get access to this campaign subtype.
Like GDN in search campaigns, it can automatically target potential clients based on existing data of conversions. At first, it will reach people who have visited your website at least once before. After that, targeting will be expanded gradually to new audiences, making it a potent tool for large Google Ads accounts.
Dynamic Remarketing
If you have many products on your e-commerce website, it can be exhausting to create remarketing ads for all of them manually.
In this case, you can automate the whole process with dynamic remarketing. Just upload your product feed to Google Merchant Center and link it to your Display Network campaign.
Google Ads predicts which dynamic ad layout is likely to perform best for the person, placement, and platform where the ad will show. Most of the time, it will be the ad with products that the user explored at your website; it can increase the possibility of a sale later on.
Discovery Ads
Discovery Ads is a new tool for promoting special offers and sales or your branded content. The main point is that it needs to be something fascinating or at least entertaining.
The ads will be shown only on Google's placements such as YouTube, Gmail, and Google Discover (Feed). It's the advantage and the limitation of this campaign subtype.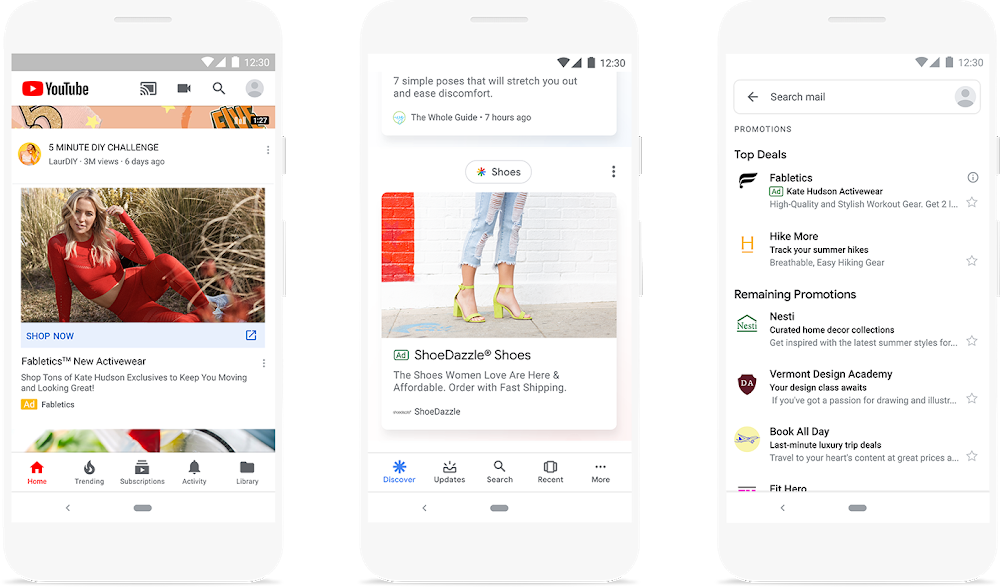 If you want to try Discovery Ads, but they are not available yet in your Google Ads account, call support for gaining access.
Shopping campaigns
If you have an e-commerce business, you may be interested in campaign types that are designed especially for advertising goods.
For example, if you type "buy toilet paper online," you'll see the 'Popular products' section.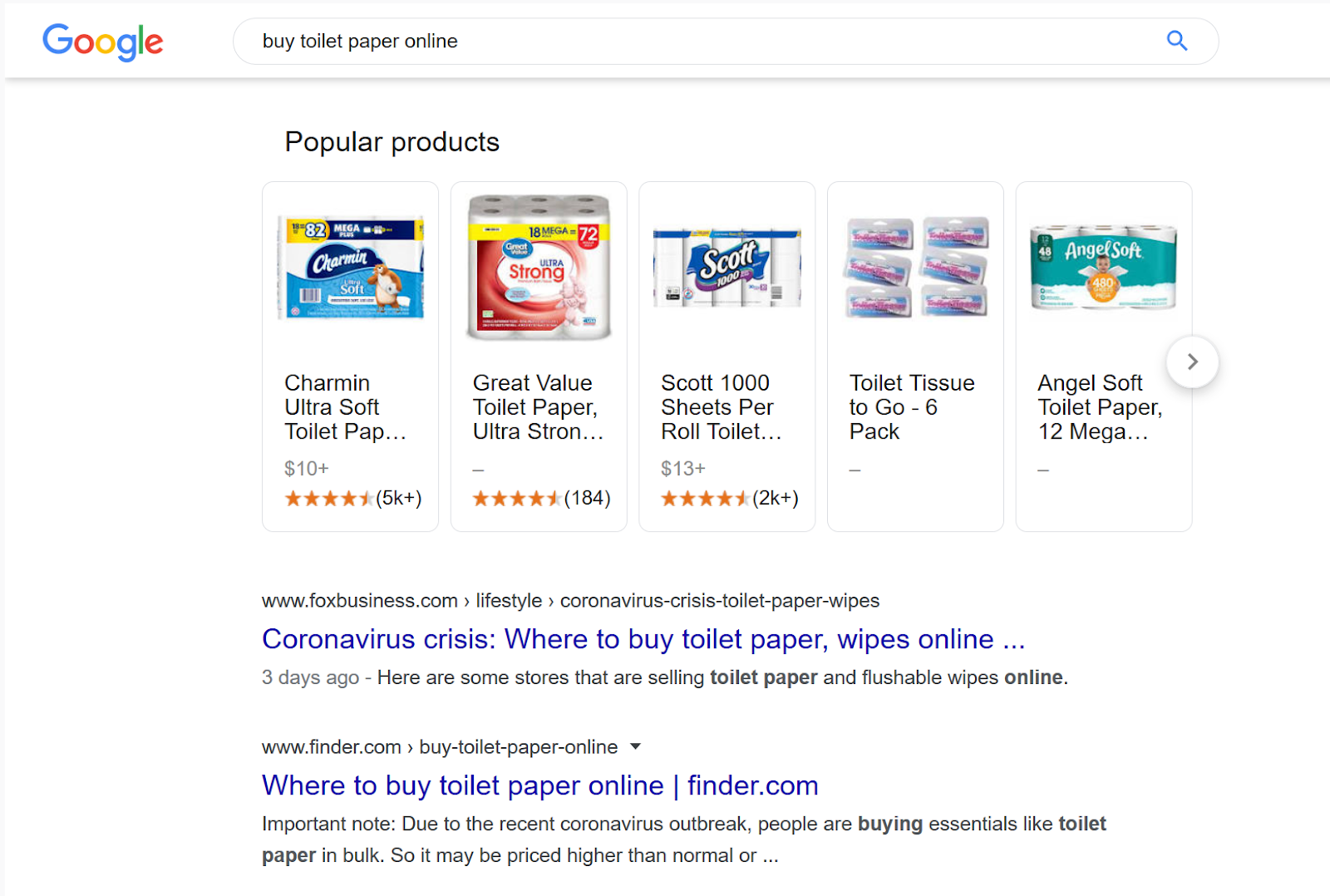 In some countries, Google has the Shopping service where you can choose products and order them.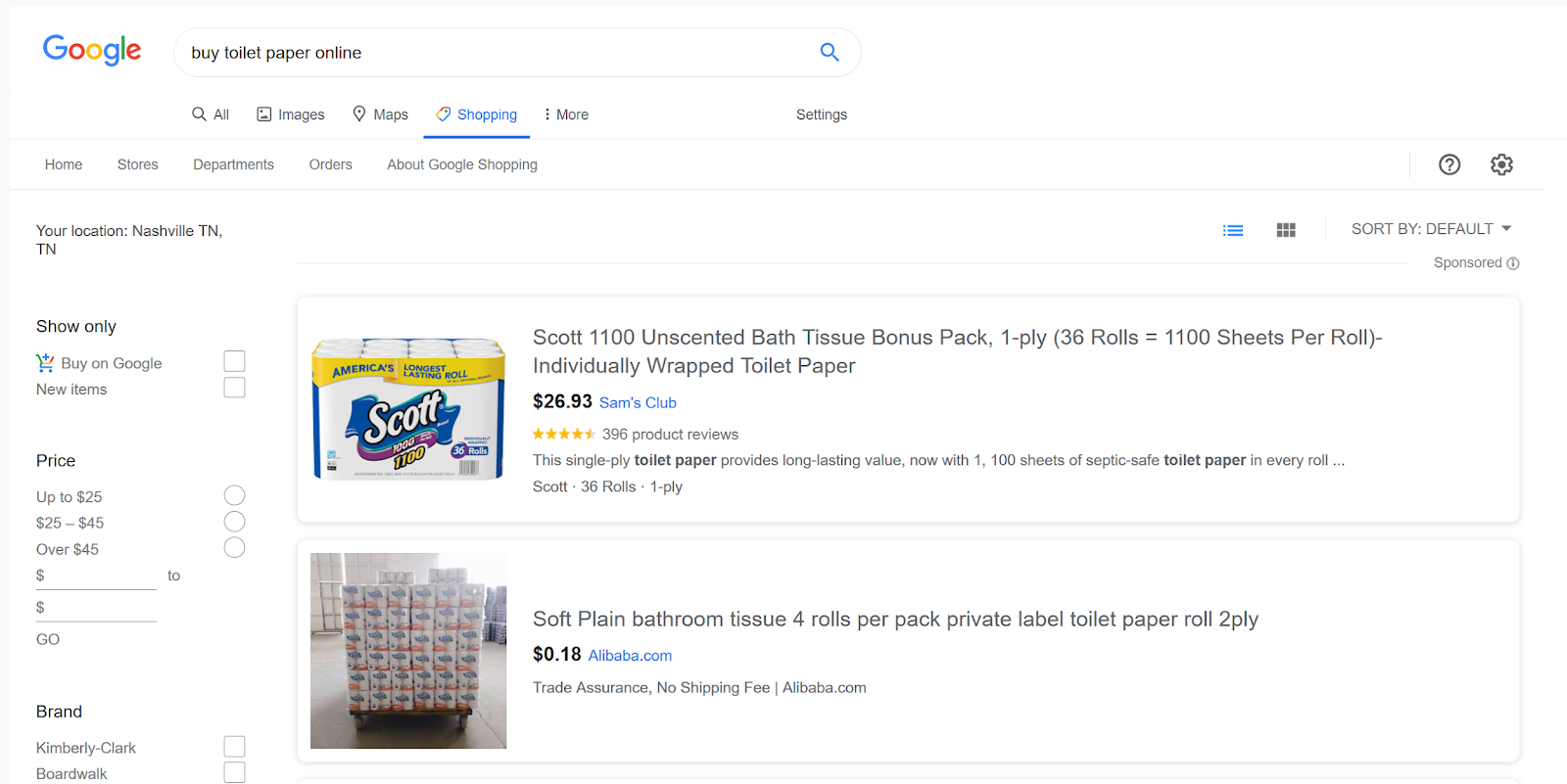 If you want to place your online store in Google Shopping and show your offers when people are searching for the products you need to:
Set up Google Merchant Center.
Create a product feed.
Add your product feed to the Merchant Center.
After that, you can run shopping campaigns and even automate the whole process of advertising in Google Ads by using smart shopping campaigns.
Video campaigns
These campaign types are built around the video format. Some advertisers think that video campaigns in Google Ads are similar to TV commercials.
In fact, you can not only build awareness but also bring traffic and conversions by using video campaigns. Let's dive in.
Skippable In-Stream Ads (TrueView)
This format is most often used by SMB advertisers. I'm sure you've seen these ads on YouTube that you can skip after 5 sec.
You pay only if the user has watched 30 seconds of your ad (or the full duration of the video is shorter than 30 seconds) or interacted with your video, whichever comes first. You will not pay if the user skipped your ad. It means that you have five seconds to build awareness about your product. After that, you can tell more specifics about your offer and call for action (visit your website, submit sign up form, order your product, etc.).
TrueView For Action
A few years ago, Google Ads went even further ahead, giving you the ability to optimize your skippable video ads to get more conversions.

These ads look just like ordinary skippable video ads, but with a call to action.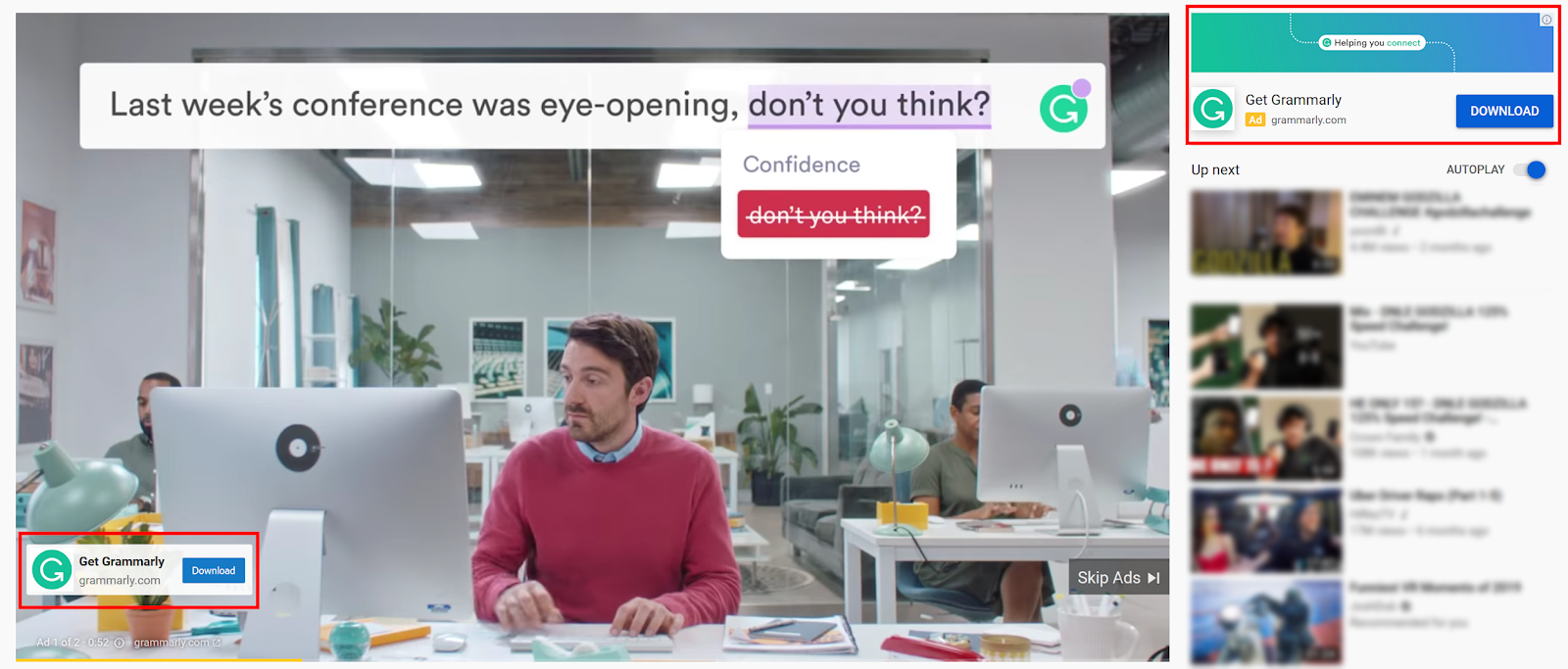 When you choose this campaign subtype, Google Ads optimizes impressions based on the possibility of conversion for every person who would view your ad.
It can increase your performance if the targeted audience is big enough (demographic targeting, for example). If your targeted audience is relevantly small (the remarketing audience, for example), this approach might not be so practical.
TrueView For Shopping
If you use Shopping campaigns, you might be interested in this type of video campaign. For example, you can use it as dynamic remarketing and bring users back with a convincing video (you can even show products from the user's abandoned cart in a special section over video).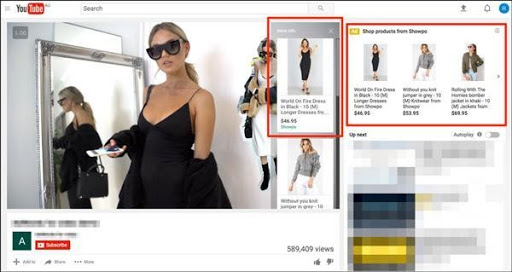 Non-Skippable In-Stream Ads (Including Bumper Ads)
If you are ready to invest some money in building awareness about your new product or brand, this video campaign type can be beneficial. When you use this video format, users don't have a choice, and they watch the whole video (which must be 6 sec long or less for Bumper ads and up to 15 sec for Non-skippable in-stream ads). But you will pay for every view. It makes sense if you need to be sure that people will get your message.
Ad Sequence
By using this campaign subtype, you can create a series of videos and be sure that every user will see videos in the right order. It can be useful if you want to tell a compelling story, but a non-skippable ad is too short for that.
Each sequence campaign is made up of a series of "steps." Within each step of a sequence are an ad group and a video ad. You'll select your sequencing rules, ad format, and bid within each of your sequence's steps. Viewers will see your sequence campaign once it's running, and the ads will be shown in the order that you have defined.
When you use the Target CPM bidding strategy, you can use both video formats: skippable and non-skippable in-stream ads. When you use the CPV bidding strategy, you can use only skippable ones. But in general, it's the same formats that are used without the Ad sequence.
Video Discovery
This format looks and works very differently than in-stream (and TrueView) formats. Video discovery ads consist of a thumbnail image from your video with some text and appear on YouTube search results, alongside related YouTube videos, on the YouTube mobile homepage.
This campaign subtype is suitable for promoting a video from your YouTube channel and bringing attention to it. For example, you work on the organic growth of your YouTube channel, and you need to boost views of your new great video.
Outstream Ads
This video campaign subtype is your choice if you need more reach than YouTube can provide.
Outstream ads are mobile-only ads and appear on websites and apps from google video partners. Be aware that outstream ads begin playing with the sound off. Add subtitles and use visual language to deliver your message.
App campaigns
This is a particular campaign type for promoting iOS and Android apps. We have two main options:
Drive installs
This is a simple way to set up an App campaign. The downside is that you can get not only valuable users but those who will buy nothing inside your app.
Drive in-app conversions
If you want to get more valuable users, you can choose this option. But you will need to set up conversion tracking in your app at first.
In both cases, ads appear:
on Google Search Network: in search results;
on Google Play: in search results, related apps sections, and "Suggested for you" section on the home page;
on YouTube where they're most likely to be clicked, and your app is most likely to be downloaded;
on Google Display Network in a variety of placements (including Gmail);
on Google Discover (currently available on Android phones in the English language setting only).

Don't worry, you don't have to create a whole bunch of ad formats for all of these placements. App ads are generated on the fly by the system.
To build your ads, Google Ads may combine text, image, video, or HTML5 assets you upload, or assets from your app's listing in the relevant application store. Not only that, but the system also tests the variants of ads and automatically optimizes bids for getting the most result (according to your objective).
In The End
Google Ads offers many tools, which can be frustrating for both experienced and novice advertisers. That's why it is imperative to have at least a general understanding of each of them.
Unfortunately, it is impossible to retain a considerable amount of information needed to make the most of Google ad capabilities. Thus, you need to have a chance to refresh your knowledge anytime you need it. We hope that this guide will give you all the info you need to make the most of Google ads.