Today I want to tell you about one of the classic ad campaign optimization methods: Peel and Stick. This method was developed by Perry Marshall and it has proven its efficiency throughout the history of Google Ads.
It is important to mention that this type of Google Ads optimization is pretty time-consuming. However, I consider this method is worth testing because it is one of the most effective Google Ads optimization techniques.
The main point of this method is to identify the most efficient, high conversion search queries among active ad campaigns and create new campaigns out of them, where all the key phrases use exact match type.
Here is a step-by-step optimization guide of how to optimize Google Ads campaign.
Step 1
First, we need to think through our Google Ads account hierarchy. It is up to you how you will group your keywords, using single keyword ad groups (SKAG) or unite multiple keywords in one group.
Step 2
Now, let's create an ad campaign or multiple campaigns if necessary. The first campaign will use a Broad Match Modifier. It is a necessary step in order to accumulate impressions and click statistics on «false search queries» which we have forgotten during the semantic accumulation.
Step 3
Now we launch our ad campaigns and gather statistics.
Step 4
Depending on how quick your statistics will accumulate, you have to check out your Search Terms report.

This report will gather all queries that have received clicks and impressions.
Firstly, you need to identify all of the false queries that have nothing to do with your advertised goods and services. Either you can add them as negative words partially or completely, that's up to you.
Secondly, we are interested in those queries that bring us conversions. I recommend that you optimize your campaigns based on conversion stats. All other stats are more on the technical side of the spectrum and can't unambiguously tell you if a keyword is effective or not. So, don't forget to set up conversion tracking on your website.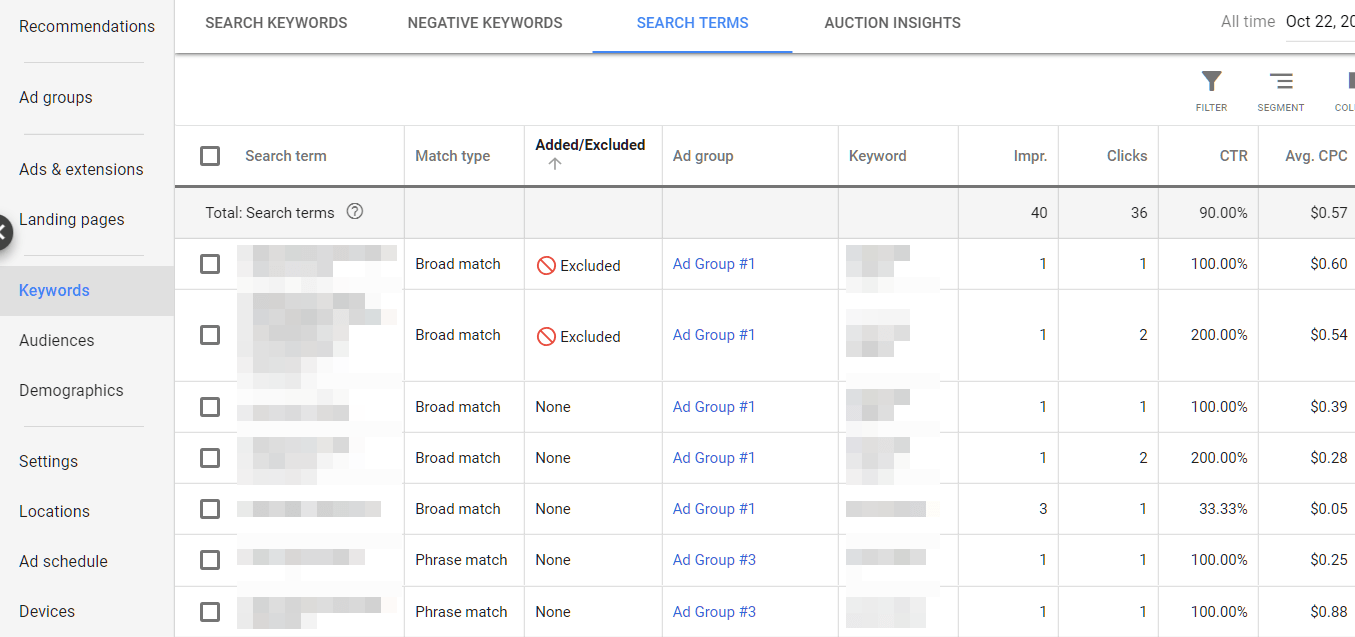 Step 5
Copy efficient search queries from the report into an Excel file. They will become the core of our main campaigns.
Compile your main (alpha) campaigns by SKAG principle: every ad group consists of one key phrase. Then create relevant and compelling ad copy for your ads. Thanks to this, you will receive a higher Quality Score which influences your Ad Rank and a click price.
Use the exact match modifier for all your keywords in our alpha campaign.
For example, thanks to our beta campaign we found out that the search query «car diagnostic before buying in London» generated a decent conversion volume for an affordable price. We then copy this query to our Excel file. Create a new search campaign with the same settings as a previous one, but our keyword in this ad group will look something like this: [car diagnostic before buying in london]. This means that ads from this particular ad group will be displayed only in cases where users enter this exact key phrase in their search queries, in this particular order, without any additional words and elements.
Thus, we have created our main alpha campaigns being certain that the keywords we have used in them are generating high conversion rate, they won't have any false impressions and the clicks and conversion rate itself will most likely be higher than usual.
Therefore, it would make sense to reevaluate the most optimal bid price you are willing to pay for these high conversion keywords. In alpha campaigns, you can raise your bids significantly compared to your beta campaigns in order to win a better ad position and attract as much conversion-rich traffic as possible. Don't forget to evaluate your CPA in order to keep your advertisement profitable.
Step 6
One last thing — don't forget to add negative words to your beta campaign. In order to exclude the competition between your own campaigns, you need to add Exact Match Type alpha campaign keywords as negative keywords in your beta campaign.
So, for example, we used a high conversion search query «choose car by specifications Berkshire» as an exact match key phrase in our alpha campaign [choose car by specifications Berkshire].
Our beta campaign contains broad match keywords +choose +car by +specifications +Berkshire.
They compete with each other for impressions. To avoid this, we need to add a negative key phrase [choose car by specifications Berkshire] to our beta campaign. You can do this in your campaign settings in the «Keywords» section in the left-hand side menu — «Negative keywords» or add them as common negative keywords list in «Negative keyword lists» under the «Shared Library» section of «Tools» navigation bar if you feel like it.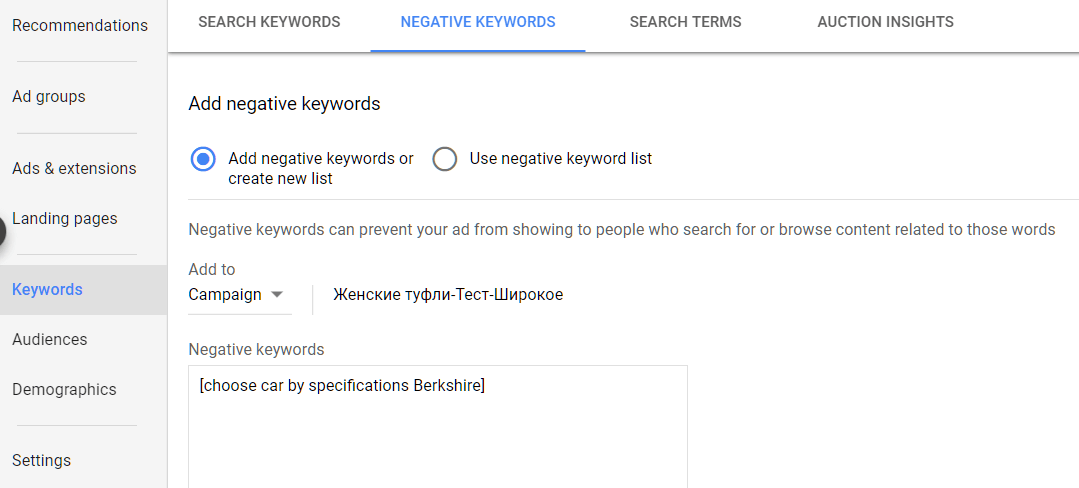 When we have excluded this phrase as an exact match type, impressions of this search query will be generated by the alpha campaign while other false queries such as «choose car by specifications greater London» will trigger ads from our beta campaign.
Now you have to check out your search queries reports from time to time in order to find new conversion-rich key phrases for alpha campaigns. Therefore, your alpha campaign budget will show a steady growth and you will achieve a highly efficient ad budget spending.