If you have ever tried to run an advertising campaign on Google Ads, you might have already encountered Google Ads Extensions.
It is always a good idea to look for ways to drive more conversions from your ads. What advertisers often forget or don't understand is the purpose of Google Ads Extensions. In this article, we will dive into this powerful tool a little deeper.
The idea behind extensions is to make your ads more visible and share more information about your business in a single ad.
So, you should use them if you want to create more compelling CTAs, drive more website traffic, receive more calls and occupy as much ad space as possible. Ad space is crucial if you want to dominate Search Engine Result Pages (SERPs).
Types of Google ad extensions
There are two main types of ad extensions: automated and manually created. As the name says, automated extensions pull information from your website automatically to fill in the blank spots. Whereas, manual extensions require you to add the necessary information yourself.
Manual ad extensions give you more control over the type of information you want to share with your potential customers. This is important if you are trying to achieve a higher CTR and Quality Score.
It is also important to note that even though it is encouraged to use as many extensions as possible, Google will not show them all at once. You also cannot control which extensions will get impressions, so keep that in mind.
Ad extensions
As mentioned previously, there are two types of extensions: automated and manual. Here is the overall list of options Google Ads provides you with:
One of the most important things to remember is to make sure your extensions do not contradict your main ad CTAs. There is nothing worse than having a logically inconsistent and contradictory ad.
Manual ad extensions and their features
Sitelink extension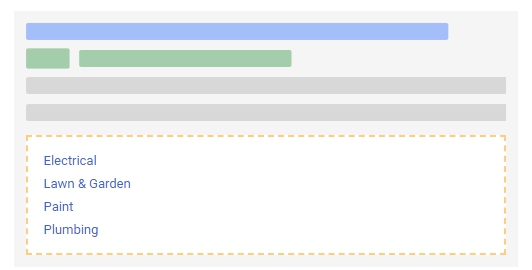 If you provide extra offers relevant to your main ad, you can link your traffic to corresponding pages of your website.
You can use sitelink extensions to drive more traffic to your site pages. You will need to provide information you consider relevant to your target audience. You can also promote your additional services and tools or link your features and price pages to a particular ad.
Callout extension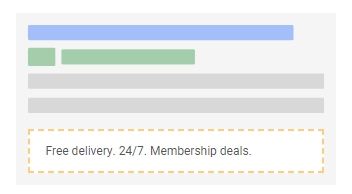 Callout extensions allow you to drive more attention to relevant marketing propositions.
These are short phrases that you can use to underline and reinforce the main marketing message of your ad.
They don't require any special set up and lead support capabilities. In just a few minutes of your time, you can create a more compelling advertising message and spark interest in potential clients who will want to learn more about what you offer.
Make sure that your callout extensions stay catchy and underline your key features.
Structured snippet extension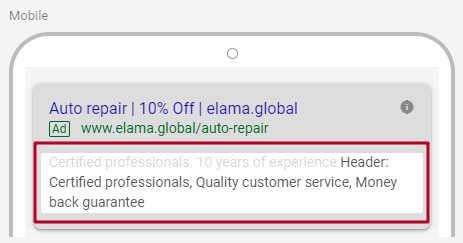 The structured snippet allows advertisers to show the most relevant information about their products based on their search intent or search query.
Basically structured snippets resemble callout extensions. The main difference is that structured snippets limit you to a selection of 12 headers to choose from. Learn more about your options from this article.
You have an opportunity to add three extra headers to your ads which allow you to demonstrate your extra business features.
Call extension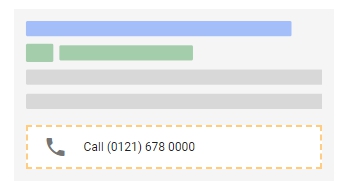 Call extension allows you to add your business phone number. Make sure that your business can adequately work with your customers via phone. This is a great way to encourage your potential clients to contact your business as soon as they see your ad.
Call reporting is another benefit of this extension. It will help you see your call stats and conversions.
Also, don't forget to use your ad timetable to avoid showing your ads to people during out of work hours.
Message extension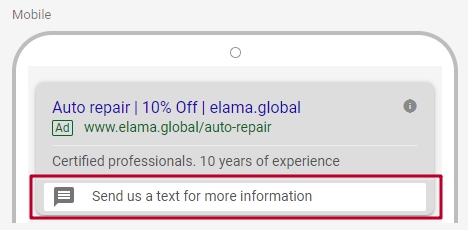 In this modern day and age, phone conversions have become outdated and somewhat awkward for some people.
If for some reason you are unable to work with customers via phone, you can set up a message extension, allowing your customers to contact you through text message.
This extension will be visible to users using mobile phones.
Location extension

The location extension allows you to demonstrate to your potential customers where to find and communicate with your business. Users will be able to see the geographical location of your business and plan how to reach you.
It is hard to underestimate the importance of this particular extension, especially for smaller businesses that are dependent on high in-store consumer traffic.
Also, keep in mind that local search queries demonstrate high conversions for businesses with an offline presence.
In order to use the location extension, you need a valid Google My Business account so that you can appear on the map.
Affiliate location extension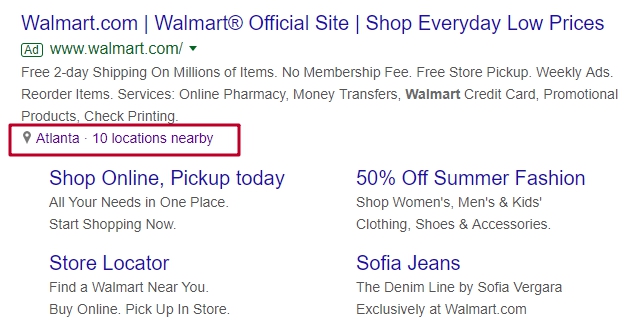 This is a perfect solution for companies that sell their products through multiple stores. If you don't, for instance, have your own offline presence and distributors can be used to sell your products.
Affiliate location extension allows you to show all of your offline locations in a single ad, allowing customers to find large retail chains in their area. It is also great for brands that sell their goods through different retail chains.
So, this extension is most useful for larger companies with multiple offline locations.
Price extension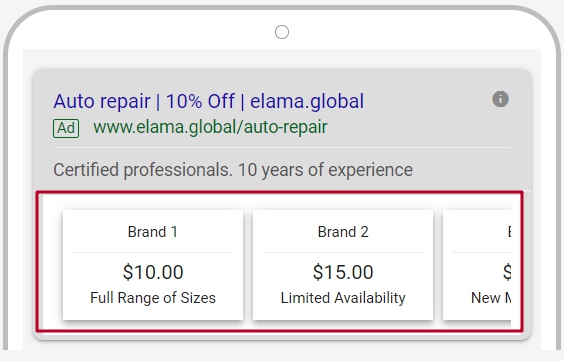 Let your customers know what price offers you provide with your ads.
Price is definitely at the top of the list during product selection. Especially if the potential customer is comparing prices with other product or service providers.
App extension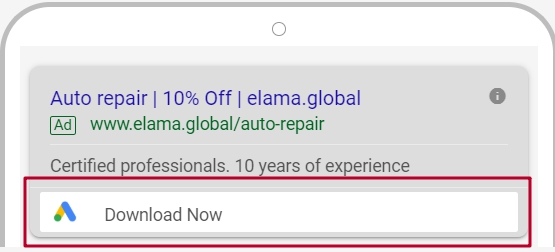 Competition on the app market is extremely fierce and requires a profound marketing strategy to stand out amongst other apps.
With app extensions, you can lead your potential customers directly to your application page on the app service of their choice.
The most important thing to consider here is how well your app page is optimized for conversion.
App extensions allow users to go straight to your app page and download it.
Promotion extension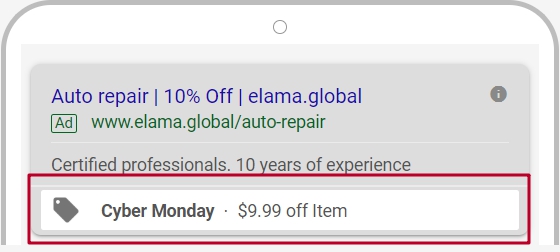 The promotion extension will allow you to advertise your special offers, discounts and any other promotional activities in the ad. It also allows you to cover even more space which helps your ad stand out among competitors.
It is a good way to avoid stuffing your main advertising message with promotional offers. If you use your main copy to do so, you risk miscommunicating your product description.
Automated ad extensions and their features
Automatic ad extensions pull data from different sources to create an advertisement that seems relevant to Google Ads algorithms. You cut the routine consequently lose all control over your ad message, which in turn leads to messages that do not compliment your main CTA.
If you want to maintain full control over the information in your ad extensions, use manual extensions.
Here are automatic ad extensions themselves:
Consumer rating
A short snippet that shows users reviews from certified sources. The consumer rating is displayed as a rating out of ten.
Previous visit extension

Lets users know whether they have visited the displayed website before.
Seller ratings extension

Up to five stars ratings underneath your headlines that are gathered based on certified Google sources.
Dynamic sitelink extension
This extension creates a dynamic link that leads to the popular pages of your website. These are added automatically based on Google algorithm settings. Pretty much the same thing as manual sitelink extensions, minus the routine.
Dynamic structured snippet
This extra information about your website is also added based on automatic Google algorithms. It utilizes the same information as manually structured snippets but cuts off the setup work on your side.
Make sure you use your extensions
Sometimes it can be overwhelming to remember everything during ad creation. eLama's Advisor tool will scan your campaigns and pinpoint the shortcomings in your ad settings.
For example, our tool can show you that in order to boost your CTR you need to add extra ad extensions. This should be an important step before launching your campaigns.
Let me put emphasis on this once more: CTR is one of the most important metrics of your ads. It directly influences your Quality Score, a metric that identifies where your ads are actually going to show.
Ad extensions allow you to make your ads bigger (and far more visible). Plus, a combination of extensions and main headline CTA will compliment each other, making your ad copy more compelling to potential customers.
eLama Advisor is one of our Google Ads optimization tools. It scans your campaign and identifies if your advertising campaign is missing anything important. This is a valuable pre-launch mistake-checking tool.
eLama Advisor will highlight if you are underutilizing the powerful Google Ads tool. It will make sure that your ads are CTR optimized.
Conclusion
Google Ads extensions are a great way to make your ads stand out among the competition.
Writing compelling ad copy combined with punchy extensions that compliment your main CTAs is one of the best ways to massively boost your CTR.
Don't forget that a visible, bigger ad is eye-catching as it is.
High CTR is one of the main components of your ad Quality Score and, consequently, Ad Rank.
So, don't forget to make sure that all the relevant ad extensions are enabled. Try eLama Advisor tool for Google Ads for a pre-launch checklist and enjoy higher CTRs and conversions.