Setting up an advertising campaign is always an individual process — there are no universal solutions. Each advertiser sets up ad campaigns based on their goals and experience. But often, many advertisers use the same solutions over and over again.
In this article, we will describe Facebook advertising tips for business owners on the best settings to apply on Facebook Ads to succeed.
Choosing the right advertising objective — Conversions or Lead Generation (Lead Ads)
When creating an ad campaign, the first thing you are faced with is choosing the right advertising objective. Facebook ads provide a wide range of advertising objectives to help you reach your business goals. Advertising objective is what you want people to do when they see your ads.
Previously, we chose the Traffic objective when we created a campaign on Facebook. But it was observed that Conversions and Lead Generation objectives perform best if sales are needed.
Conversions
Facebook ads campaign with the "Conversions" objective encourages users to perform the desired action on the website for example, specify payment information, add goods to the shopping cart, or make a purchase.
To optimize advertising for conversions, you need to install a pixel on the website and add custom events. After that, you only need to create an individually configured conversion in Facebook Events Manager.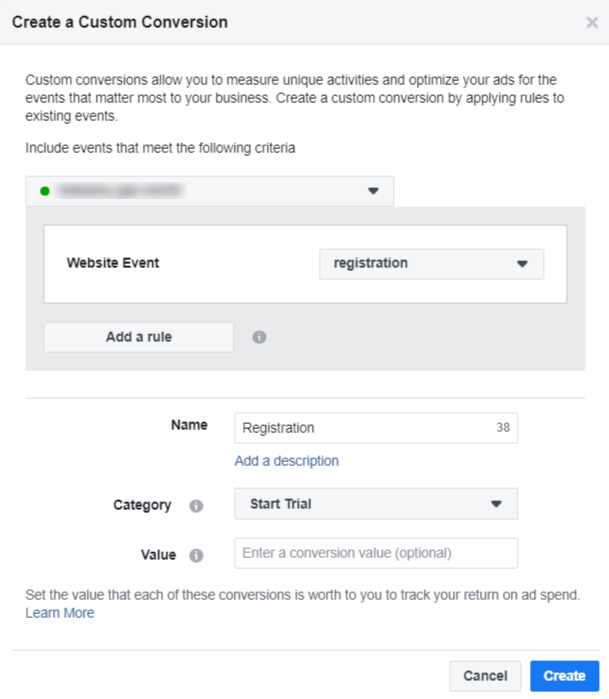 Lead Generation (Lead Ads)
The lead generation objective aims to collect leads. Lead Ads format is a good decision if you want to capture the lead's information without them leaving Facebook. In this mobile-friendly form, you can ask your customers whatever you want. When a user clicks on a lead ad, they see a form that is pre-filled with information from their Facebook profile. The required effort is significantly lower, which is why the likelihood of conversion increases. Learn more about Lead ads and how to set them here.
Try using Automatic Placements
Facebook recommends advertisers use automatic placements due to their high efficiency and ability to control costs. By using automatic placements, you tell Facebook to find the most relevant audience across all of the suitable placements for your ad objective at the cheapest overall cost. The system automatically spends more on these placements to reach a more relevant audience.

Firstly, we were afraid that Facebook would waste the ad budget on the Audience Network, but this did not happen. Instead, Facebook worked well, especially if the right objective is set.
As proof, we discovered that most of the users from Brazil came to our site from Instagram. Looking through the statistics, we noticed that Facebook had shown ads on Instagram more often than on the other placements.
Use different ad creatives for various placements
Remember that each placement has its specific image requirements. So, before creating ads read the technical requirements and design recommendations for images on different ad placements.
Please note that ads with images that consist of more than 20% text will rarely be shown on Facebook and Instagram Stories. If you want to advertise on Facebook or Instagram Stories, consider leaving 14% (250 pixels) at the top and bottom of the image free from text and logos to avoid covering these key elements with the profile icon or call-to-action. This means, if your image is 1080x1920, your key elements should appear within a 1080x1420 title-safe area.
One more thing: if you work with automatic placements, Instagram is one of them, it's better to upload individual pictures, otherwise, your ads will look strange, especially in Stories.
To conclude:
Don't be afraid to test various recommendations that other experts advise you. You may be skeptical of them, but they can make your work more efficient.
If you have a Facebook pixel on the website and want to optimize your ad campaigns for the desired objective, then try the "Conversion" objective to get conversions at a lower cost.
If you don't have pixel yet, be sure to install it.

Try using automatic placements to reach the relevant audience at the cheapest overall average cost.

Always load different ad creatives for different placements.