Paid advertising is the most powerful marketing tool to promote a product or service. There's nothing better than Facebook Ads when we're talking about paid ads. Why? The answer to this question is very simple, all you need to do is open Facebook Results Report 2018 and look at the number of DAUs (daily active users) and advertising revenue.
Average DAUs = 1.52 billion
Advertising Revenue = $ 16.9 billion
These numbers are impressive. They illustrate the power of Facebook advertising. More than 20% of the world's population use Facebook on a daily basis.
But what does that mean? It means that every business selling any kind of product or service can find its target audience on Facebook and reap all the benefits of Facebook advertising.
The number of users is not the only reason why Facebook advertising is dominating the market. Here are three more reasons why Facebook is the go-to for targeted marketing:
Variety of target options: You can be as specific as you like when setting your target audience. Harry Potter movie fans, vegetarians with two or more children living in Sacramento, New England Patriots supporters above twelve years old for example. Facebook gives you a range of targeting options, all you need to do is combine the target specifics in a set of characteristics and launch your ad campaign.
Different ad placements: Facebook placements include feeds, instant articles, in-stream videos, right column, marketplace and stories. Instagram (which is owned by Facebook) offers to promote your product or service in feeds and stories on their platform as well.
Wide range of marketing objectives for your ads, which is what we are going to talk about in this article.
There are eleven Facebook marketing objectives divided into three groups. Each marketing objective solves a particular business objective and is aimed to achieve the desired result. In this article we will talk about the following:
How to advertise on Facebook using marketing objectives offered by Facebook itself;

What Facebook marketing objective is and why it is so important;

What marketing objectives does Facebook offer and in which situation should each objective be used.
The last part of this article will be dedicated to Facebook advertising tools which will save you both time and money.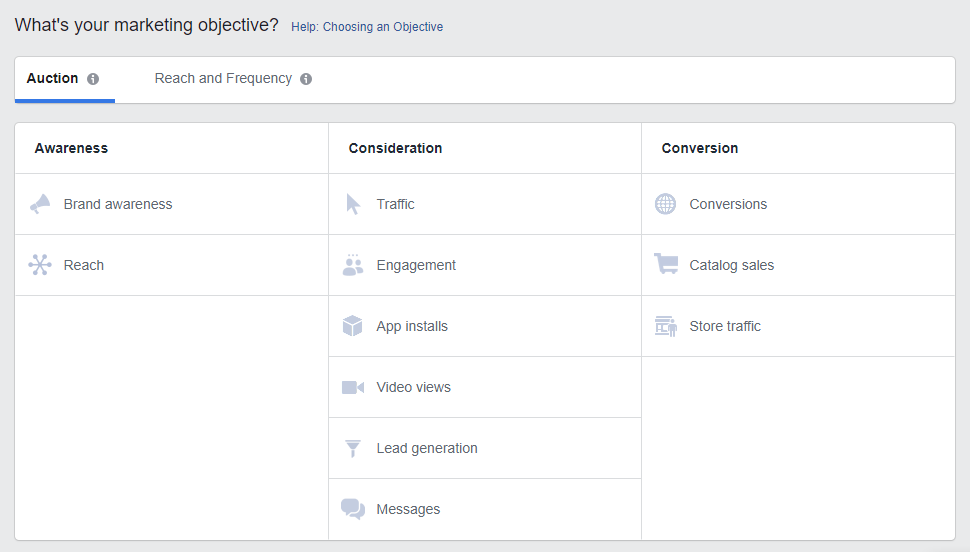 Category: Awareness
This category unites two marketing objectives which aim to drive initial interest to the product or service and in other words, resolves issues of the top part of the marketing funnel.
Marketing objective: Brand Awareness
Brand awareness helps to draw attention and awareness of the potential target audience to the brand. Advertising campaigns with a brand awareness marketing objective often appear to be the first so-called touch between the potential customer and the brand. This objective is mostly surrounding intangible things; thus, its effectiveness is hard to evaluate in monetary terms.
When to use:
The use of this marketing objective is justified if the advertised brand already has a significant market share and a customer pool. Brand awareness is useless in the early business development stages because of little evaluation opportunities. It simply does not drive sales or generate revenue.
Marketing objective: Reach
Facebook claims that the reach marketing objective aims to show your ad to the maximum number of people. This objective has both pros and cons. One advantage is that the ad can reach a lot of people from your target audience and increase awareness of your brand. However, this marketing objective does not take a user's interest towards your brand into consideration. In other words, reach does not consider a user's previous interactions with the content and cannot determine that the user will interact with your ad. Thus, the CTR (click through rate) of such an ad will be low.
When to use:
This marketing objective is a good solution for local businesses. For example, it should be used for the promotion of local offline stores located in a certain geographic area as an increase in brand recognition is guaranteed.
Category: Consideration
Consideration is the biggest category of all three marketing objectives mentioned previously. It includes six different marketing objectives as described below. The main purpose of these marketing objectives is to increase interest in the brand and to force potential clients to learn more about the product Moreover, the implementation of these marketing objectives results in a signifiсant move towards the brand and additional touches between brand and users. All six marketing objectives belong to the middle part of the marketing funnel.
Marketing objective: Traffic
This marketing objective drives traffic from your ad to another destination. For example, it can be a website, app or post which you want to promote. Important: the user is not supposed to make valuable actions (purchase, filling in a form, or signing up) thus, this kind of ad does not generate sales and grow revenue. The ad does not motivate a potential client to make any actions besides the objective. It results in poor conversion into registration and purchase.
When to use:
Using this marketing objective is relevant when there is a necessity to drive traffic to an external resource (website or app). But, this objective is unlikely to bring you new customers or increase your profit.
Marketing objective: Engagement
Engagement generates reactions to the post or business page on Facebook. In other words, this objective is a factory of comments, likes and shares. Engagement is divided into three specific goals:
Post engagement: Generates comments, likes and shares for the promoted post.

Page engagement: Generates comments, likes and shares for the promoted page.

Event responses: Generates participants for the promoted event.
When to use:
Engagement can be used in order to deliver reactions to the post or page or to increase the number of event participants. The interesting thing about event responses is that this is all about Facebook events! It means that you need to create an event on your Facebook page. But responses to this event does not guarantee the users will attend the event itself. There is no doubt that Facebook event ads are a powerful tool, but you need to understand that conversion to the Facebook event can be higher than the actual event conversion.
Marketing objective: App Installs
The app installs objective redirects users to the web store where they are offered the option to install the game or app. Facebook shows this type of ad to users who have already clicked on such an ad before and installed the associated app. The specific app store is determined automatically depending on the operation system of the user's device.
When to use:
Use this objective when you need to increase the number of users to your app or game. App installs is a good solution for both popular (increase the existent community) and new (gain an initial one) apps.
Marketing objective: Video Views
If you want to generate a lot of views on your video, there's nothing better than video views ad objective. The objective does not guarantee any valuable actions will be performed by the user. Thus, video views are mostly about the image surrounding your brand and do not drive sales. It's in a different category of objectives.
When to use:
Surprise! Video views must be used when you want to generate views for your video. No more, no less.
Marketing objective: Lead Generation
The aim of this marketing objective is to collect leads. The interesting thing about lead generation is that the user does not have to leave Facebook to fill in a form. It is all done through Facebook in a pop-up form.
The required effort is significantly lower which massively increases the conversion. The form is already partly filled in with the user's email address and phone number. Facebook already has this information and eliminates the necessity of input.
When to use:
Lead generation is a powerful solution to increase your client base and retargeting list. The performance of the ad can be evaluated in monetary terms as lead generation drives sales growth.
Marketing objective: Messages
The last objective in the consideration category is messages. The main aim of messages is to redirect the user from Facebook to Facebook Messenger or WhatsApp and encourage them to start a conversation with the advertiser. Asking additional questions about the advertised product or sending a purchase request can be good examples of such interaction.
Chatbots created by the advertiser is a good idea in this case. Chatbots answer questions about the product or service almost instantaneously. It can also increase brand awareness and brand loyalty.
When to use:
Message objective solves two major issues:
Helps to create a list of potential clients;

Gives users an opportunity to ask questions they have and become closer to the brand.
Category: Conversion
Conversion is the last category of marketing objectives Facebook offers you at the start of ad campaign creation. Conversion includes three marketing objectives. The main aim of these objectives is to encourage users who are already interested in the product to purchase it. Each of the three objectives mentioned above covers its own separate operational field.
Marketing objective: Conversions
Conversions objective converts a potential interest in the product from the customer's side into real valuable action on a website (in-app or in messenger). For example, registration, free trial activation, purchase and so on.
Important: You need to install Facebook Pixel on your website before creating a search campaign with these marketing objectives. Facebook Pixel tracks the behavior of your customers on your website and gives you statistical insights.
When to use:
Use when an additional contact with your product is necessary before purchase decision. In this case, conversion mostly equals a purchase. Registration on the website or form filling are other examples of conversions this marketing objective can help with.
Marketing objective: Catalogues Sales
This marketing objective shows products from your website in a dynamic ad to the target audience. Of course, this type of ad requires a full catalogue of goods to be uploaded on Facebook.
The primary aim of this objective is to sell goods to potential customers. Thus, catalogue sales is one of the most tangible marketing objectives which is easy to evaluate in monetary terms.
When to use:
Catalogue sales work well when you need to show the latitude of the product line, force a purchase or show new products to old customers.
Marketing objective: Store Traffic
Store traffic acquires potential customers located in a specified geographic radius where your physical stores are located and encourages them to visit these stores. Make sure to add the address of your store to enable this marketing objective.
When to use:
Use store traffic for promotion of the new physical store. The objective helps to inform users in the specified location about the growth of your business.
To sum up
Facebook pays a lot of attention to its own advertising platform. The result is obvious. Facebook Ads is the most powerful advertising solution in the paid ads market.
The number of Facebook users grows day by day. At the end of 2018, Facebook claimed to achieve 2.32 billion MAUs (monthly active users) which is 9% more than the previous year. Using Facebook Ads is very common now, regardless of the size and niche of the business.
As you can see, Facebook offers a variety of different marketing objectives. Each of them aims to solve a specific business issue. In this article, we described all eleven marketing objectives in detail.
At the same time, it was the very first step towards the world of Facebook Ads. A complex and sometimes complicated world which must be learned by all entrepreneurs and marketers.
eLama offers two powerful Facebook ad optimizations tools: Advisor and Lead Ads Import Tool. In fact, Advisor is a pre-launch health check tool for the advertiser. It gives useful pieces of advice about how to optimize Facebook ads and provides recommendations about your ad campaign setup. The Advisor is useful for both beginners and pro advertisers (experts sometimes make mistakes too!).
Lead Ads Import Tool is a solution for marketers who are tired of downloading lead lists for every campaign. This eLama tool allows you to export leads from all your ad campaigns to your email address or eLama account.