Facebook advertisement is based upon captivating visuals that are full of relatable images and videos. However, an advertisement would fail if it is not backed up with a compelling and persuasive copy. Visuals and ad copy go hand in hand.
The ad copy is the voice of your ad. It is the reason why an ad gets users hooked to it that leads them to your landing page through your mentioned 'Call To Action'.
When you are creating a Facebook ad, you must follow the social media sales funnel framework i.e. Awareness, Consideration and Conversion.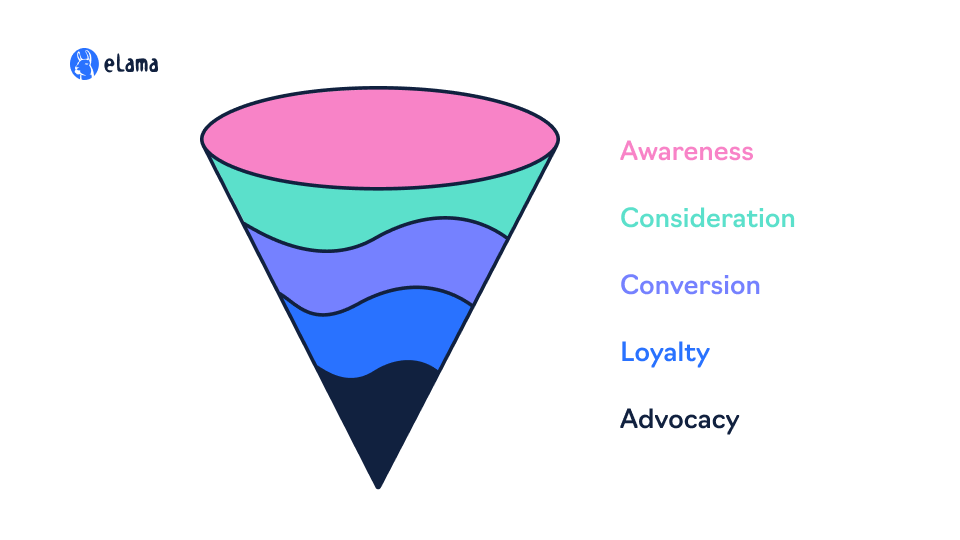 This is one of the most popular social media sales funnel frameworks, and the one that is practiced by most businesses, consists of five phases.
Awareness and consideration can be achieved by articulating compelling copies & visuals whereas the key to achieving conversion is by capturing accurate targeting along with leading them to your 'Call to Action' command. Once all three steps are systematically accomplished, it turns users into loyal customers who further become the advocates of your brand.
Awareness – Captivating new audiences who are currently unaware of your brand. It can be achieved with the art of writing copies and publishing meaningful visuals.
Consideration – Standing out among your competition so that new audience members remember you. It is all about how you offer them the value and make them get driven to the key features of your product/services.
Action – Compelling your audience to take action and make a purchase. Lead them directly or through transitions. Tapping the subconscious of the right target audience is the key.
Engagement – Using social media to stay on top-of-mind and keep your audience engaged after they have purchased.
Advocacy – Building enough trust with your audience that they want to recommend you to others.
Let us learn how we can achieve the above through the art of copywriting for Facebook ads.
Your ad creation starts with targeting. Here is how you can target precisely:
Custom audiences – allows you to target existing customers or new leads
Location – allows you to target by location (city, state, country)
Gender – allows you to target by gender (male or female)
Interests – allows you to target by interest (such as laundry, detergent, cleaning)
Behaviors – allows you to target by past behavior, such as someone visiting your website
Connections – allows you to target by people who already like your page, or who have connections that do
Placements – allows you to choose the platform to reflect your ad such as Facebook feed, Instagram story, messenger)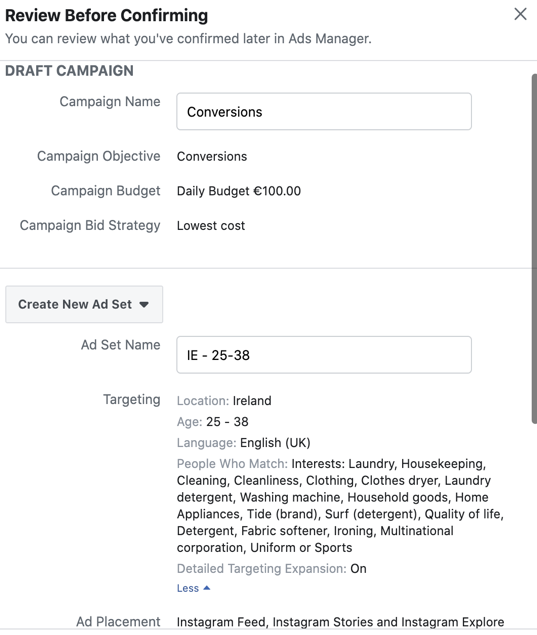 Copywriting tips
Facts & Logic
Always state the problem and demonstrate it with figures that ring the bell in the mind of consumers and persuade them to be hooked with your ad.
An instance could be that of a laundry ad that can advertise itself as:
Work-life with errands to run can be time-consuming with no time left for laundry. Visit us now to get your clothes clean and fresh. It feels like you just bought them!
59% of working professionals who also got errands to run have no time for laundry! Are you one of them? Visit us now to get your clothes clean and fresh. It feels like you just bought them!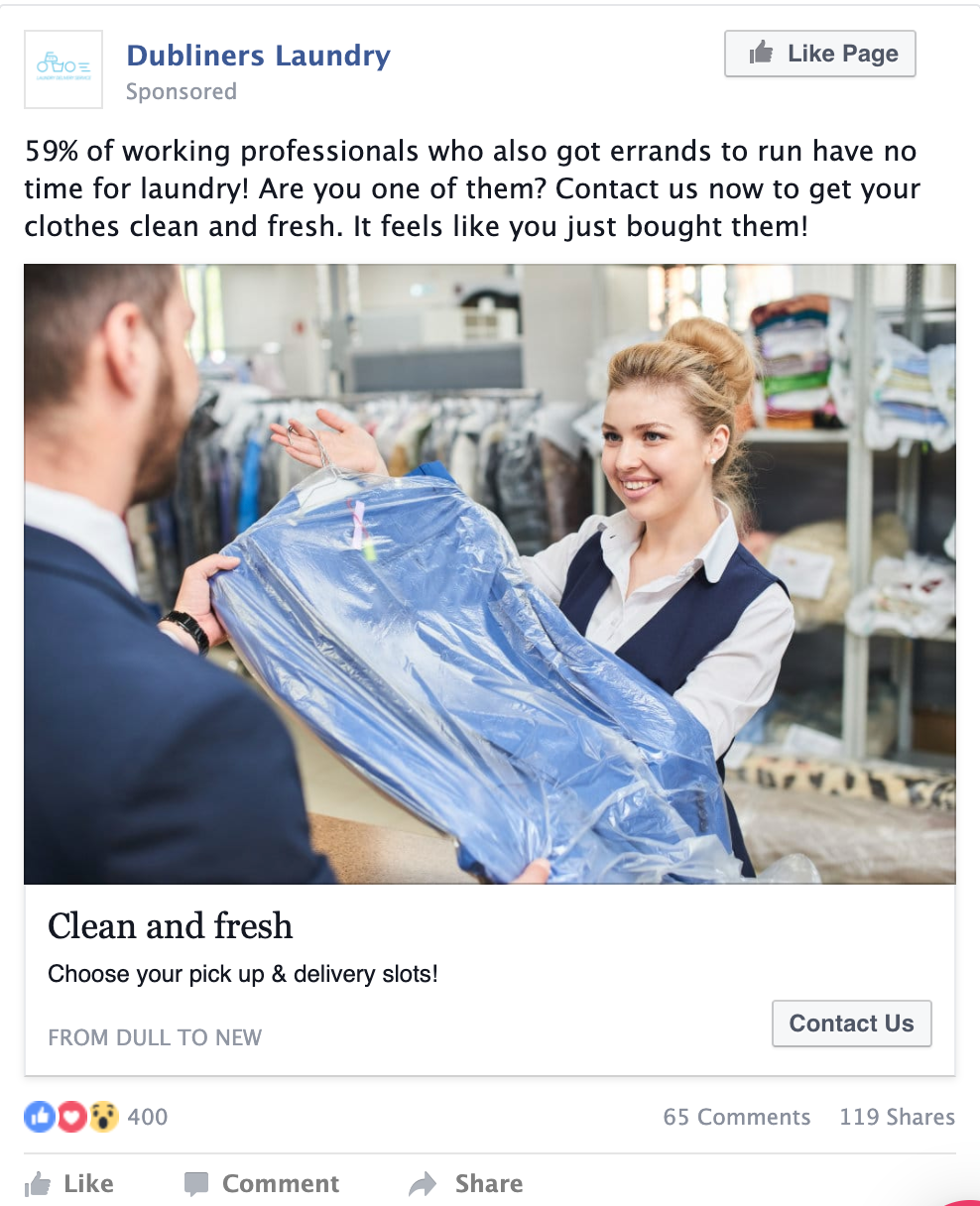 The strategy to pursue is to reflect pain, feeling, benefit and logic that your target audience will get after availing your product/services.
How to address
An advertiser must tailor the copy in such a way that it is suitable and catchable in one glance even through the mobile view. So, the magic has to be created through the first few initial words. Know your target audience well and call out to them like:
As a student, it must be hard to strike a balance between academics and running errands. Contact us for clean and fresh laundry!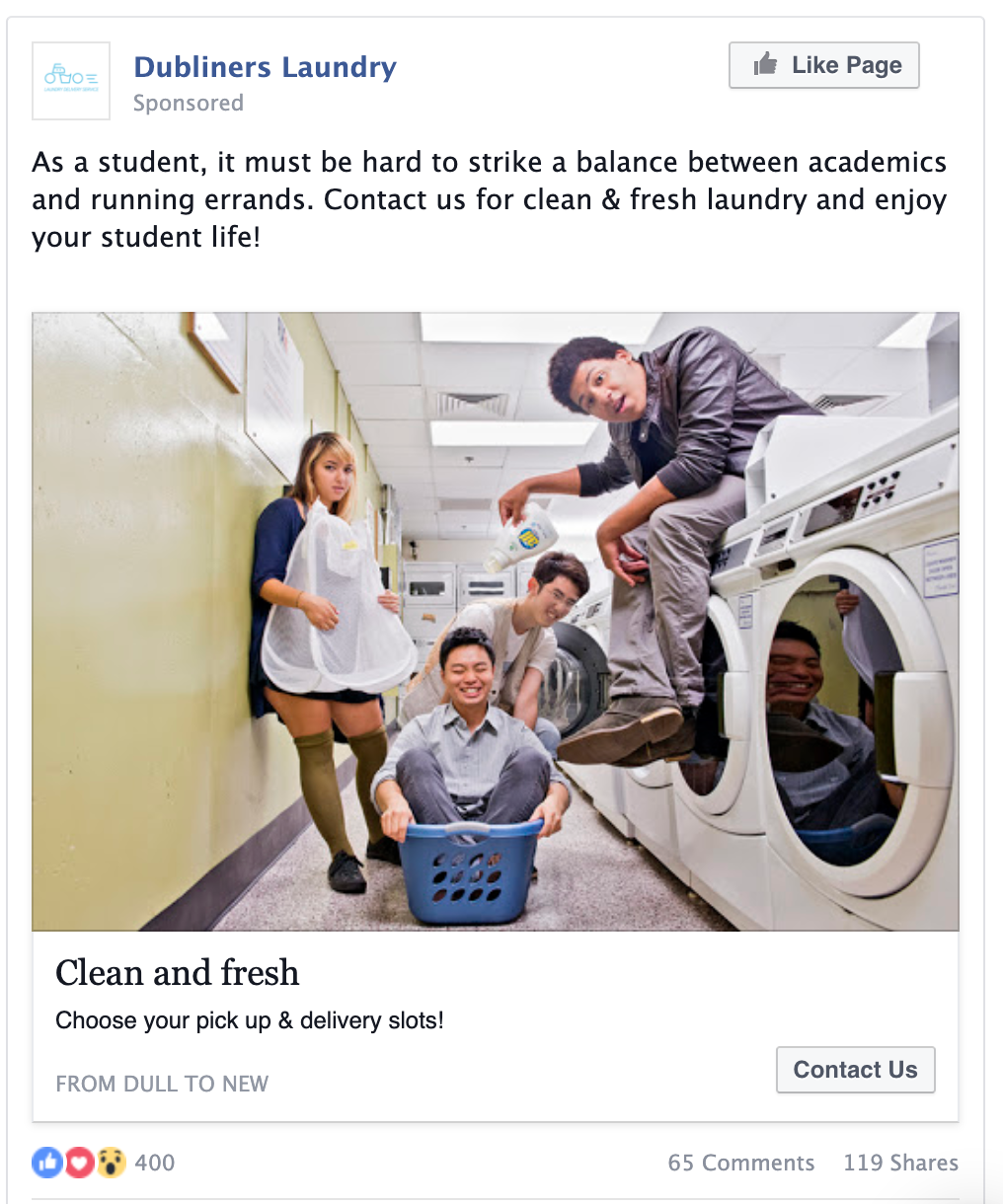 We do not simply say, "Hey students", but we are portraying whom we are addressing it to. This articulation is going to work as your audience is sure to stop by and relate with your content. This will compel them to lead to your landing page and eventually usher them to convert in loyal customers.
The Shift
Advertisers often try to generate curiosity through their ad copies by aggressively stating a problem and subsequently dragging them to use their product/ services. The users often feel pressurized and they end up feeling repelled to the brand.
The correct way to lead your users to take action is to guide them through a method or story so that they feel connected and attached to your content and brand. It can be illustrated as:
Do you often end up spilling coffee on your shirt? Do you often end up scribbling your top with your gel pen? Watch this video for tips and hacks to get rid of the stubborn stains. Then click here to learn more (your link)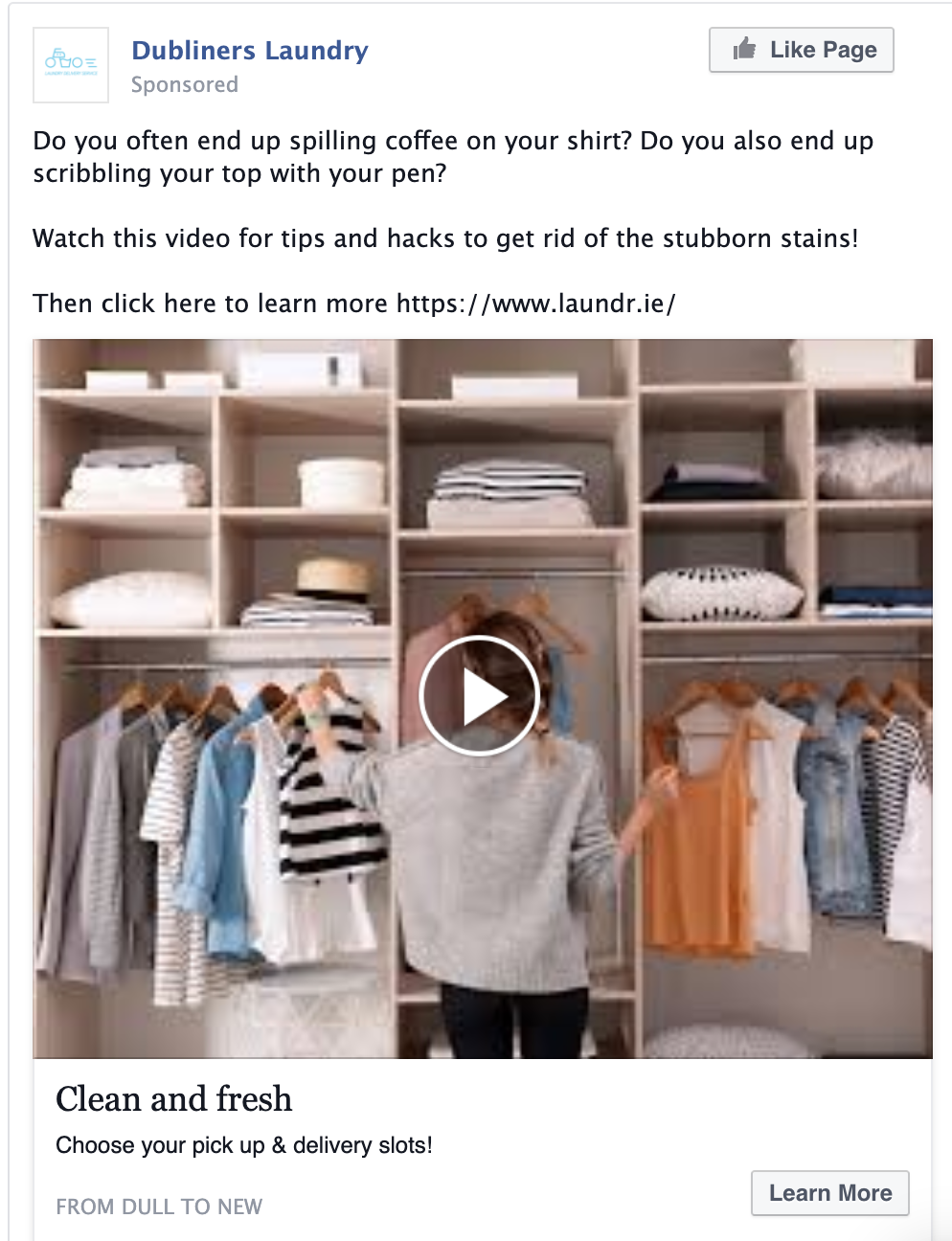 Through this type of articulation, you cater users with a pain reliever and then provide them with an ultimate gain creator by leading them to take action.
The shift here has swiftly taken place. You have provided your audience with the tips and led them for the ultimate solution that your company caters. Users now feel involved in your ad and services. They no longer feel compelled which would have happened if the copy straight up mentioned to "Go, do this now". The users are comfortably attached to the brand and would want to try out services with the type of transition or the shift through your copy that was created. The most essential factor for copywriting is to use an easy yet relatable language.
Call to Action
The simpler you keep, the sweeter the users find it to complete the action. CTAs are built-in ads itself. However, mentioning it in the ad copy triggers the mind. If you have a promo code or a free delivery, tell them in not more than 3 sentences such as:
Booking a slot for dry cleaning for the first time? Now get a free pickup and delivery service on your first order.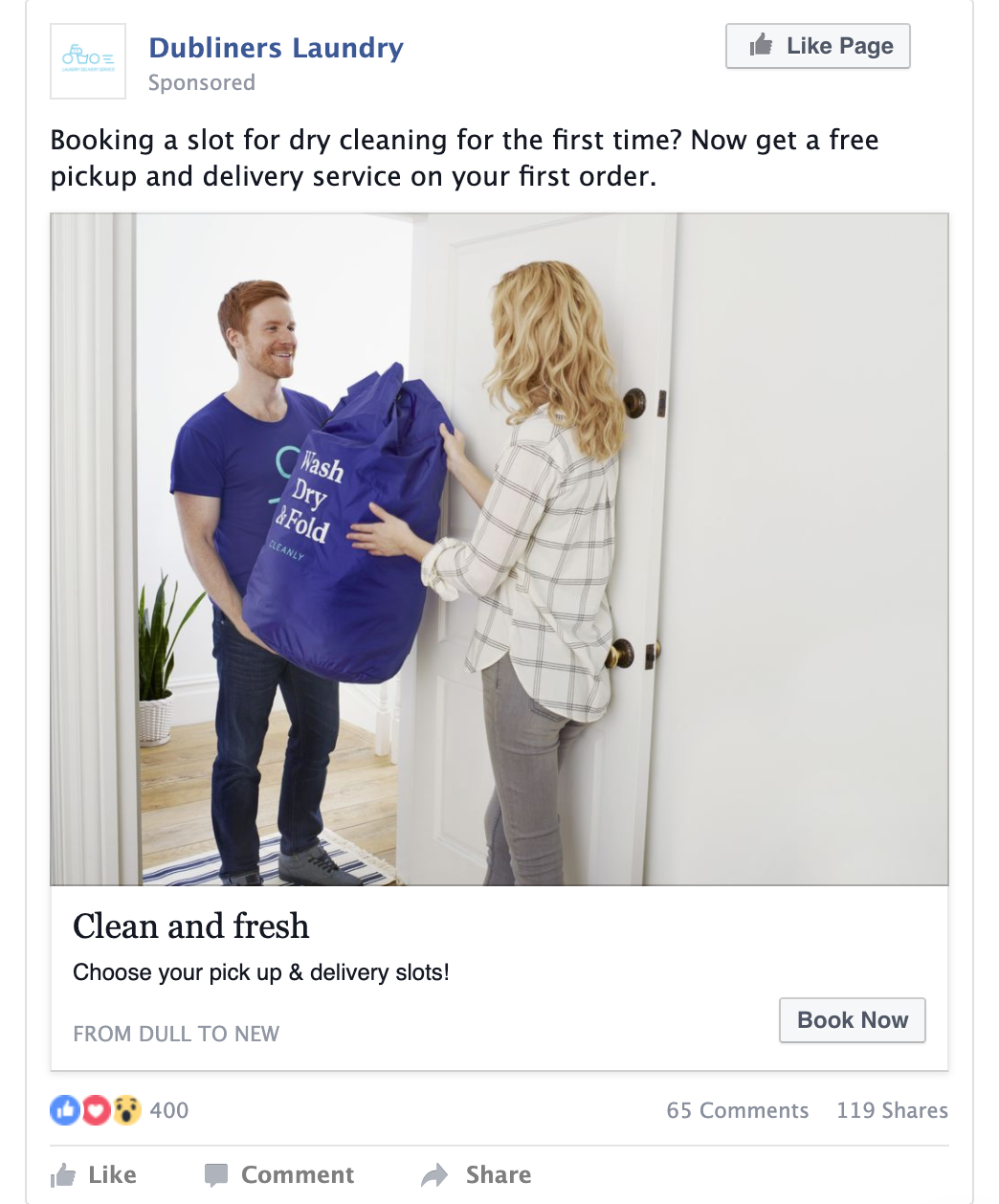 Nothing generates more traction and conversions like an established 'call to action'.
Hype the Vibe
Urge users to avail your product/services by emphasizing on words like "Hurry Up! Offer valid until 31st September" or "Last Chance" and "Limited Offer."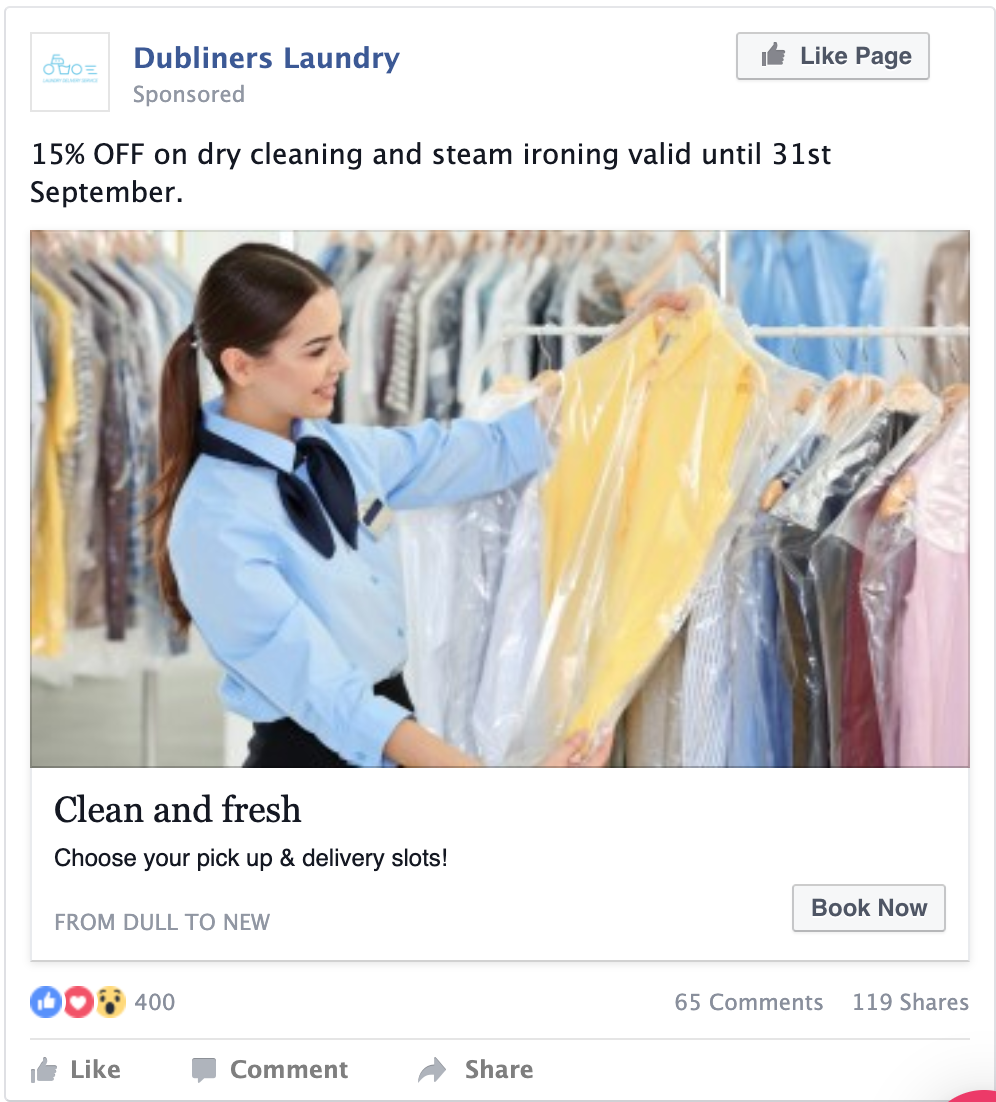 The aggressive articulation establishes brand recall and brand association that eventually leads to brand attachment and Voila! Your leads are generated, conversions are made with all the phases mentioned in the framework accomplished.
Key Take-aways
Narrow your audience for better conversions
Visuals and copy must complement one another
Be factual
Keep your CTA consistent
Keep the copies simple and short
Lead with value
Educate users while talking about the key attributes of your brand

YOU MAY ALSO LIKE READING: