Retargeting campaigns are quite popular among PPC experts and show great performance.
Setting up a retargeting campaign is not as complicated as it seems at first glance. In this article, we will discuss how to set up a retargeting campaign on Facebook from scratch.
What is Retargeting?
Instead of diving into the retargeting setup details, let's start from the bottom and discuss what retargeting is. Retargeting enables to show ads on Facebook to your website visitors, cart abandoners, users who interacted with your app, clients, subscribers, etc.
To be sure, it is much easier to convince a person to buy a product if he was interested in it earlier, visited your website and maybe even added the product to the cart, but for some reason did not complete the purchase. This is what retargeting is famous for – it helps to catch the attention of your previous website visitors and encourage them to go back to your website.
How does Facebook retargeting work
As previously stated, retargeting allows you to show ads to users who have previously interacted with your goods or services in any way. You can divide users not only by what sections of the website they visited, or by what actions they performed, you can also set retargeting for:
Email subscribers (by email addresses and phone numbers);
Users who have visited your Facebook page and interacted with it.
Offline clients (by email addresses and phone numbers);
Life event attendees (by email addresses and phone numbers).
In general, setting up a retargeting campaign consists of three to four steps:
Facebook Pixel setup;
Data feed file creation (if you are setting up dynamic remarketing);
Custom audience creation;
Ad campaign creation and launch.
We will discuss each step in detail.
Facebook Pixel Setup
Facebook pixel is a piece of code that allows Facebook analytic tools to record visits and user actions on your website. Read more about how to create and install a Facebook pixel in this article.
Conversion Tracking
Since you are setting up a retargeting campaign, you need to track users who somehow interacted with the website – visited particular pages of your website, put an item in online shopping cart, made a purchase, etc. Read how to set up conversion tracking here.
Data feed file creation
Be sure to create a data feed file in case you want to set up dynamic remarketing. Dynamic remarketing allows displaying personalized ads based on the products a person viewed on your website or in your app.
How to create your data feed file:
Open a supported file format. Facebook supports these file formats: CSV, TSV and XML (RSS/ATOM).
Check data feed file specifications to find out which columns are required.
Create the required columns. You can add some optional columns.
Enter information about each item in its own row. This is how it should be done:
| | | | | | | |
| --- | --- | --- | --- | --- | --- | --- |
| Id | Title | Description | Availability | Condition | Price | Link |
| 14025 | V T-shirt | White color | in stock | new | 15.99 USD | www.stylesophia.com... |
| 4820217 | Pea Coat | Grey color | available for order | new | 199.99 USD | www.stylesophia.com... |
| 84902 | Cropped jeans | With metallic strip | in stock | new | 99.99 USD | www.stylesophia.com... |

Data Feed File Validation
You can check if you set up the feed correctly with the data feed file debug tool before you upload it. Paste a sample of your data feed information into the tool and click Validate.
Custom Audience creation
How to create a Custom Audience on Facebook:
Go to Audiences, click the "Create Audience" drop-down menu and select "Custom Audience".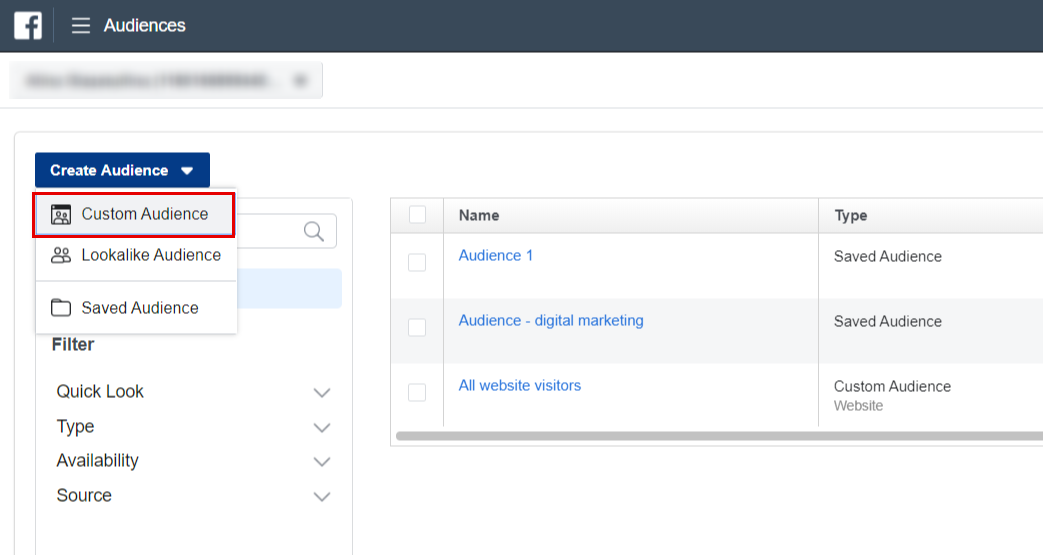 Select a type of Custom Audience: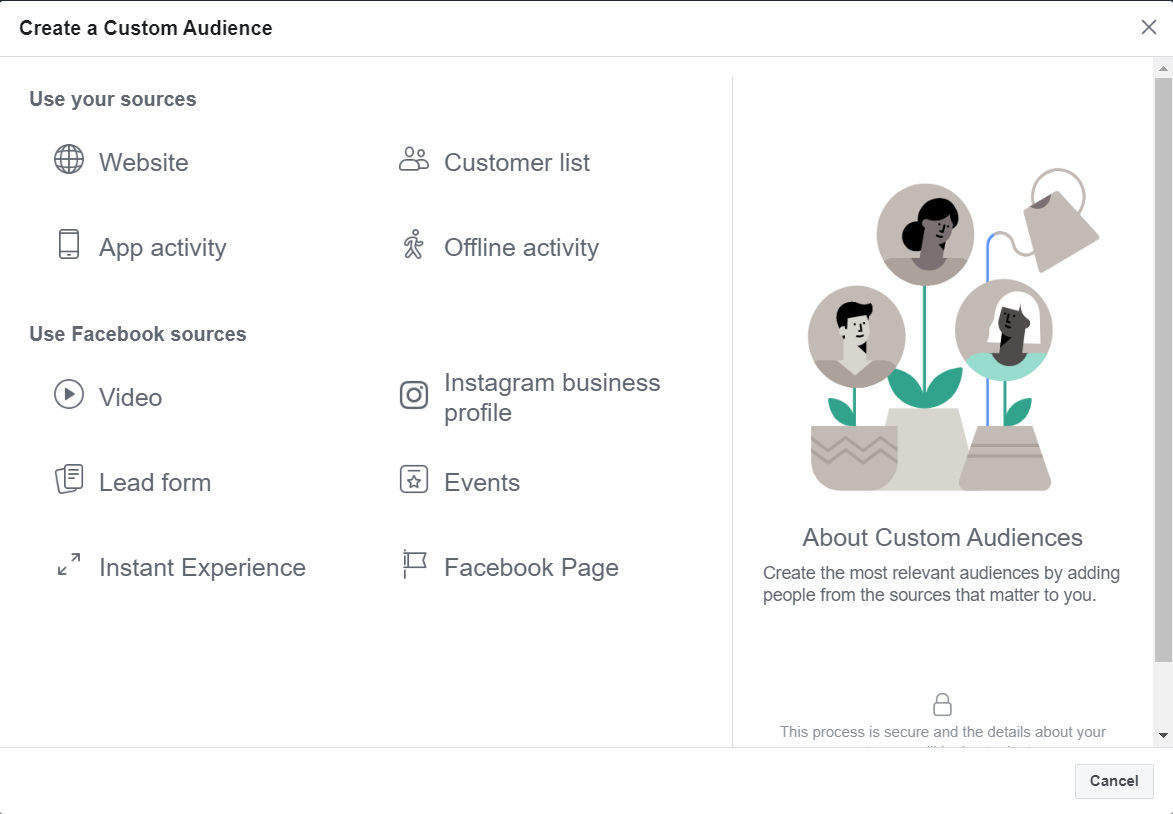 There are a variety of custom audience types, let's look through all of them:
This audience type enables a user to upload a list of clients' data (emails, phone numbers, Facebook User ID).
You can create an audience of your website visitors. For example, you can target those users who have added something to the cart previously.
Using this audience type you can create an audience based on users' actions in your app.
This option is for you if you want to target users who interacted with your business via offline channels.
Facebook Sources – Engagement Custom Audiences
This Custom Audience is made up of people who have previously engaged with your content across the Facebook family of apps and services.

Ad campaign creation and launch
The process of ad campaign creation is the same as always. You can read our checklist and learn how to launch your first Facebook Ads campaign.
There are a few important points when setting up a retargeting campaign:
At the first step of ad campaign creation, Facebook will ask you to select a marketing objective. You can select any of the proposed objectives. But keep in mind that there are two most common objectives: Traffic and Conversions. Learn how to choose the right ad objective in this blog post.
Select the previously created "Custom Audience" as your audience type.
We do not recommend using detailed targeting for retargeting campaigns. Otherwise, your targeted audience will be too narrow.

YOU MAY ALSO LIKE READING: