Business Intelligence (BI) Reports collect the data from advertising and analytical platforms to quickly create informative and visual reports within Microsoft Power BI and Google Data Studio to you, your managers and your clients.
The tool automatically collects statistics from advertising and analytical systems, loads it into the Microsoft Power BI or Google Data Studio, and creates clear visual reports based on this data. Data is immediately converted into graphs and charts. The report view depends on the selected template. Any template can be customized to fit your needs.
There are two templates:
Standard
Includes key metrics from ad systems:
Clicks
Costs
Conversions etc.

Expert
Includes basic metrics. Configure the report view according to your business needs from scratch.
Why BI Reports:
Reporting: Automatically pull all your data from advertising and analytical platforms together.
Monitoring: Monitor and analyze what's happening in all of your ad campaigns over time along with all critical metrics and KPI's just in 10 min.
Data visualization: Create visual and clear reports with our ready-made templates. Change and add segments, metrics, and graphics to your templates without any help from your data analysts.
Who will benefit:
Marketing manager: Using BI Reports you can monitor relevant data for all clients' campaigns and quickly identify problem areas. And, of course, professional reporting raises the status of your agency in the eyes of clients.
Freelancer: BI reports allow you to collect and monitor the clients' data in a few clicks. Save your precious time and provide your clients with high-quality reports.
Business executive: Track your business metrics and your ROI. BI reports provide you with the overall picture of how your marketing performs.
Integrations:
The tool works with the following data sources:
Google Ads
Google Analytics
Facebook Ads
Instagram
How Power BI report looks like: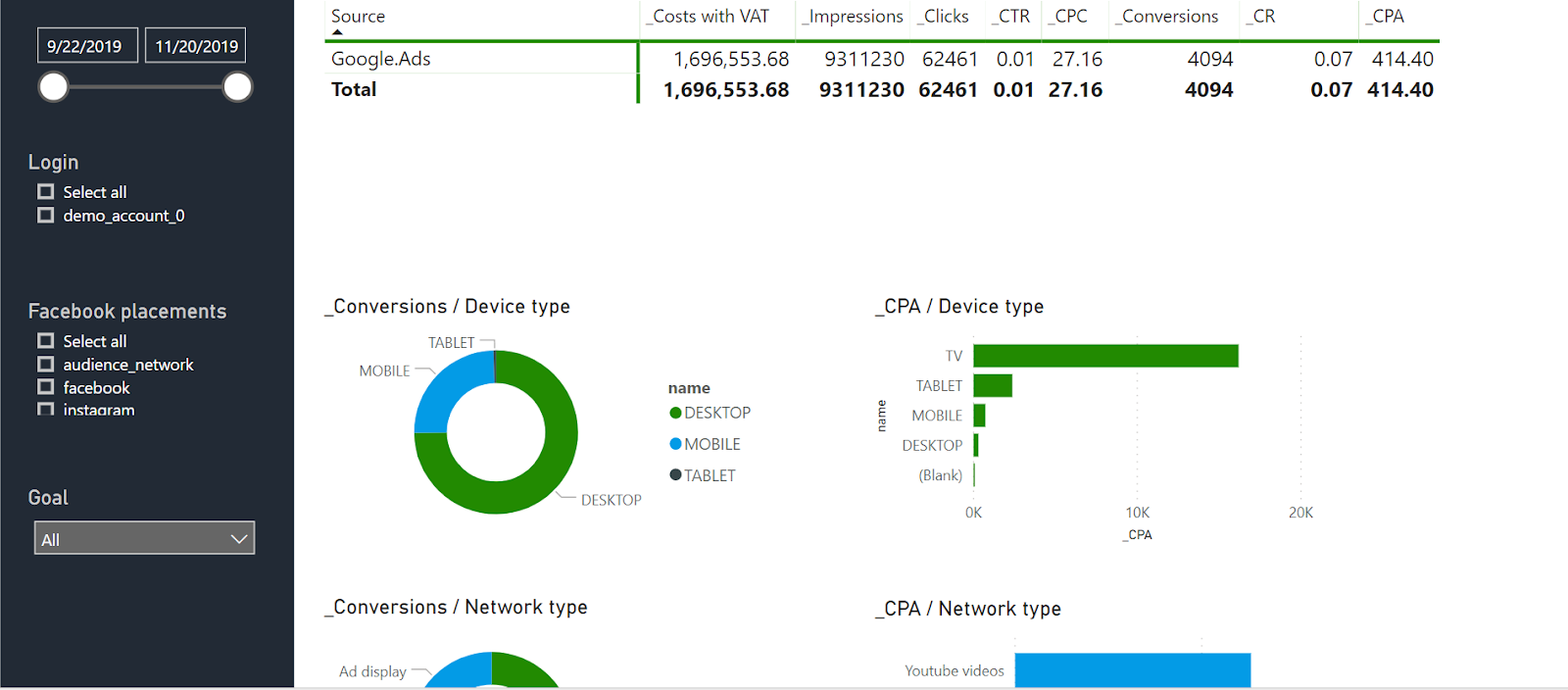 Click here if you want to view the report in Google Data Studio and learn more about this platform.
Don't know how to start working with BI reports?
Read this article or schedule a demo with one of our experts to learn how to quickly create visual reports according to your business needs. See the performance of BI dashboards in action and ask questions!