We are excited to announce that since now BI Reports are connected with Google Data Studio! So you can upload all your data from advertising and analytical systems collected by BI Reports into Data Studio to create visual and customized reports. Isn't it great?! Now you can choose between Microsoft Power BI and Google Data Studio.
The benefits of Google Data Studio
It's free
You don't need to install a desktop app – use a web version
Easy-to-use interface
It's compatible with IOS devices
Report sharing in a click
Customizable visual reports
How Google Data Studio report looks like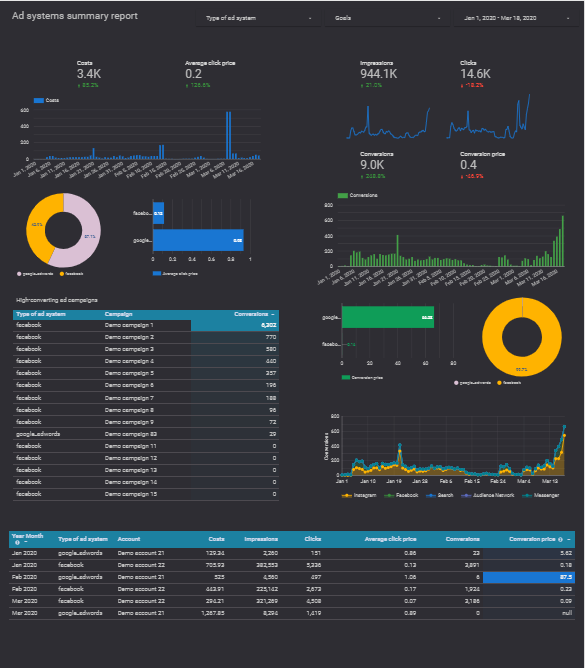 How Bi Reports work
The tool automatically collects statistics from advertising and analytical systems, loads it into Data Studio or Power BI, and creates clear visual reports based on this data. Data is immediately converted into graphs and charts. The report view depends on the selected template. Any template can be customized to fit your needs.
Why BI Reports
Reporting: Automatically pull all your data from advertising and analytical platforms together.
Monitoring: Monitor and analyze what's happening in all of your ad campaigns over time along with all critical metrics and KPI's just in 10 min. BI Reports allow you to control top-level metrics and understand whether an investment in advertising pays off.
Data visualization: Create visual and clear reports with our ready-made templates. Customize your reports by adding new metrics and visuals in a click.
Available Data sources
The tool works with the following data sources:
Google Ads
Google Analytics
Facebook Ads
Instagram
* If you feel unsure about how to start working with BI reports, schedule a demo with one of our experts to learn how to quickly create visual reports according to your business needs. See the performance of BI dashboards in action and ask questions!