Advertisers face many difficulties when advertising a unique product in a foreign market. For example, advertisers may need to remake ad campaigns, set up analytics from scratch, learn the tax policy of other countries, and understand the foreign customer. Advertisers also have to compete with other companies in order to attract audience attention. In this article, we'll share our experience on how to advertise effectively in the foreign market.
Project summary
Client: RAV Vast — an ethnic drums online shop.
Product: Ethnic tongue drums
According to the manufacturer, the design of the drum is unique. All sounds are harmonized, so the user doesn't need any special skills to start playing the instrument.
Goals: Find new audiences and ad formats and expand existing campaigns.
Target audience: Percussionists, sound healers, and people interested in spiritual practices (e.g. yoga and meditation).
Regions: USA, Canada, Europe (Germany, France, Italy, Spain, and others), Australia, Israel, Japan.
Competition: With branded queries, RAV Vast competed mostly with resellers from small music stores to large marketplaces. In regard to non-branded queries, RAV Vast competed with local manufacturers such as Opsilion in Germany and other resellers. For several months RAV Vast held second place in the US after Amazon based on the percentage of impressions received.
Ads formats: Google Ads: Google Search Network campaigns, Google Display Network campaigns, YouTube video campaigns, remarketing campaigns and Shopping campaigns (through Merchant Center);
eLama tools: Bid Management Tool
Period: December 2018 — June 2019
Narrow target audience and niche. The product is very specific and is rarely searched for by users. There were only approximately 74,000 «handpan» (which is a common name for drums of this type) queries per month throughout the world.
High cost. The price of RAV Vast drums starts from $800 (though our main competitor, the famous manufacturer Hang, sells its drums for a minimum of $2000). Unsurprisingly, customers take a relatively long time to make a decision about the purchase; thus the stages of the sales funnel are much longer.
Examples of issues we faced:
Initially, the ad campaigns were not structured and there were shortcomings in the location targeting settings. For example, the campaigns were not segmented by countries with higher sales rates.

The lack of remarketing campaigns. By using remarketing advertisers can catch the attention of previous website visitors and remind them about their products or services. Learn more about remarketing here.

There were mistakes in the analytics tag setup. For example, there were two Google Analytics tags per page, so the data in the reports were duplicated. This made conversion counting difficult.
What we did:
Set the analytics up
Before launching ad campaigns, we set up the analytics from scratch. eLama experts created a new Google Analytics account, connected e-commerce, and removed the old tag from the website.
Relaunch
Campaign structure
The existing campaigns were set up randomly, so we decided to change the whole account structure.
First of all, we decided to separate ad campaigns by country. We launched search campaigns for branded and non-branded (general) queries, and highlighted the countries with higher sales rates (the United States, Germany, France, Spain, Italy, the Netherlands, and Japan).
We tested different targeting settings in Google display campaigns and decided to work with custom intent audience.
We also launched a remarketing campaign for website visitors and those who added something to their shopping cart but didn't place an order. This approach helped us to increase brand awareness and remind these audiences to make a purchase.
Two different ad groups with video ads were created to attract the cold audience. The first one with entertainment content aimed at a wide audience. The second one included information about the product, video tutorials and so on for those who are familiar with the product.
Shopping campaigns were also launched using Google Merchant Center to target audiences in the USA. Learn more about shopping campaigns and shopping ads here.
It took a month to set, renew and relaunch the campaigns.
Ad creation
Every ad includes information about delivery in the country where it is shown. The emphasis is placed on the name of the brand and the possibility of delivery to the buyer's country.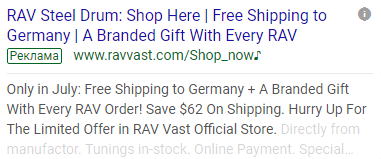 Below is a non-branded campaign ad. The ad focuses on the type of product (steel drum) and its price. Since the ad provides information about the sale, it indicates a special offer.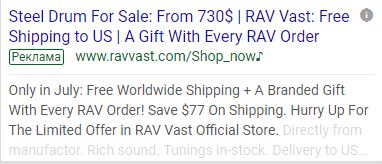 Results
In June, paid advertising led to 50 orders; the average acquisition cost was approximately $87. In comparison, in April, when the first analytical data and the understanding of the KPI appeared, 36 orders were received and the average acquisition cost was approximately $122.

The majority of orders were from Google search campaigns.

We stopped our video ads because they did not bring any conversions. Following this, we decided to set up Image Ads to appear as an overlay on the YouTube watch pages.

USA shopping campaigns generate a lot of orders but CPC is quite high. So, we are planning to launch the campaigns in markets with less competition.

Since the audience prefers ads written in their own language, eLama experts launched ads in Spanish, Italian, German and French.
To conclude
Advertisers are missing out on valuable opportunities to attract new customers if different placements and ad formats are not tested. Keep track of which placements and ad formats are generating desired results, and create high-quality ad texts and titles that will inform your potential customer about the product and the brand.
To run successful ad campaigns, it is important to understand the features of the country where you want to place the ads. This includes prices, delivery terms, and tax policy. Don't forget to translate the ads into the language of the country where it will be advertised.
Good luck!