Compiling data and obtaining the right statistics from various advertising and analytics systems is not an easy task. To solve this, our eLama team has developed three solutions – let's learn more!
When we talk about tools for analyzing paid ads, the first thing that comes to mind is Google Analytics, the most popular system for analyzing user behavior on a site.
And Google Analytics does a great job of it.
However, paid advertising involves a lot more than the scope of Analytics, rendering it unsuitable for solving such tasks. One of the main limitations of analytics systems is that they do not offer any data from advertising systems. So, in Analytics, there is no information about clicks, expenses, impressions from Facebook Ads, etc.
All this data can be downloaded using additional services, but this is a rather time-consuming and expensive process. But combining this data manually takes time, and quality often suffers: one wrong move and the number end up in the wrong cell throwing off all your calculations.
Also, Google Analytics, with a large amount of data, sometimes displays inaccurate metrics – this can lead to incorrect conclusions.
To help you overcome these and other limitations of the systems, we have developed our analytics tools: Dashboards, Statistics, and BI reports.
Here are their main advantages:
Dashboards and statistics are ideal for novice advertisers and users who do not specialize in analytics, but want to track the effectiveness of advertising;
Dashboards can include data from several projects or clients at once;
Along with costs and performance indicators, ads systems' balances are displayed.
Let's take a closer look at each tool.
Dashboards
It is the perfect tool for advertisers who want to track key metrics of their ad campaigns.
It offers a comprehensive view of what is happening in your ad accounts, significant metrics as well as campaigns, ads, or targeting you should pay attention to.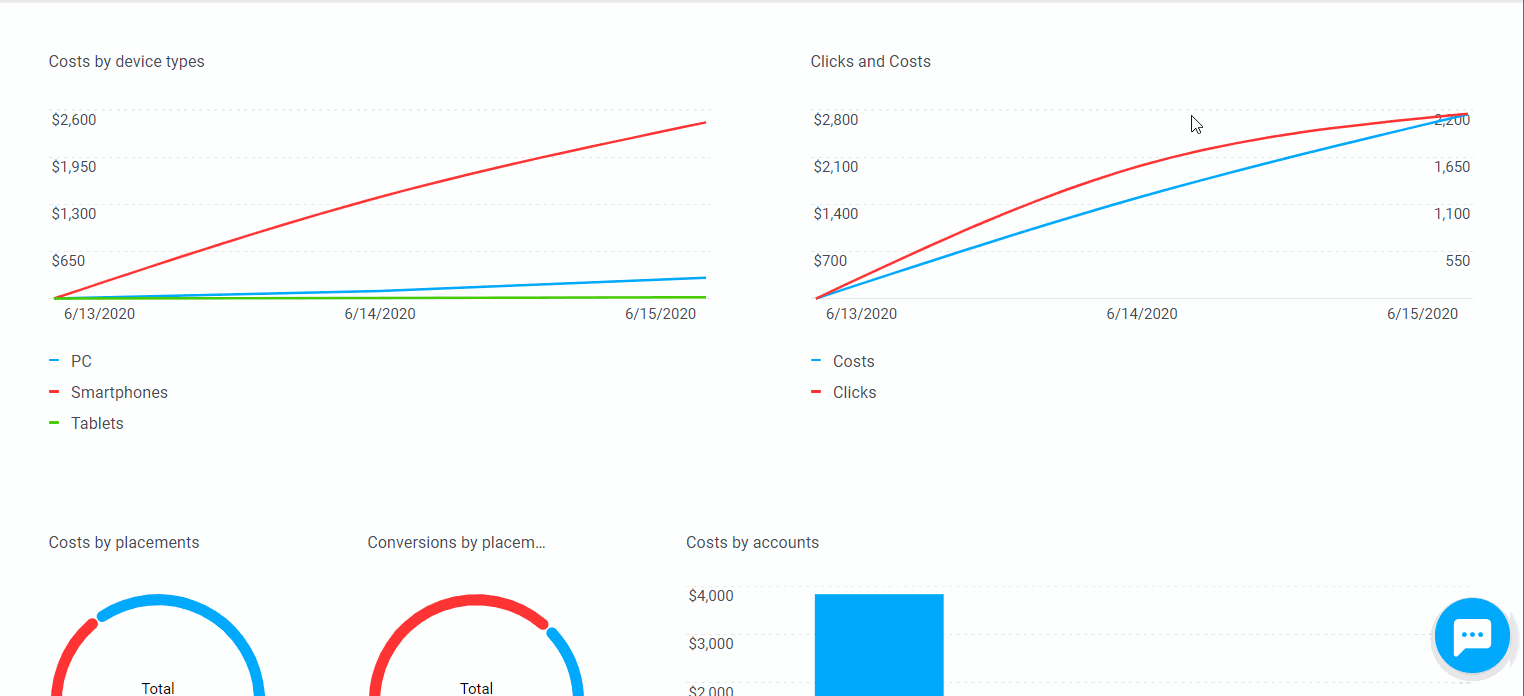 This dashboard helps reduce the time you spend on tracking the advertising performance. Instead of switching between different systems, you can check all the metrics in one place. You also get to combine data from multiple systems and display only the necessary parameters.
All the main performance metrics are presented here.
You can even give clients access to the dashboard, giving them up-to-date information on the effectiveness of the advertising campaign – you can also download dashboard data in pdf format.
Statistics
Statistics is a tool that allows you to conduct an in-depth data analysis of advertising accounts.
If using the monitoring tool, you noticed an increase or decrease in metrics, go to the statistics section to find out what caused the changes in your accounts.
Here you will find more detailed data with Google Ads and Facebook Ads. From the account level, go to campaigns, ads, and keyword phrases.
Statistics are displayed in graphs and tables that can be customized to fit your needs. Here you can view data over a given period, compare it with previous periods, and download it as a CSV file.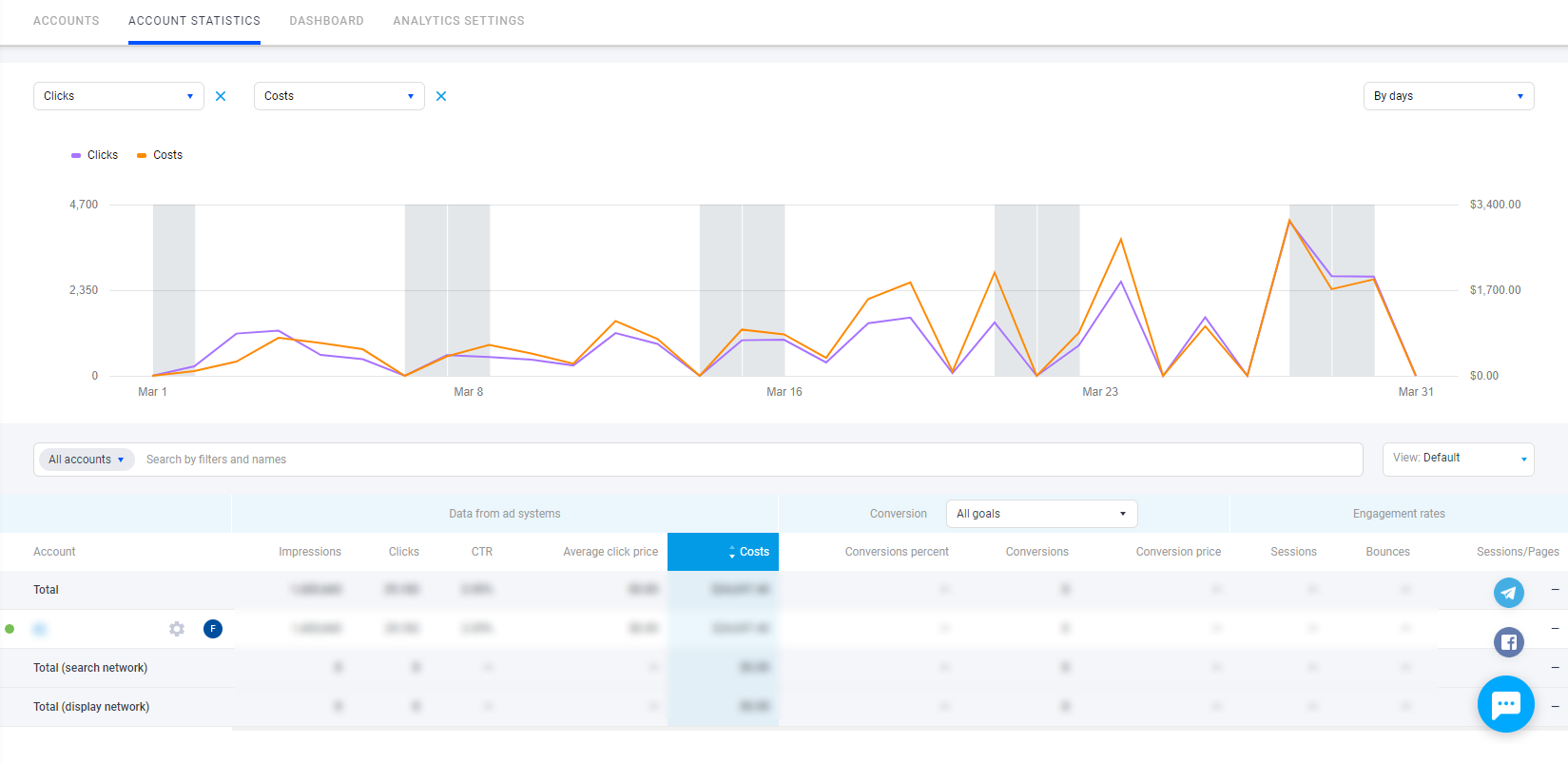 The statistics interface is clear and user-friendly. Here, based on the data, you can adjust the bid in the campaigns, change the ad scheduling or, for example, disable the most expensive keywords.
The tool is available for all eLama users for free.
BI Reports
BI reports simplify the work of advertisers who spend much time creating reports for clients or managers.
The tool collects data from advertising systems, combines it with data from analytics systems, and loads it into data visualization systems — Google Data Studio or Power BI.
Visual and customized reports are the main advantage of the tool.
Business analytics services allow users to customize almost any report and dashboard with various metrics, slices, charts, designs, etc. You can add a logo and set up automatic sending of a report according to schedule, for example, once a week or once a month.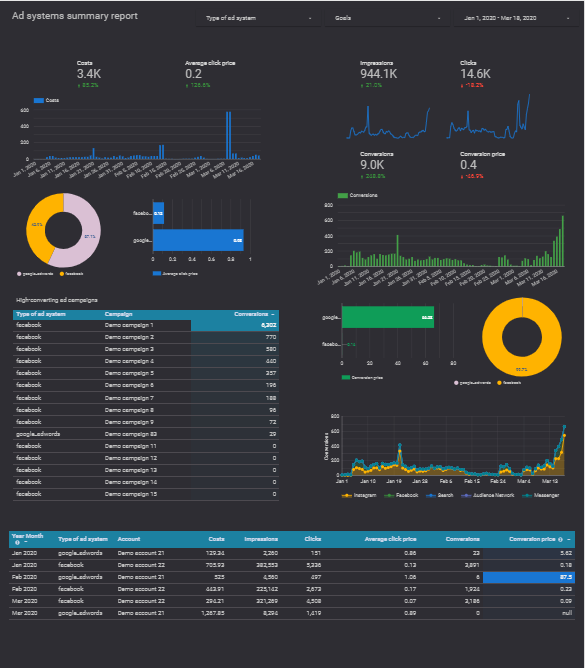 Advertisers often use BI reports to monitor specific metrics. For example, if you want to track the effectiveness of advertising by product category, configure the parameters in BI reports only once, and the setting will be saved.
We developed ready-made templates, and thanks to them, the first setup takes about 15 minutes.
Data Sources
All our tools work with:
Google Ads and Facebook Ads
Google Analytics (sessions, bounces, page depth, conversions, conversion rate, cost per conversion, e-commerce data);
These systems must be connected to eLama. Please make sure to configure the automatic eLama UTM-markup to track data from the campaigns correctly.
To ensure accuracy, every day we update statistics for the previous two weeks.
However, please note that our analytics tools do not replace Google Analytics. Their goal is to reduce the number of routine tasks like tracking and preparing reports so that advertisers can spend more time choosing the best optimization methods for their ad campaigns.